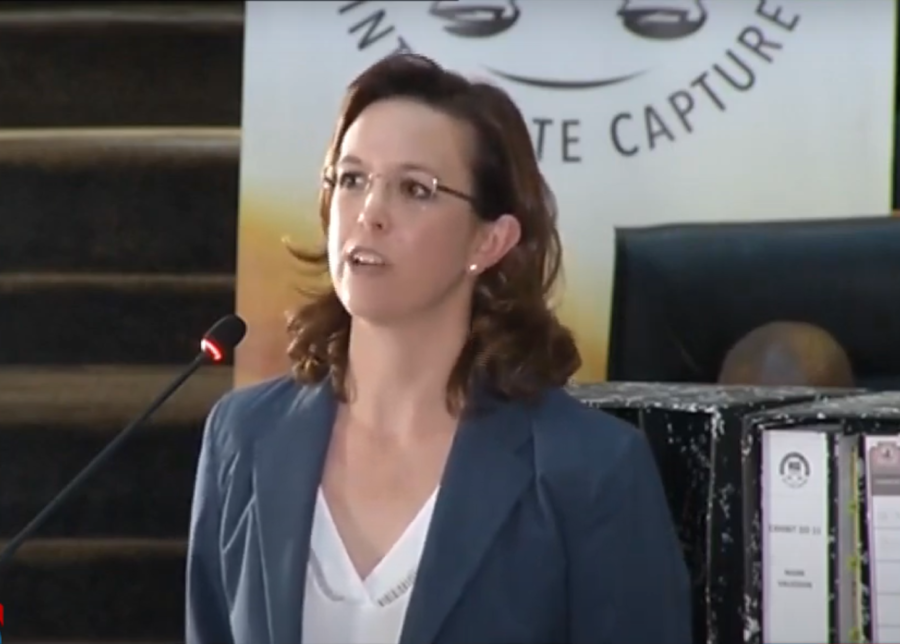 WATCH Kate Hofmeyr at the State Capture Inquiry is Must-Watch TV
Any day that Kate Hofmeyr leads evidence at the Zondo Commission is a good day. And today was an exceptional day, as she faced off against a former South African Airways board member accused of receiving kickbacks and her less than lucid lawyer. The main players in today's hearing were an increasingly frustrated Deputy Chief […]
Any day that Kate Hofmeyr leads evidence at the Zondo Commission is a good day. And today was an exceptional day, as she faced off against a former South African Airways board member accused of receiving kickbacks and her less than lucid lawyer.
The main players in today's hearing were an increasingly frustrated Deputy Chief Justice Zondo, evidence leader Advocate Hofmeyr, former SAA board member "for some years" (how ever did she get that position?), chairman of the board of SAA Technical (ditto), chairman of the audit and risk committee (ditto) and a chartered accountant (even more unbelievable) Yakhe Kwinana and her lawyer Lindelwa Mbanjwa.
Many classic moments came out of the testimony, including Kwinana's time-wasting efforts like talking about vetkoek (see video further down) and saying things like she didn't realise that by signing the terms and conditions of a contract she was signing the contract itself. Numerous previous witnesses have implicated Kwinana in state capture. Kwinana has levelled an accusation of bias against Hofmeyer, who never seems to lose her cool, no matter how often she listens to witnesses try to sidetrack the issue or give vague and incomprehensible answers.
Some of the best interactions today start at minute 23.30:
Hofmeyr gets repeatedly interrupted by Mbanjwa:
Kwinana avoiding the subject once again, this time to discuss making vetkoek:
Bra Robs this soundbite must be on the promo 😂😂😂🤣🤣🤣😜@robertmarawa @Bevstar7#Kwinana pic.twitter.com/zziBvoSAdg

— Uncle Jack's 🌐 (@fakazah) November 2, 2020
[WATCH] DCJ Raymond Zondo and Yakhe Kwinana's attorney Adv. Mbanjwa almost get into a heated exchange. Watch the #StateCaptureInquiry on #Newzroom405. pic.twitter.com/VxM2t4pgaK

— Newzroom Afrika (@Newzroom405) November 2, 2020
Last month, another client of Mbanjwa, also from SAA Technical and also accused of taking bribes, Nontsasa Memela, led to similar frustrations at the enquiry. Listen to Mbanjwa's statements about Hofmeyr.
Memela gets asked by Hofmeyr about bank statements.
https://twitter.com/LukhanyoV/status/1311677109304164352/