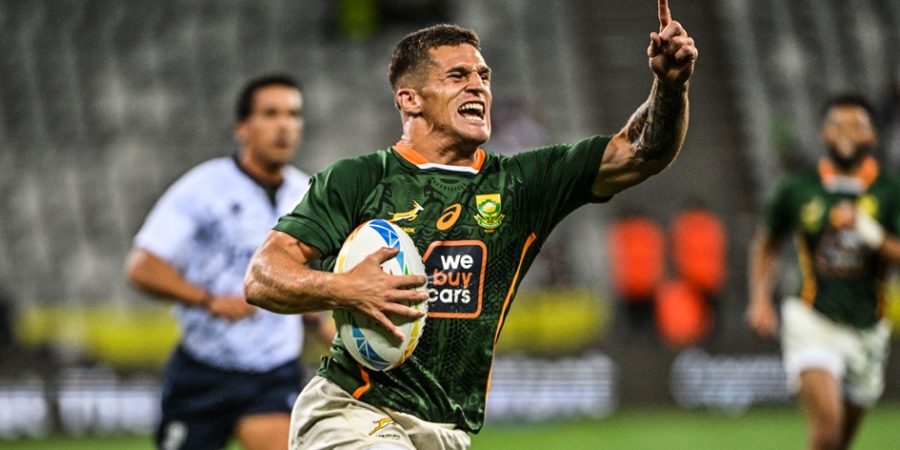 Blitzboks drawn in Group of Death at Hong Kong Sevens
Fresh off another disappointing outing at the Canada Sevens in Vancouver comes the news that things are unlikely to get much better for the Blitzboks at the next stop in Hong Kong. WATCH | Rugby star's rescue gets Hugh Bladen commentary The famed Hong Kong Sevens event will take place between 31 March and 2 April 2023. It will be the eighth tournament […]
Fresh off another disappointing outing at the Canada Sevens in Vancouver comes the news that things are unlikely to get much better for the Blitzboks at the next stop in Hong Kong.
WATCH | Rugby star's rescue gets Hugh Bladen commentary
The famed Hong Kong Sevens event will take place between 31 March and 2 April 2023.
It will be the eighth tournament (out of 11) in this season's HSBC World Rugby Sevens Series.
Thanks to their 13th place finish in Canada – which was good enough for only three log points – the Blitzboks plummeted to seventh place in the standings.
ALSO READ | STORMERS LOCKED IN AT CT STADIUM UNTIL AT LEAST 2060!
As a result of the finishing positions in Vancouver, the Blitzboks have been drawn in a pool that also includes log leaders New Zealand, eighth-placed Ireland and 13th-ranked Kenya.
Ireland finished fourth overall in Canada and the Blitzboks lost to Kenya en route to their 13th-place finish.
Meanwhile, the Springbok Sevens team will leave no stone unturned to get back to winning ways when they return to South Africa on Tuesday after a disappointing North American leg of the HSBC World Rugby Sevens Series.
ALSO READ | Elton Jantjies set for shock Springbok recall – report
The Blitzboks only managed one win in five matches in Los Angeles last weekend and finished in 13th position at the Canada Sevens early on Monday morning (SA time), which was their worst finish ever in a tournament they won three times in the last five years.
The team also failed to qualify for the quarter-finals from their pool in Vancouver (with fellow Pool B opponents Argentina and France contesting the final, and the South Americans winning the tournament), which saw the Blitzboks dropping to seventh on the World Series log after arriving in LA in second place.
FOR THE LATEST RUGBY WORLD CUP 2023 NEWS VISIT THE SOUTH AFRICAN WEBSITE
Springbok Sevens coach Sandile Ngcobo didn't mince his words afterwards and said they need to stop the rot and fast, as they are due to depart to Hong Kong for the next tournament in only three weeks.
BLITZBOKS MISSING SEVERAL STARS
"When we get back to the training field, our first focus will be to perform again," said Ngcobo.
"Winning is a habit and I suppose losing could become one too if you don't get out of that hole. We have been spiralling downwards at certain moments and that is bad for us.
"There were some good moments, and we did create good opportunities, but then we could not capitalise on them."
ALSO READ: Nigel Owens in talks with Springboks
The lack of attacking thrust was evident on this trip, with the Blitzboks only scoring six tries in Los Angeles while they were held scoreless against Argentina in their pool match in Vancouver.
"We are struggling with so many of our playmakers not available due to injury – we are currently playing with our number seven and eight players in those positions – which has a big influence on our attack," lamented Ngcobo.
ALSO READ: Mark your calendar – 2023 in focus for the Springboks
The Blitzboks are currently without the services of Selvyn Davids, Ronald Brown, Dewald Human, Justin Geduld, Shaun Williams and Jaiden Baron, all of whom are crucial playmakers.
"We will be analysing what and who went wrong and why and act accordingly," said the coach.
"It starts with management, and I will be in the front line as it starts with me. Could we have done something different during the tournament strategically, from a substitution point of view, from a preparation point of view, things like that."
ALSO READ | NICK MALLETT: RASSIE SHARED A REPORT WITH ME RECENTLY!
Ngcobo said there will also be repercussions for players who did not play to the team's standards: "We place a high premium on the setting and maintaining of standards and there will be consequences as we are now tarnishing the good work we have done earlier in the season."
SHORT TURNAROUND
"We will be looking for reinforcements from a player perspective and we should have some of our playmakers like Shaun Williams and Jaiden Baron back for that tournament," said Ngcobo.
"It is a short turnaround, as we leave for Hong Kong in three weeks already, but that is the same for all the teams. We will have to work very hard on the field to fix this."
On Sunday, the Blitzboks outplayed Canada 31-14 in the semi-final for 13th place and then struggled past Japan 17-5 in the 13th place final, having beaten them 40-12 in their pool match on Friday.
WORLD RUGBY SEVENS SERIES STANDINGS AFTER SEVEN (OF 11) TOURNAMENTS:
New Zealand 120
Argentina 108
France 95
Fiji 94
Australia 94
Samoa 89
South Africa 89
Ireland 83
USA 81
Great Britain 57