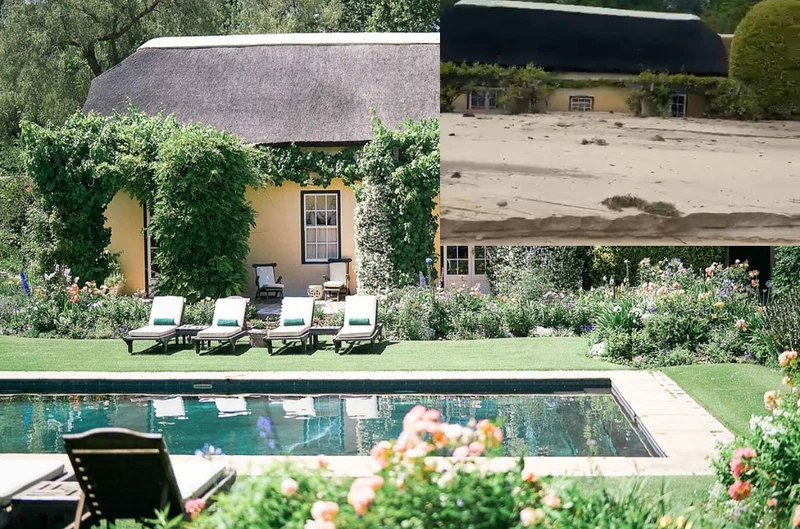 Cape storm: LOOK at these before and after pics of a Franschhoek villa
Franschhoek is one of the many Western Cape towns that was battered by a severe storm over the Heritage Day weekend.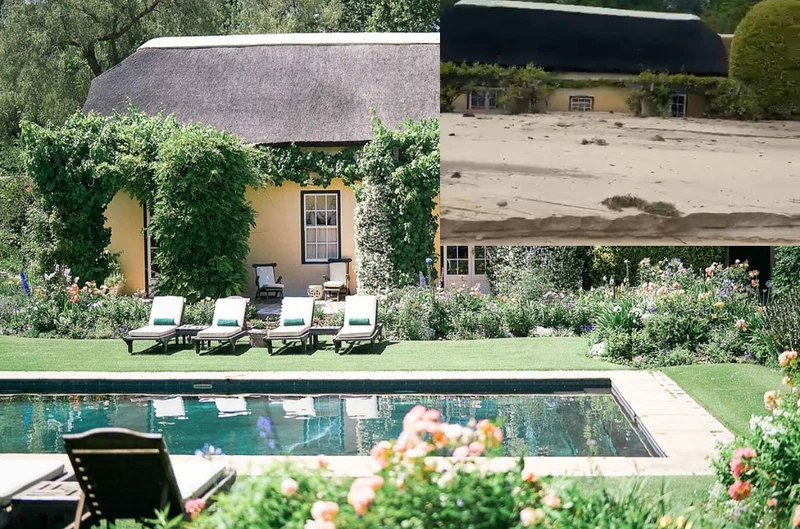 Franschhoek saw some of the worst damage from this past weekend's Cape storm, with a record 299mm of rainfall causing widespread flooding.
According to the South African Weather Service (SAWS) it was the highest rainfall figure recorded on Sunday.
ALSO READ: WATCH: Scenes of disaster in Franschhoek in wake of Cape storm
Bridges and roads were washed away, motor vehicles were submerged and homes were flooded. Floodwaters also deposited large amounts of sand/ silt and mud inside and around properties.
ALSO READ | Cape Town dams: RECORD levels in the province – latest figures
One such property that witnessed the full might of the weekend's floodwaters was La Rive – described as a 'luxurious, exclusive, six-bedroomed villa located in the heart of picturesque Franschhoek.'
A deluge washed through the villa, depositing deep layers of sand and mud around the property. What was once a garden and swimming pool is now barely recognisable:
BEFORE:
AFTER:
https://www.youtube.com/embed/Ux-3IYHWZKE?feature=oembedThe garden and pool completely submerged in sand and mud. Video: La Rive/ supplied
BEFORE:
AFTER:
Storm water gushing out of the street entrance. Video: La Rive/ supplied
"We are absolutely devastated and heartbroken and know it'll take months, if not years, to get our place back up and running," said Alexis Gillis, property manager at La Rive.
Click here to see some of the devastation in other parts of Franschhoek.
ALSO READ: Look at these photos of deep snow in the Eastern Cape [pics]
FRANSCHHOEK IN THE EYE OF THE CAPE STORM
SAWS issued a Level 9 warning on Sunday for disruptive rain across Cape Town, parts of the Overberg and the Cape Winelands, and warned that widespread flooding, severe thunderstorms, gale-force winds and rough seas could be expected.
The Overberg, Cape Winelands and Garden Route were the worst-affected areas while parts of Cape Town grappled with floods, evacuations, road closures and power outages.
ALSO READ: Cape Town dams: RECORD levels in the province – latest figures
Numerous reports of ongoing flooding incidents were received from areas throughout the Cape Town metropole.
The storm caused the Spaanschemat River to overflow onto the M42, opposite Tokai Forest, resulting in several evacuations.
Meanwhile, a powerful crosswind caused a Golden Arrow bus to overturn on Jakes Gerwel Drive on Monday morning.