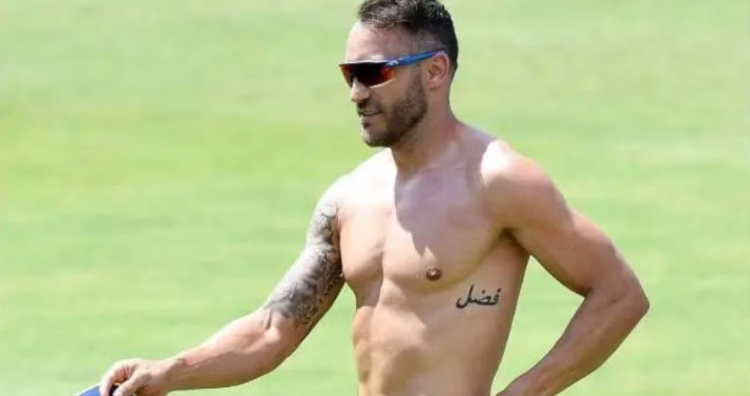 Faf du Plessis's new Arabic tattoo: Here's what it means
Former Proteas skipper Faf du Plessis boasts a near-flawless physique, gelled hair – and a new tattoo many wouldn't have seen. MUST READ | 'Relaxed' De Kock chilled over IPL splinters According to TheSportsRush website, the Royal Challengers Bangalore captain has numerous tattoos and he has explained the meanings of most of them. However, during an IPL 2023 match between Bangalore and Chennai at […]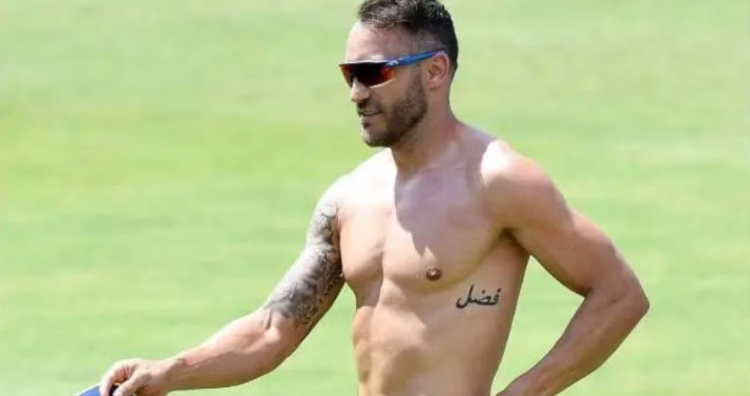 Former Proteas skipper Faf du Plessis boasts a near-flawless physique, gelled hair – and a new tattoo many wouldn't have seen.
MUST READ | 'Relaxed' De Kock chilled over IPL splinters
According to TheSportsRush website, the Royal Challengers Bangalore captain has numerous tattoos and he has explained the meanings of most of them.
However, during an IPL 2023 match between Bangalore and Chennai at the M Chinnaswamy Stadium this week, Du Plessis lifted his shirt to receive medical treatment to his ribs.
Eagle-eyed fans noticed a new tattoo over his left ribcage.
Contrary to popular belief, this is not in Arabic, but an Urdu word 'Fazal'.
It translates to 'Grace' or 'Blessing', and a believer of the almighty.
ALSO READ: Boucher a fan of new IPL rules
Regarding Du Plessis' other tattoos, he has one on his arm which reads "Dies a Domino XVIII I MMXI". It symbolises his international debut for South Africa on 18 January 2011 in an ODI against India in Cape Town.
ALSO READ: Klaasen earns The Hundred pick
In a video on RCB's YouTube Channel, Du Plessis talked about the reason behind getting the same done.
FAF DU PLESSIS MADE HIS PROTEAS TEST DEBUT IN AUSTRALIA
"My first one was, I always wanted to get something but I wasn't sure what to get, so I just said to myself, I'll know when it is the right thing to get. That's the first day that I played for South Africa against India. My debut against India, where I scored 60 or something," Du Plessis said in the video.
On the other side, he has a tattoo of a compass which is directed towards the Adelaide Oval. That was the venue of his Test debut.
In the same tattoo, the date of his marriage and the day he got baptised are also inscribed.
PICTURE | Epic tattoo FAILS: My friend's Chinese tattoo means 'Turkey Sandwich'
Du Plessis married Imari Visser in 2013.
Right above it, there is an "Agape" tattoo, which means unconditional love.
Du Plessis, now 38, played 69 Tests, 143 ODIs and 50 T20Is for South Africa between 2011 and 2021.