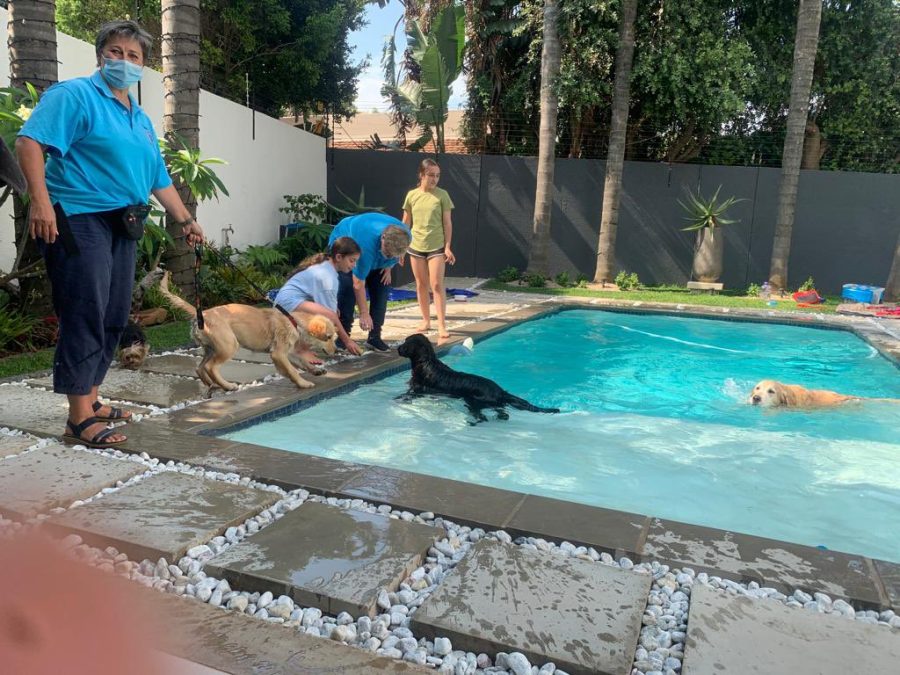 FEEL GOOD: Meet Rudi the rescue therapy dog helping Mark Pilgrim beat cancer
A rescue dog named Rudi is doing his bit to help radio personality Mark Pilgrim visualise his dream of being cancer-free. The Golden Retriever – a qualified therapy dog – recently paid a visit to the Pilgrim home, facilitated by non-profit organisations Paws4U Therapy and Golden Retriever Rescue South Africa. ALSO READ: 'I choose life': 5 […]
A rescue dog named Rudi is doing his bit to help radio personality Mark Pilgrim visualise his dream of being cancer-free.
The Golden Retriever – a qualified therapy dog – recently paid a visit to the Pilgrim home, facilitated by non-profit organisations Paws4U Therapy and Golden Retriever Rescue South Africa.
ALSO READ: 'I choose life': 5 Mark Pilgrim quotes that will inspire you
RESCUE DOG BRINGS HOPE TO MARK PILGRIM'S HOME
Over the weekend, Mark Pilgrim shared an update about his special visitors – a trio of therapy dogs from Paws4U Therapy.
He shared: "Surprise visit for the girls from Paws4U! Thanks for bringing 3 of your highly trained Retriever therapy dogs for a bit of fun and interaction."
In pictures posted on his social media accounts, the dogs can be seen cuddling Pilgrim's daughters and swimming in the family pool.
ALSO READ: Don't stop believing: 5 reasons we love Mark Pilgrim
On their Facebook page, Golden Retriever Rescue South Africa – who rehomed Rudi and two of the other dogs – shared their own account of the emotional experience.
According to NPO, Mark Pilgrim's inspirational post about beating cancer and "walking on the beach with our future golden retriever" inspired their visit.
Really skinny at the moment. Having more fluid drained from abdomen so my tummy has a bit of space for food. It's a journey. It's not easy. Baby steps. Still have the end goal in sight where myself, Adrienne and the girls are walking on the beach with our future golden retriever pic.twitter.com/aIb5PaBkSq

— Mark Pilgrim (@MarkPilgrimZA) January 24, 2023
They posted: "We got to be part of something very special.
ALSO READ: Born fighting! 5 Times Mark Pilgrim overcame life's setbacks
"We knew just who to contact to help make this a reality; the amazing crew from Paws 4 U Therapy Dogs did not hesitate to help. To make it even more special for us, Rudi is a rescue from Golden Retriever Rescue".
The NPO also used the opportunity to send well-wishes to Mark Pilgrim: "We wish healing to Mark and continued love to the whole family.  One day soon, you will be strolling on the beach with your Golden Retriever and soaking up the sun!".
CANCER TREATMENT
Almost a year ago, Mark Pilgrim was diagnosed with stage four lung cancer. This is the star's second stint at the disease after beating testicular cancer more than three decades ago.
In the past 12 months, the radio personality has since gone undergone an intensive treatment plan combining radiation, immunotherapy, and chemotherapy. He also regularly has his lungs drained and is set to begin a new drug as part of targeted therapy.
There have been setbacks, though.
Pilgrim has had to have large vast amounts of liquid drained from both his lungs and stomach. After losing more than 15kg after a two-month hospital stay, the presenter now has to use a walking stick to move around.
His latest round of chemo and immunotherapy has also left him lethargic and with a nasty bout of diarrhea.
ALSO READ: Mark Pilgrim: Throwback pics of Mzansi's favourite radio star
A lot of sleeping the last few days. Body is depleted. After chemo and immuno last Thursday it's just been pouring out both ends. I'm like a shriveled pea. 😳🥴. pic.twitter.com/Lb6fsxXFpG

— Mark Pilgrim (@MarkPilgrimZA) February 2, 2023