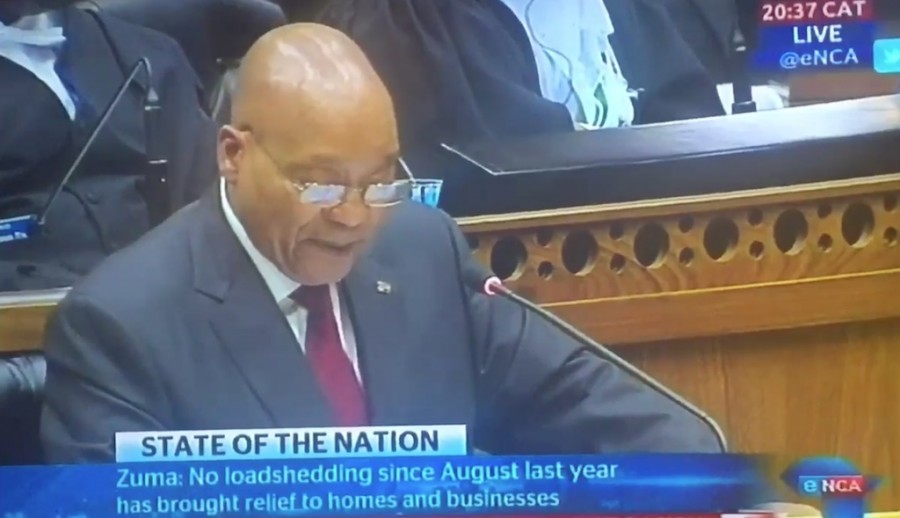 WATCH Highlights of Zuma's SONA2016 – Plus the Megawatts Number
There were numerous highlights in President Jacob Zuma's State of the Nation Address on Thursday, starting with almost an hour of very vocal interruptions, mostly by the Economic Freedom Fighters, who finally walked out of the chamber shouting "Zupta Must Fall! Zupta Must Fall!" Outside Parliament the EFF's leader Julius Malema delivered what he called […]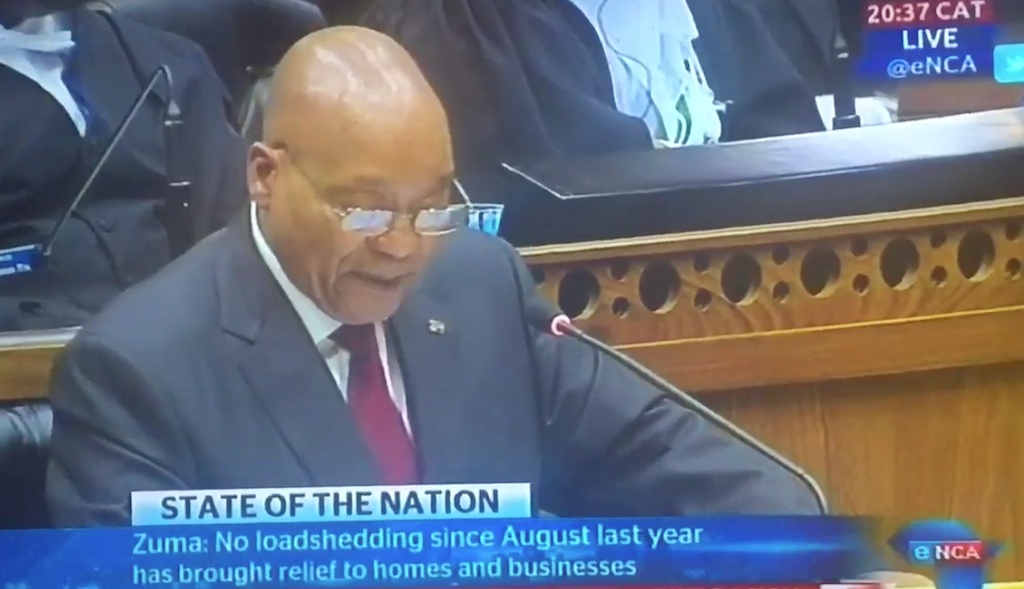 There were numerous highlights in President Jacob Zuma's State of the Nation Address on Thursday, starting with almost an hour of very vocal interruptions, mostly by the Economic Freedom Fighters, who finally walked out of the chamber shouting "Zupta Must Fall! Zupta Must Fall!"
Outside Parliament the EFF's leader Julius Malema delivered what he called the "real" SONA, and called Zuma a thug and a criminal. Numerous members of the EFF tried to call points of order before then, but the Speaker Baleka Mbete, clearly frustrated, said the EFF were trying to disrupt the proceedings. She said they must either sit down and listen to Zuma's speech or leave. Finally they left.
On the streets near Parliament before the session began, meanwhile, ANC and EFF members clashed with police:
After the Democratic Alliance's Mmusi Maimane speaks, the EFF is told to leave, and then leaves. Video:
View the Malema video here:
The EFF was not the first party to walk out of the chamber. COPE's Mosiuoa Lekota led his party out after saying that since Zuma had admitted at the Constitutional Court that he would pay back some of the money on Nkandla and should have followed the Public Protector's report, Zuma should no longer be president.
Watch Lekota as he walks out of Parliament:
Zuma's wide-ranging speech – regularly heckled by the opposition that was left in the chamber – touched on matters such as partnering with business to turn around the failing economy, energy plans for the future (including nuclear energy, which he said would only be acquired according to what South Africa could afford), plans to deal with the drought, and plans to cut down sections of the public sector and state-owned enterprises that were overlapping others or not performing well.
Zuma stumbled numerous times over the figure 9600, that being how many megawatts will apparently be delivered through nuclear energy over the next decade. (See video at end.)
Seeming to emulate the much-praised Tanzanian president John Magufuli, Zuma also mentioned numerous cost-cutting efforts, such as curtailing overseas flights by government members, cutting large gatherings and excessive social events. He said he would also encourage the premiers of the provinces as well as the judiciary and parliament to follow suit.
Zuma also said that it might be time to reconsider the expense of keeping two capitals.
The 9,600 megawatt video:
"@Inge__8: Don't include numbers in the presidents speech. Don't. #SONA2016 pic.twitter.com/8Zhlaby93q"

— African Queen (@Sefularo_Keamo) February 11, 2016