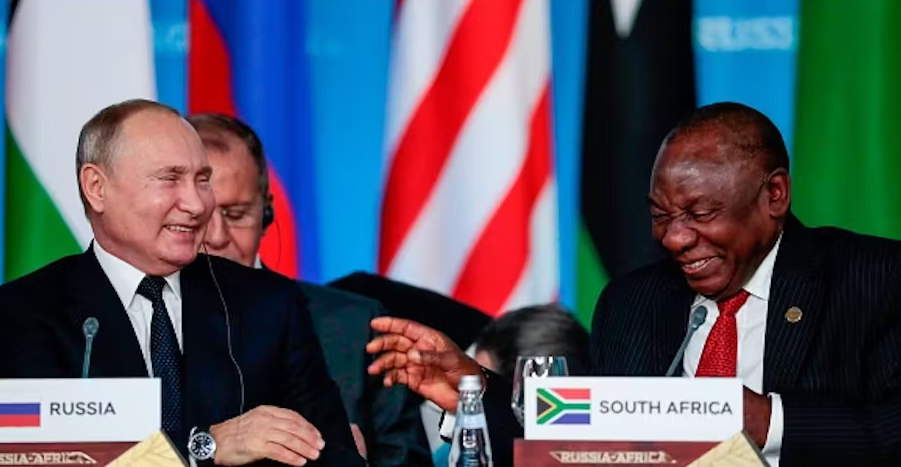 Ramaphosa, Putin discuss Africa's role in brokering ceasefire during call on Wednesday
According to the Kremlin, Presidents Cyril Ramaphosa and Vladimir Putin held a telephone call on Wednesday, 7 June. READ: BRICS summit hosted by South Africa faces dangers PUTIN AND RAMAPHOSA CHAT ON WEDNESDAY, SAYS KREMLIN News agency Reuters reported that the Russian government said Putin and Ramaphosa discussed the "well-known" African initiative to resolve the Ukraine conflict. The […]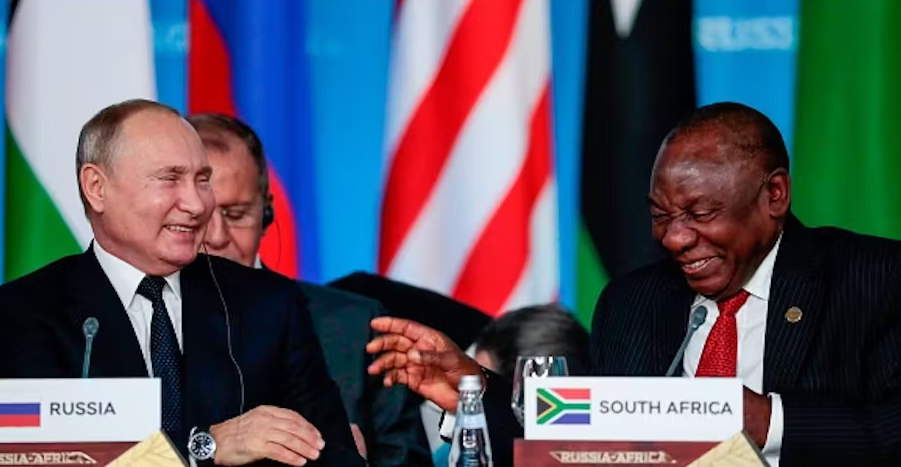 According to the Kremlin, Presidents Cyril Ramaphosa and Vladimir Putin held a telephone call on Wednesday, 7 June.
READ: BRICS summit hosted by South Africa faces dangers
PUTIN AND RAMAPHOSA CHAT ON WEDNESDAY, SAYS KREMLIN
News agency Reuters reported that the Russian government said Putin and Ramaphosa discussed the "well-known" African initiative to resolve the Ukraine conflict.
The Kremlin statement confirmed that the Russian President would host a number of African leaders in the near future.
READ: Reserve Bank WARNS about risks of SANCTIONS
Preparations for the Russia-Africa summit in St Petersburg at the end of July and the BRICS summit in Johannesburg in August were also discussed.
As a member of the Rome Statute, the South African government is facing pressure to enforce the International Criminal Court (ICC) arrest warrant for alleged war crimes in Ukraine against Putin if he attends the Summit.
READ: Putin is welcome in SA as part and parcel of BRICS: Mbalula
SIX AFRICAN PRESIDENTS TO VISIT RUSSIA AND UKRAINE
On Monday, Ramaphosa hosted a virtual meeting with five other African presidents, including Comoros Islands' Othman Ghazali, Egypt's Abdel Fattah El-Sisi, Senegal's Macky Sall, Uganda's Yoweri Museveni, and Zambia's Hakainde Hichilema.
"The Heads of State deliberated on the devastating impact the war has had on the people of Ukraine and Russia as well as the threats this war poses to Europe and indeed the rest of the world if it continues," said the Presidency in a statement.
The continental leaders agreed to discuss a ceasefire and peace agreement with both Putin and Ukrainian President Volodymyr Zelensky. The African presidents confirmed they were available to travel to Ukraine and Russia in mid-June.
READ: South Africa continues to try 'clear way' for Putin's visit