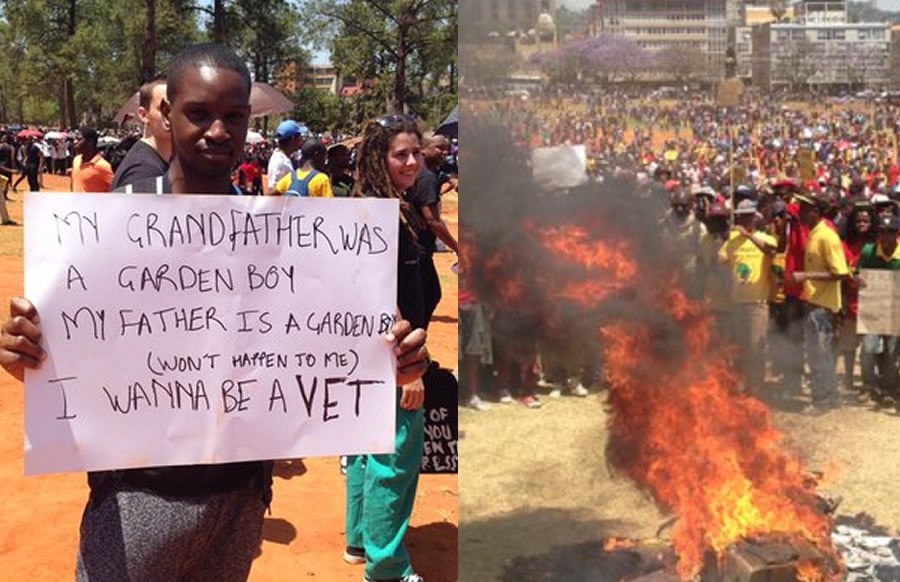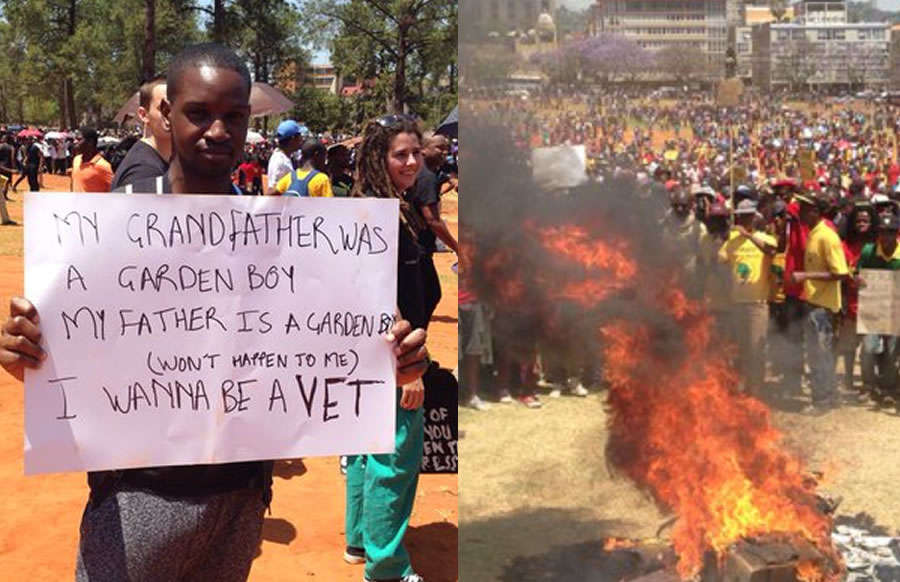 Tweeting 'bout the Revolution…Live Updates
While President Jacob Zuma is currently in a meeting with student leaders and university management at the Union Building in Pretoria, thousands are gathered outside…where they are protesting…and tweeting about their #FeesMustFall #NationalShutDown revolution. The President arrived an hour ago. The crowd of protesters (some chanting "Zuma must fall") are demonstrating against the 10.5 percent […]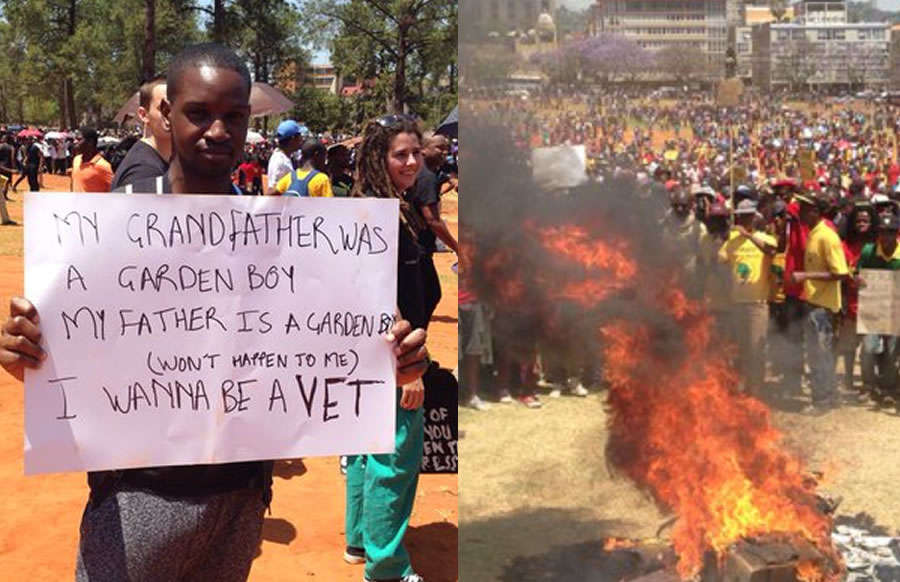 While President Jacob Zuma is currently in a meeting with student leaders and university management at the Union Building in Pretoria, thousands are gathered outside…where they are protesting…and tweeting about their #FeesMustFall #NationalShutDown revolution.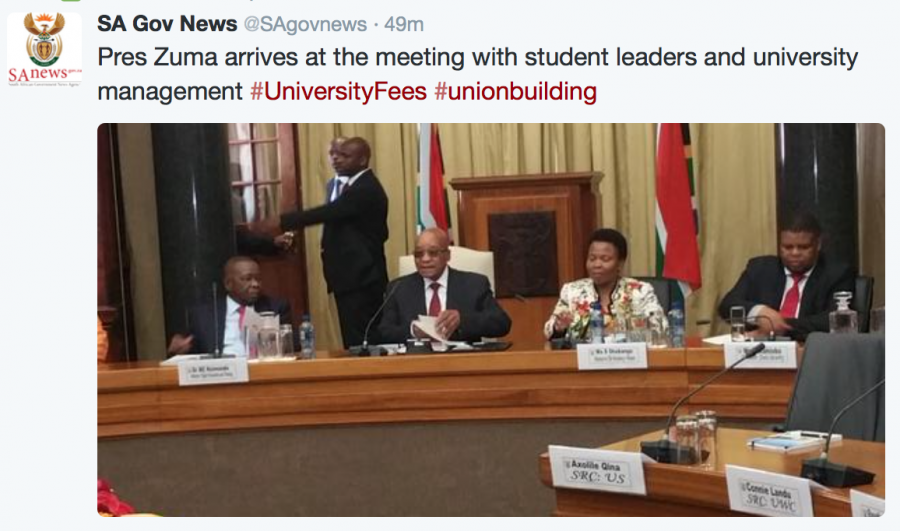 The President arrived an hour ago. The crowd of protesters (some chanting "Zuma must fall") are demonstrating against the 10.5 percent hike in proposed fees for 2016. They include students from Joburg who arrived by bus and train. The students are demanding that the President comes outside and addresses them. The State Security Minister has indicated that the President is "expected to address students after the meeting with stakeholders".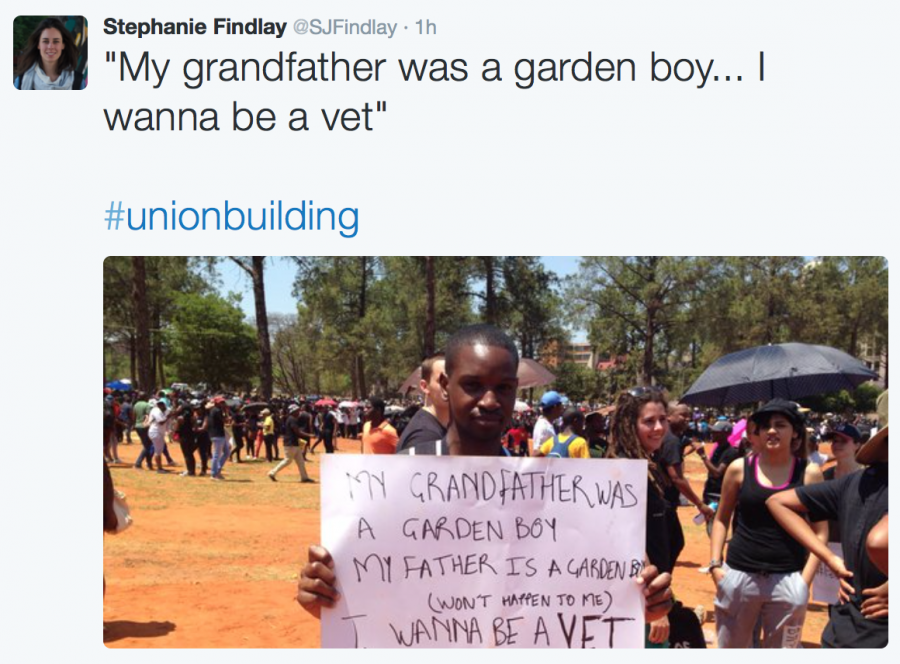 The march has been largely peaceful, until after midday when what some tweeted were a "few hooligans" allegedly began throwing stones over the Union Building gates, throwing bottles at a line of riot police and starting a fire…including the burning of blue municipal portable toilets. The crowd is being urged to remain calm.
There are ambulance and emergency vehicles on the scene with helicopters overhead.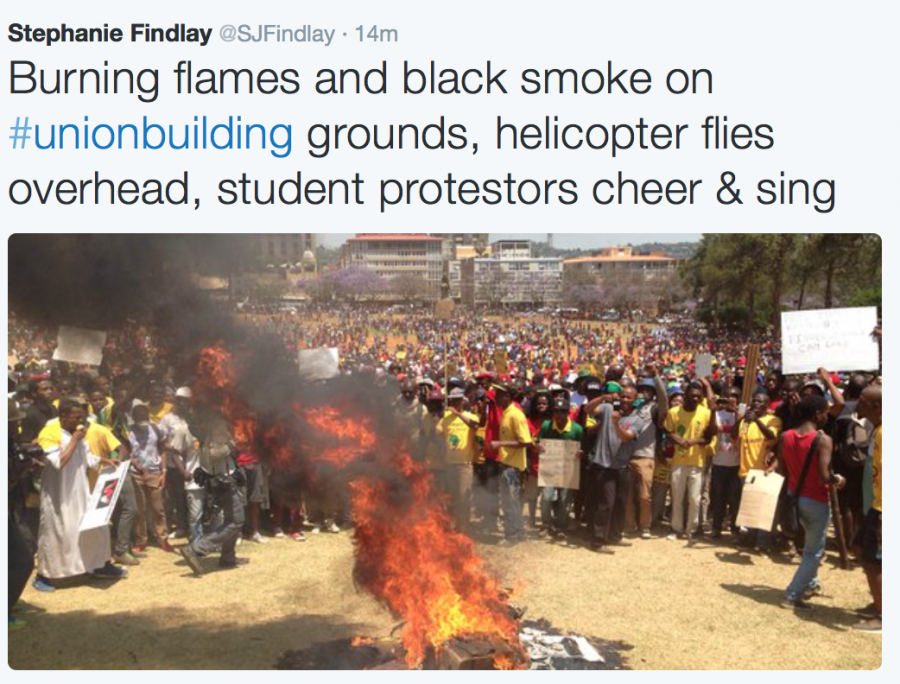 Protesters have taken to the streets in Durban as well with #DurbanMustFall, and supporters in London are currently in Trafalgar Square (see below).
The Presidency said this morning that university fees are "determined by universities independently of government, due to their legal status which makes these institutions autonomous."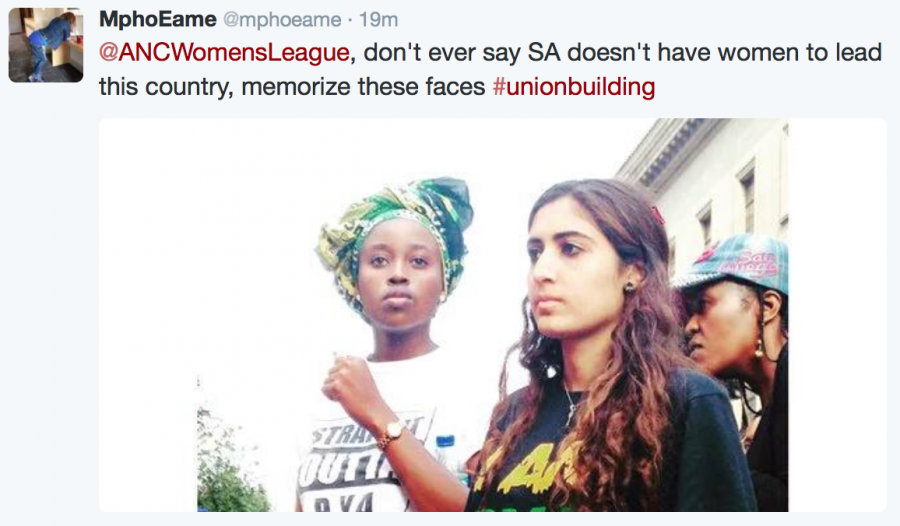 President Zuma has said he "welcomes" the gathering of students at the seat of government, the Union Buildings today.
In Stellenbosch there were reports that Helen Zille was told to "voetsek" and escorted out of a #FeesMustFall protest, but she tweeted minutes ago that it was "yet another example of totally distorted reporting. I was with the students for about 2 hours and 95% friendly & interactive."
Please follow the news of the day on our Twitter feed – @sapeople – or scroll down to see live updates here.
YESTERDAY
Yesterday students sang a version of Awlethu' Umshini wam, will we hear the same today at #unionbuilding? pic.twitter.com/YrlvB2Jx2L

— City Press Online (@City_Press) October 23, 2015
IN PRETORIA
RT @LirandzuThemba: Thousands of students gathered at the presidents doorstep #FeesMustFall #UnionBuilding pic.twitter.com/trfJLVivZo — eNCA (@eNCA) October 23, 2015
IN DURBAN
#NationalShutDown #DurbanShutDown remarkable show of unity from every race, creed and culture pic.twitter.com/a1IboxdPIx

— Judith Subban (@judithsubban) October 23, 2015
IN LONDON
Solidarity from London with #FeesMustFall #NationalShutDown #DurbanShutDown #WitsFeesWILLFall #UWCFeesMustFall pic.twitter.com/9NjOMQi9C1 — Chandra Frank (@frank_chandra) October 23, 2015
THE HIGHLIGHTS OF TODAY'S TWEETS