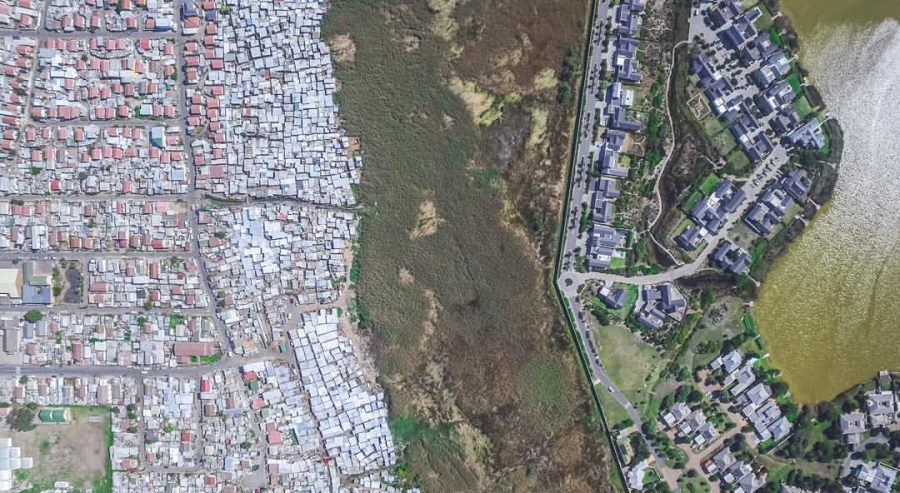 Photographer Hopes SA Videos of Rich/Poor Divide Start of World Project
Photographer and videographer Johnny Miller is quite upfront about what he set out to do when he began filming in April – a series on inequality in three Cape areas – where people of vastly different means live almost side by side, except it's often easy not to see that. But from the air, the discrepancies become strikingly […]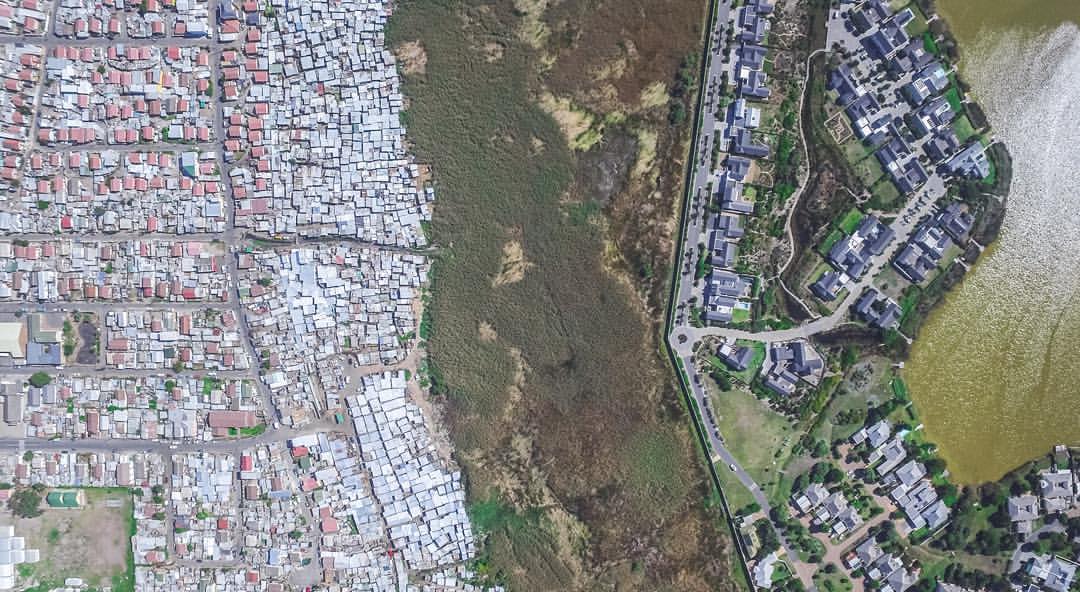 Photographer and videographer Johnny Miller is quite upfront about what he set out to do when he began filming in April – a series on inequality in three Cape areas – where people of vastly different means live almost side by side, except it's often easy not to see that. But from the air, the discrepancies become strikingly visible.
American Miller, of Mille Foto, took to the air and shot three videos. The first was of Masiphumelele and Lake Michelle (also in the photo above), in the Sun Valley area between Fish Hoek and Long Beach.
Miller noted that "While many communities across South Africa have improved tremendously since the fall of apartheid, there are still deep divisions that exist between the 'haves and the 'have nots'."
He also said, "Hopefully in time this project will grow and I will be able to provide a better context of inequality throughout the world, not just in South Africa. In my hometown of Seattle, for example, there are also shocking examples of inequality, which one day I hope to shoot. However, for now, I will be focusing on the country in which I work and live, which is South Africa."
Miller described life in Masiphumelele on his Facebook page, "There are approximately 38,000 people living there, many in small tin shacks. There is no police station, only one small day clinic, and it's estimated that up to 35% of the population is infected with HIV or TB (wikipedia + Masicorp). Fires are common in winter, which sweep through the shacks, sometimes displacing residents by the hundreds. Moreover, the entire community of 38000 is accessed by only one single exit/entrance.
"Across a narrow greenbelt, the community of Lake Michelle is surrounded by an electrified fence and accessed through a guardhouse. Current prices on real estate sites put their value at several million rands. On the day I flew overhead, several people paddleboarded in the choppy lake waters."
Miller said, "Looking straight down from a height of several hundred meters, incredible scenes of inequality emerge. Some communities have been expressly designed with separation in mind, and some have grown more or less organically."
The second video Miller posted was of Imizamo Yethu and Hout Bay. "In some cases the distance between shacks and wealthy homes is only a few meters. In addition, the lack of trees provides a clear visual boundary between the haves and the have nots."
The most recent video, shot this month, was of Nomzano/Lwandle, a township bordered by the communities of Strand and Somerset West. In 2011, there were an estimated 60,000 people there.