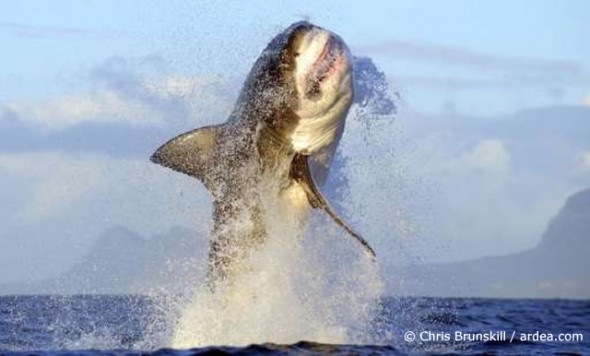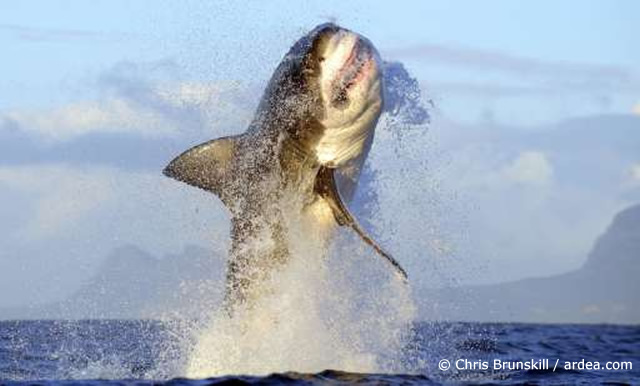 PHOTO Great White Shark Breaching in South Africa. Interview with Photographer Chris Brunskill
Wildlife photographer Chris Brunskill captured some incredible photos of a Great White jumping in False Bay. He discusses the African sky, the sacrifice of a normal life and a tigress called Machali. Read more…

We saw this picture of a shark breaching off Seal Island in False Bay and HAD to interview the wildlife photographer who took the photo – Chris Brunskill (32). He's not a South African per se (being British and all) BUT we love him for his passion for life, his inspirational pursuit of excellence, and for his recognition of the rare awesome moments that a South African scene can offer the world.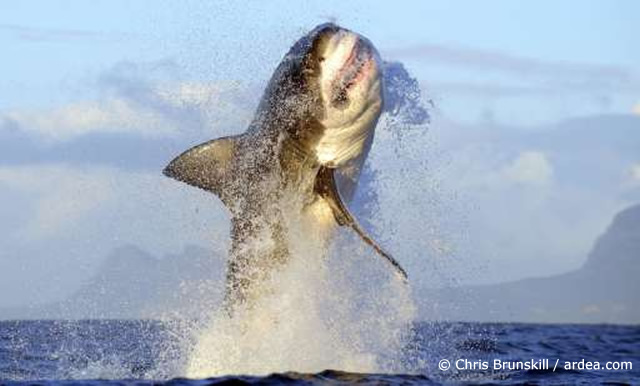 1. How long did you spend out on the boat in False Bay preparing for these incredible photographs?
I was on the boat 5 days to get these images. The most spectacular picture was taken on my last tow of the decoy on day 5, as soon as it happened the boat owner Rob Lawrence came running up to me very excited saying that was the best breach of the season so far!! And as Rob sees this type of behaviour everyday I knew I had something special.
2. How did that moment feel when the shark jumped out of the water?
It's hard to describe what it is like to see something like that happening just metres from the back of the boat. The long wait that precedes it builds the tension and you are imploring the shark to take the decoy over and over in your mind and then suddenly it's right there in the air in front of you, just for that spilt second. It's incredible to see and something you will never forget. Screwing up the picture is not an option!!
3. Although you've spent long periods of time in India and Australia, it seems it was a trip to Africa when you were 18 that inspired you to become a wildlife photographer. Was there a life-changing moment or experience during that trip that caused this inspiration? (or what made you fall in love with the prospect of photographing wildlife?)
There wasn't really one moment, just a long period of time spent traveling through some of the most spectacularly beautiful places on earth, watching wildlife and camping out under the African sky each night. Serengeti, Ngorongoro and Virunga are very special places that everyone should see once in their lives.
4. Who's the most interesting animal you've met or photographed?
The most interesting animal I have photographed is a tigress called Machali that lives in Ranthambhore National Park in India. I have been taking pictures of her since 1998 and just this last May I found her once again very close to where I first saw her. She has had four litters of cubs and I have seen them all over the last 11 years.
5. Apparently the challenge of recording rare images is what drives you. What do you think your most useful character trait is that enables you to fulfil this drive?
I think it is my passion for what I am doing. If I have the idea of an image I want in my head I am relentless and will sit and wait somewhere for weeks on end to get it. This is especially true when photographing wild tigers as you will be waiting a long time before anything interesting happens.
6. What've you had to sacrifice for your career?
I've had to sacrifice a normal life at times, wildlife photographers don't tend to earn a lot of money and what they do they re-invest in more trips and more images. I am constantly saving and planning for future trips which can sometimes impact on everyday life back at home.
7. What's the most surprising thing you've learnt about yourself in the past 10 years?
The most surprising thing I have learnt about myself in the last ten years is how much I am prepared to sacrifice in order to get the images that I want,
8. How badly have you risked your life (or your health) for a photograph?
I have never really risked my life for a photograph but have had some heart stopping moments. Encountering tigers and lions on foot, going down in the cage with the great white's off South Australia and flying in microlights over Africa.
9. Do you have your eyes set on any other animal in South Africa you'd like to capture on film?
I will be back in South Africa in 2010 and would like to shoot more great white sharks and any of the big cats, especially leopards and cheetahs as I haven't really had much contact with them during my career.
10. South Africans are so…

…adventurous and intrepid and enjoy being out in wild nature as much as any nation I have come across.
THE PROMO SPIEL
A SHOUT OUT TO: