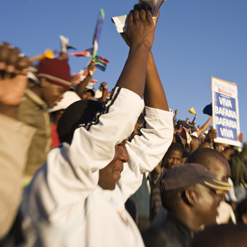 A Brief History of Bafana Bafana
by Brad Morgan South Africa's national football team, known as Bafana Bafana ("The Boys"), has a relatively short international history. That's because the first team to represent all South Africans only played its first match in 1992 – two years before the country's first democratic elections. Bafana's first match was played in Durban, against Cameroon, […]

by Brad Morgan
South Africa's national football team, known as Bafana Bafana ("The Boys"), has a relatively short international history. That's because the first team to represent all South Africans only played its first match in 1992 – two years before the country's first democratic elections.
Bafana's first match was played in Durban, against Cameroon, on 7 July 1992. It proved to be a strong debut against one of Africa's leading teams, which had made the quarterfinals of the Fifa World Cup only two years previously. Doctor Khumalo scored the game's only goal to give South Africa a 1-0 win.
Despite that victory over the Indomitable Lions, the effects of isolation soon showed as South Africa failed to qualify for the 1994 Africa Cup of Nations after suffering four defeats in succession – to Cameroon, Zambia, Nigeria and Zambia.
Africa Cup of Nations 1996
Two years later, however, Bafana Bafana's place at the Africa Cup of Nations finals was assured when the country hosted the tournament.
Under coach Clive Barker, the national team rose to the occasion, topping its group after beating Cameroon 3-0 and Angola 1-0 before losing 1-0 to Egypt.
In the quarterfinals, Bafana beat Algeria 2-1 to set up a semi-final clash against Ghana, the only team that had won all its games up until that stage of the competition. Putting in one of the finest performances ever by the South African national team, the home side triumphed 3-0 in front of 75 000 spectators at Johannesburg's FNB Stadium. (The stadium, now known as Soccer City, has been extensively refurbished as the showpiece venue for the 2010 Fifa World Cup.)
Bafana faced Tunisia in the final, after the North Africans had defeated Zambia 4-2 in the semi-finals. In front of a crowd of 80 000 at the FNB Stadium, Neil Tovey's men gave the supporters what they wanted by beating the Tunisians 2-0, with Mark Williams netting both goals.
1996: the Boys play Brazil
Still in 1996, the potential of South African football was demonstrated when Bafana Bafana took on world champions Brazil, who were at full strength, in a Mandela Cup match in Johannesburg.
Philemon Masinga put South Africa into a 25th-minute lead and Doctor Khumalo then made it 2-0 to the home side at the break, to the delight of the Bafana fans.
The Brazilians fought back after the break, with Flavio netting in the 56th minute. Twelve minutes later, Rivaldo made it 2-2.
Then, with only four minutes left, Bebeto, one of the heroes of Brazil's 1994 World Cup winning team, snatched the winner for the visitors.
Although South Africa lost, the match provided ample proof that the team's Africa Cup of Nations title was no fluke. It also proved to be a wonderful celebration of the game of football, and of the role Nelson Mandela played in bringing democracy to the country.
1998: Fifa World Cup
Bafana Bafana continued to excel on the international stage when, in 1997, the team qualified for the Fifa World Cup finals for the first time.
They faced the difficult task of taking on the hosts, France, in their first match in Group C. The French, with probably the best team in the country's history, beat South Africa 3-0. France went on to beat Brazil by the same score in the final.
Bafana Bafana drew 1-1 with Denmark in the team's second match, then shared a 2-2 draw with Saudi Arabia. The two draws and one loss saw South Africa exit the event in the group stages after finishing third in its group.
1998: Africa Cup of Nations
Also in 1998, Bafana defended their Africa Cup of Nations title in Burkina Faso. In a controversial decision, taken shortly before the finals, coach Clive Barker was sacked and Jomo Sono appointed in a caretaker role. Some forecasts were dire, but the South African team again rose to the challenge to perform well.
They finished second behind the Ivorians in their group, after a 0-0 draw against Angola, a 1-1 draw with the Ivory Coast and a 4-1 win over Nambia. A young striker by the name of Benni McCarthy made his mark by netting four goals inside 21 minutes in the victory over the Namibians.
In the quarterfinals, South Africa beat Morocco 2-1 as McCarthy and David Nyathi netted. That earned them a semi-final place against the Democratic Republic of Congo.
In the semi-final, McCarthy scored on the hour-mark to level the scores after South Africa had fallen behind in the 48th minute. He then struck in extra time to earn Bafana a 2-1 win and a place in the final against Egypt, who had beaten the hosts Burkina Faso in the other semi-final.
The dream of successive titles was brought to an end in the final when the Pharaohs scored two early goals to take a 2-0 victory. Nonetheless, given the uncertain build-up to the tournament, it was a good showing by South Africa.
1999: First win over European opposition
Despite very average results in 1999, Bafana managed to win the Afro-Asian Trophy after beating Saudi Arabia 1-0 in Cape Town and then drawing 0-0 in Riyadh.
In November 1999, Bafana Bafana achieved a notable milestone when they scored their first win over European opposition. It came in the Nelson Mandela Challenge against Sweden at Loftus Versfeld Stadium in Pretoria. Siyabonga Nomvete was the hero, netting an 87th minute goal to snatch a late victory for the home side.
At the Africa Cup of Nations in 2000, hosted by Ghana and Nigeria, Bafana Bafana topped their group, beating Gabon 3-1, the DRC 1-0, and playing to a 0-0 draw with Algeria. In the quarterfinals, Siyabonga Nomvete scored the only goal as South Africa eliminated one of the hosts, Ghana.
In the semi-finals, SA's footballing nemesis, Nigeria, beat Bafana 2-0. South Africa ultimately finished third after beating Tunisia 4-3 from the penalty spot after the teams had played to a 2-2 draw in the playoff.
2002: Fifa World Cup
Although South Africa's Africa Cup of Nations performances had gradually slipped over three continental finals – from winners to finalists to semi-finalists – their performances in at the 2002 Fifa World Cup in South Korea and Japan were noteworthy.
Competing in group B, they drew 2-2 with Paraguay and then beat Slovenia 1-0. That left Bafana with a shot of making it to the round of 16, but a tough encounter against highly fancied Spain awaited the side.
In a back-and-forth tussle, Spain took an early lead through Raul. Benni McCarthy struck back in the 31st minute to make it 1-1. Gaizka Mendieta then edged the Spaniards in front with a goal in first-half injury time.
Only eight minutes into the second stanza, Lucas Radebe levelled the scores. Raul, however, restored Spain's lead three minutes later, and that's how it ended: South Africa 2, Spain 3.
At the same time as Bafana Bafana and Spain were doing battle, Slovenia and Paraguay were in action.
The Slovenians took a 1-0 lead into the break, which meant South Africa would qualify for the next round regardless of whether or not they lost to Spain. Paraguay, however, came roaring back in the second half, netting three times to win 3-1.
The South Americans' third goal, scored in the 84th minute, was enough to see them progress at South Africa's expense, but only by the narrowest of margins: both had the same number of points, and the same goal difference. Paraguay, though, had scored and conceded six goals to South Africa's five and five.
2002: Africa Cup of Nations slide
South Africa's Africa Cup of Nations slide continued in the finals held in Mali in 2002.
Bafana Bafana qualified at the top of their group, albeit with a record of only one win and two draws. They opened with a 0-0 draw against Burkina Faso, and followed that up with another goalless draw against Ghana. A 3-1 victory over Morocco, however, was enough to open a path to the quarterfinals. There, Bafana Bafana met the hosts and were beaten 2-0.
In 2003, the national side managed a record of only six wins, a draw and four losses. Worryingly, losses began to come against teams that South Africa needed to beat to maintain a strong Fifa world ranking – countries like Zimbabwe, Tunisia and Egypt.
The decline was made clear for all to see at the 2004 Africa Cup of Nations in Tunisia. Despite opening with a 2-0 win over Benin, Bafana Bafana failed to progress beyond the group stages. They were humbled 4-0 by Nigeria, and drew 1-1 with Morocco.
2004: World Cup bid succeeds
In May 2004, however, the mood of South African football fans was considerably brightened when the country won the right to host the 2010 Fifa World Cup™ – the first African country to be awarded the honour.
And in November 2004, the Nigerian bogey was finally ended when Bafana Bafana beat the Super Eagles 2-1 in the Nelson Mandela Challenge at Ellis Park in Johannesburg.
Despite a decent showing as an invited team to the 2005 Concacaf Gold Cup, in which they drew three matches and beat Mexico 2-1, 2005 was not a good year for South Africa's national football team. They scraped wins over lightly regarded teams early in the year, but ended it with four losses and a draw in their last five matches.
2006: Bafana hit bottom in Egypt
Although they qualified for the 2006 Africa Cup of Nations in Egypt, the tournament proved to be a disaster for South Africa. They lost all three matches they played and failed to score a single goal as they crashed out of the tournament as the bottom team in their group.
With four years remaining until 2010 and the national team in disarray – and down to 72nd in Fifa's world rankings – a decision was made to acquire a big-name coach to prepare Bafana for the World Cup. Brazilian Carlos Alberto Parreira, who had coached Kuwait, the United Arab Emirates, Brazil and Saudi Arabia in previous World Cup finals, took up the post.
Parreira achieved his first goal of earning qualification for the 2008 Africa Cup of Nations in Ghana, but South Africa once again bowed out in the first round.
2008: Improvement under Parreira
They finished bottom of group D in Ghana after two draws and one loss, which was, at least, an improvement over their previous campaign. Bafana drew 1-1 with both Angola and Senegal, and lost 3-1 to Tunisia.
After that, South Africa appeared to be making progress under Parreira, and a stylish 3-0 victory over Paraguay in March 2008 was cause for optimism. The following month, however, Parreira abruptly resigned his position to be with his wife, who had recently undergone surgery for cancer.
His replacement was another Brazilian, recommended by Parreira: Joel Santana, who brought with him an excellent record in Brazilian club football, but no international experience.
2008/09: Santana in at the deep end
Santana was thrown in at the deep end, taking over just before a series of Africa Cup of Nations qualifiers. He didn't know the players, he didn't have time to work with them – and South Africa failed to qualify for the 2010 Africa Cup of Nations in Angola.
The tide seemed to be turning, however, when South Africa scored a national record five consecutive wins in succession – over Zambia, Cameroon, Ghana, Equatorial Guinea, and Malawi.
However, disappointing losses to Chile and Portugal in early 2009, either side of a last-gasp win over Norway, suggested that Bafana still had considerable ground to make up if they were to progress beyond the group stages of the 2010 World Cup.
2009: Fifa Confederations Cup
At the Confederations Cup, a warm-up event for the 2010 Fifa World Cup played in South Africa in June 2009, Bafana Bafana gave a good account of themselves in reaching the semi-finals. With a place in the final on the line, they went down 1-0 to eventual champions Brazil, who scored only three minutes from time.
Against Spain, in the play-off for third and fourth, Bafana pushed the European champions into extra time before succumbing 3-2.
With good performances against the world's two top teams, confidence in the national side was running high. Sadly, this proved to be a false dawn.
2009: Santana out, Parreira back in
In August and September 2009, Serbia beat Bafana 3-1 in Tshwane/Pretoria, Germany beat them 2-0 in Leverkusen in September, and Ireland won 1-0 in Limerick before South Africa scored an unconvincing 1-0 win over minnows Madagascar at home.
And in October 2009, Bafana went down 1-0 to Norway in Oslo and 1-0 to Iceland in Reykjavik. Eight losses in nine matches saw Bafana Bafana drop to a 16-year low of 85th in Fifa's world rankings.
Not long afterwards, on 19 October 2009, the South African Football Association announced that Joel Santana had stepped down as coach of South Africa's national team.
On 23 October his replacement was announced: none other than Carlos Alberto Parreira.
"I see light at the end of the tunnel," Parreira told Fifa in an interview the following month. "When we have this team up to a good level of fitness, they will prove far more competitive. This side has played at a high level before. When I worked here the first time we beat Paraguay 3-0, and that's the standard I want the team to get back to."
The coach will now turn his focus to a training camp in his native Brazil in March, when he will have four weeks to work with his squad.
"We'll be able to get them into good shape," he said. "They will be with us for four weeks. We are going to go to Brazil. We are hoping to play about six games against good opposition. It is going to be very beneficial."