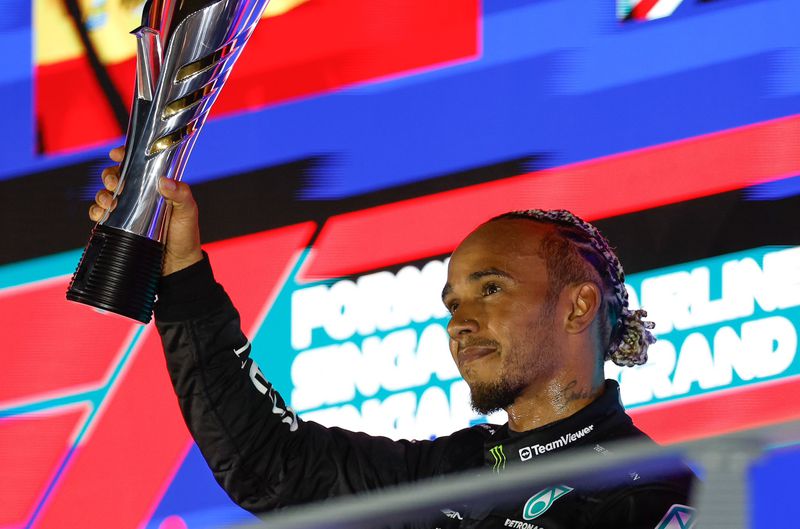 Did Mercedes cost Lewis Hamilton a WIN in Singapore?
Lewis Hamilton was the fastest driver at the Singapore GP but Mercedes played it safe by not switching their two drivers.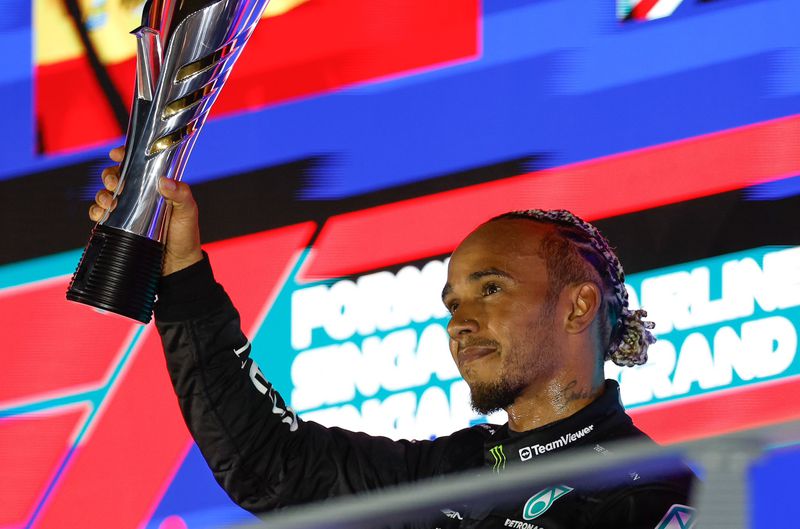 A bold strategy call from Mercedes in the final 20 laps of the Singapore Grand Prix nearly gave them their first win of the season.
After a Virtual Safety Car was called on lap 43, Mercedes pitted both George Russell and Lewis Hamilton for medium tyres. Although the duo lost places, the fresher and faster tyres gave them a huge advantage in the final stint.
ALSO READ: "It's okay, they can take one" – Verstappen after P5 finish
With 10 laps to go, the strategy looked to be paying off after both drivers passed Charles Leclerc with ease to hunt both Lando Norris and Carlos Sainz for the lead.
MERCEDES GAMBLE NEARLY PAYS OFF IN THE END
In the final five laps, all four drivers were under a second from each other but Hamilton was the fastest man on track but was behind Sainz, Norris, and Russell. Sainz gave the McLaren driver the DRS so he could protect himself against the flying Mercs, and for five laps, the faster Mercedes cars failed to pass Norris.
ALSO READ: Singapore GP dubbed as BEST race of the season
While trying to pass Norris, Russell lost control and crashed out of the race in the final lap, thus gifting Hamilton a podium.
After the race, some fans believed Mercedes would have won had the team switched the drivers with three laps to go.
ALSO READ: Max Verstappen eliminated in Q2, BUT survives penalty
Hamilton was five seconds behind Russell after his second stop, but with six laps remaining, the seven-time champion was right behind his teammate, who had caught up with the race leaders. After Russell failed to overtake Norris multiple times, pundits and fans thought the best thing for Mercedes was to switch cars and give Hamilton a go at Norris.
Having won 103 Formula One races, the likelihood was that Hamilton would have sailed passed Norris within a lap and then clear Sainz in the final lap.
Mercedes team boss Toto Wolff said the gamble was needed.
"We tried to win and we didn't, "The positives are that I love the call from driver and strategy team to say, 'We're going for it'.
ALSO READ: 'If I was in Red Bull, Verstappen will not be having it easy' – Lewis Hamilton
"I think it was the absolute right call, we would have finished P2, P5 – maybe P2, P4, and we wanted to win the race.
"So, we took the risk and I would every day of the week do it again.
"Overall, I'm happy about the performance. I'm happy about how the car was all weekend, and I think we gave it our best shot," said the Mercedes boss.