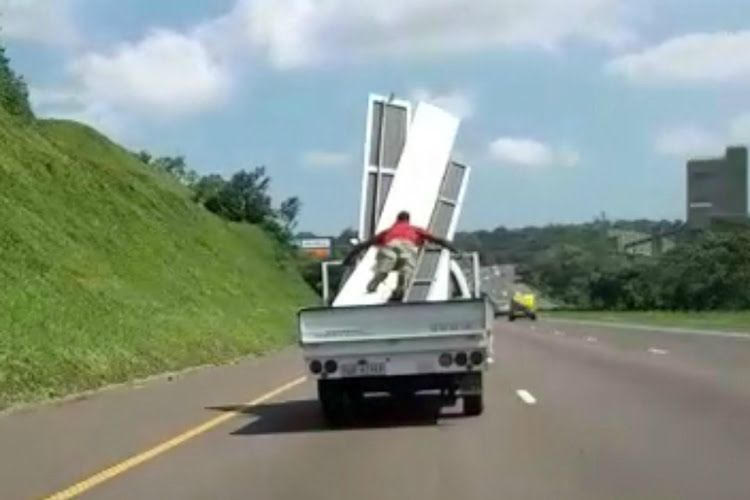 WATCH Worker Almost Blown Off Bakkie on South African Motorway
A video going viral on Twitter has captured on film the incredible moment when a worker hanging onto corrugated sheets on the back of a bakkie becomes totally AIRBORNE on the busy N2 motorway in Duban, South Africa! It could have ended in tragedy with the sheets of aluminium appearing to have not been tied […]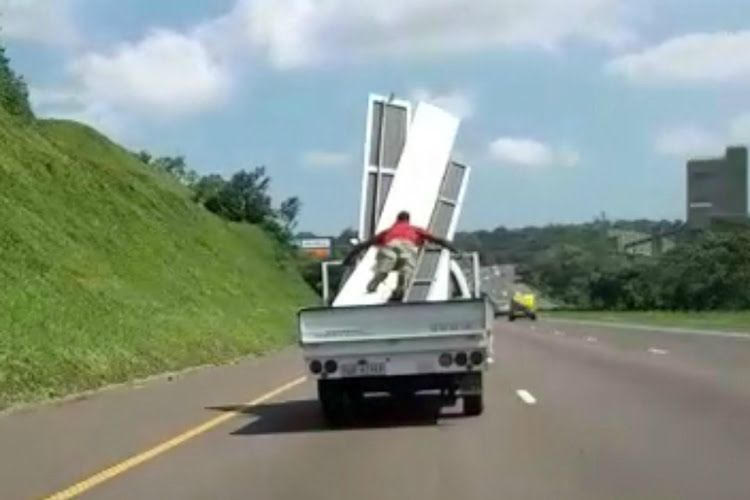 A video going viral on Twitter has captured on film the incredible moment when a worker hanging onto corrugated sheets on the back of a bakkie becomes totally AIRBORNE on the busy N2 motorway in Duban, South Africa!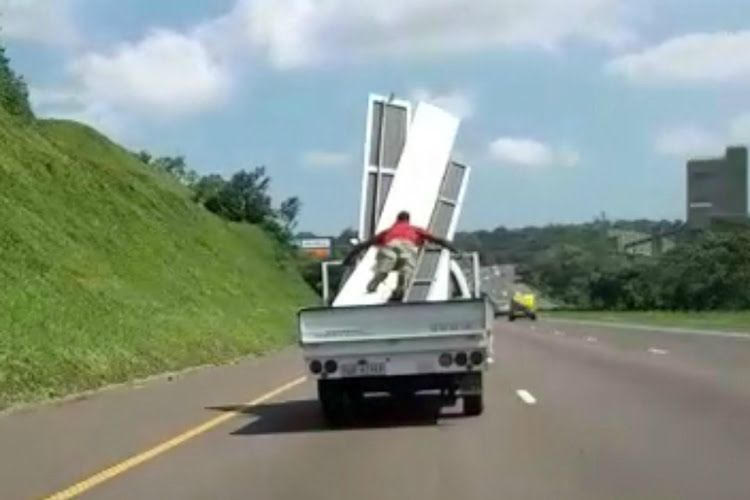 It could have ended in tragedy with the sheets of aluminium appearing to have not been tied down adequately (if at all!). The worker instead seems to have been tasked with lying spread-eagled across the corrugated sheets and doors to use his body weight to hold them down… but with the vehicle speeding along at about 100kmh, all did not go according to plan.
A passenger in the car following behind, which recorded the outrageous scene, can be heard saying incredulously: "He is going to take off!"
And moments later with the sheeting flapping wildly, he almost did take off as he tried so earnestly to hold onto the panels. The car behind almost came a cropper itself as the sheets went flying into the road.
Fortunately the worker manages to remain in the back of the bakkie, landing while still hanging onto one piece as the rest flies dangerously into oncoming traffic.
The South African Police Service (SAPS) issued a stern warning after the video went viral saying the full might of the law would come down on those who illegally transport goods or people on open back vehicles.
Spokesperson Superintendent Parboo Sewpersad said: "The driver was in contravention of the National Road Traffic Act and could be charged with carrying goods unsafely on a vehicle.
"When goods are transported on a van they must be secured and a person is not permitted to be used to sit or lean against goods being transported to try and secure them.
"Motorists must be mindful of their passengers and employees and other road users" said the police spokesman.
Motoring safety group Arrive Alive, who tweeted the video, said of the footage in which the man filming it is in hysterics: "Sadly no laughing matter – it could have ended very badly."
WATCH Man tries desperately to prevent panels flying off back of bakkie
Sadly no laughing matter… could have ended very badly!! #ArriveAlive @ConstructionSfy pic.twitter.com/mYV67SavQD

— Arrive Alive (@_ArriveAlive) November 26, 2019