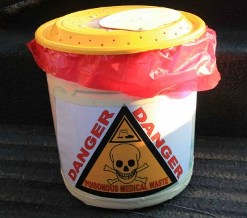 Poisoning horns to save rhinos
The latest attempt to counter the thriving crime of rhino poaching comes in the form of a poisonous substance with which a game reserve is now poisoning its rhinos' horns. Consumers of the poisoned rhino horn, generally found in Asia, risk becoming seriously ill from ingestion as it is contaminated with a non-lethal chemical package. […]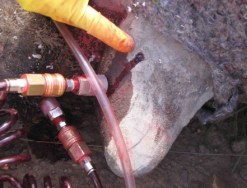 The latest attempt to counter the thriving crime of rhino poaching comes in the form of a poisonous substance with which a game reserve is now poisoning its rhinos' horns. Consumers of the poisoned rhino horn, generally found in Asia, risk becoming seriously ill from ingestion as it is contaminated with a non-lethal chemical package.
Private game reserve Sabi Sand Wildtuin, at the southern end of the Kruger Park, is tired of watching an entire species vanish before its eyes. The reserve has resorted to taking matters into its own hands by injecting ectoparasiticides into the horns of 100 of its rhinos.
Ectoparasiticides
Ectoparasiticides are not intended for consumption by humans; they are generally used for the control of ticks and parasites in animals. An ectoparasiticide is an antiparasitic drug used in the treatment of ectoparasitic infestations. It kills the parasites that live on the body surface.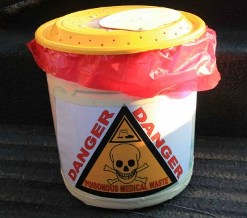 Although not lethal in small quantities, they are toxic and symptoms of accidental ingestion may include severe nausea, vomiting and convulsions, among other side effects.
Because of these side effects, the treated rhino and their horns must be visibly identifiable, to avoid ingestion of treated horns by humans.
Andrew Parker, the chief executive of Sabi Sand Wildtuin Association, says the reserve is leading this programme because it is located at the epicentre of the problem, at the southern end of the Kruger Park, where up to 70% of the rhino killings occur.
In addition to making whoever consumes the rhino horn very ill, the ectoparasiticides are accompanied by a pink dye that can be detected by airport scanners. "We realised that the treatment of the horns, along with an indelible dye, would go a long way towards helping us achieve our goal of protecting all rhinos in South Africa from poaching," says Lorinda Hern of the Rhino Rescue Project.
The dye is visible on an x-ray scanner even when ground to a fine powder. Airport security checkpoints are almost certain to pick up the presence of this dye in a treated horn regardless of whether the horn is intact or in powder form.
"Testing is ongoing and comprehensive, to ensure that the animals have in no way been harmed by the administration of the treatment and, based on the research, it is believed that the treatment should remain effective for approximately three to four years, after which re-administration would be required," says Hern.
Diminishing the lucrative trade
There is no doubt a solution to rhino poaching needs to be found. The number of rhinos lost to poaching in South Africa exceeded 300 in 2010 and over 400 in 2011. This week, the government said 203 rhinos had been killed by poachers so far this year, including 145 in Kruger Park.
Rhino horn on the black market is worth an estimated R600 000 (US$66 000) a kilo for mature horns, which average four to 4.5kgs in weight when they are sawn or hacked off close to the animal's skull. The poachers themselves receive a fraction of the R2.4 million to R2.7 million ($264 000 to $300 000) value of each horn from the syndicates that plan the raids and export the material.
Educating consumers
Logically, a permanent solution to poaching is to eliminate the demand for rhino horn altogether. Education will go a long way to teaching consumers that rhino horn contains no nutritional or medicinal value, however, education will not produce an immediate result – and results are needed urgently.
The Sabi Sand game reserve hopes that these two tactics, implemented for the first time in South Africa, will put a dent in the lucrative rhino horn trade. "The media in South Africa and globally maintain a close watch on the shrinking herds of our rhino," Parker says. "The same platform can expose exactly what the poachers are up against from now on.
"They have had an easy ride so far, running a vast and brutal, hugely profitable trade under the noses of government authorities between here and Asia. Now we are forcing them to answer to their consumers about what they are passing off as medicine," he adds.
Sabi Sand has launched a widespread media campaign and posted signs on its fences to make poachers aware that its rhinos have been poisoned.
By: Cadine Pillay
Source: www.mediaclubsouthafrica.com