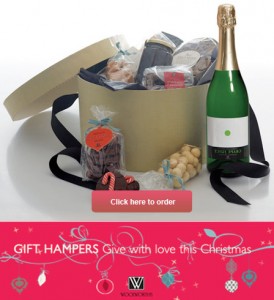 We've received a mountain of amazing, inspiring emails during the course of the Luxury Woolies Hampers give-away competition. Here's a sample of some that touched our hearts. We asked visitors to the site to tell us who they thought deserved to win a free luxury Woolies Hamper. Here's what they said: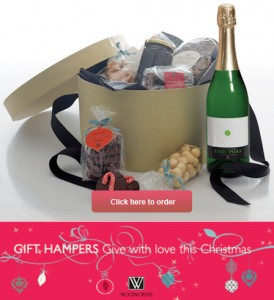 Nominee: Ethel Cronje
Nominated by: Her granddaughter, Melany
Nominated because: My Granny (Ethel Cronje) really deserves a pamper pack as she has had a tough year this year after the passing of her husband and undergoing a back operation. She has really felt alone as her only son lives in Saudi Arabia and her only two grandchildren live in London. Unfortunately we cannot be home for Christmas this year or celebrate her 80'th birthday with her on the 7'th of January. If she receives this pamper pack she will feel special and loved. Thank you !!!
Nominee: Sabie Patel
Nominated by: Her co-worker Lise Behenna
Nominated because: She is a special person I work with…..and deserves to be spoilt….she has no-one to spoil her…being a single parent of a retarded grown-up daughter…she is always thinking and doing things for other…
Nominee: Fransie van Wyk
Nominated by: Her daughter Tanya
Nominated because: She's a great mother to me and my younger brother and still does so much for others, struggling through personal illness and problems, she still puts us first. She takes care of many members of her family. Over the last few weeks she's had to provide family and some friends with money, housing, support and care, (having no income of her own she still gives all she's got). Her fiance has to work in the Congo for two months over Christmas, leaving her home by herself. Last week his father passed away and my mother had to travel from Johannesburg to Natal to support his family (he's stuck in the Congo and is trying to get back to SA but it's highly unlikely that he'll get to an airport for the next few weeks even) Her best friend's brother just passed away and the emotional strain is so heavy on her, yet she just carries on and does her best to help all of us, all the time.
Nominee: Eleanor Foster
Nominated by: Her mother Lynette
Nominated because: She is my daughter and has had a tough year. She was retrenched 3 months ago and was stranded with no home and no job – she has 2 children. She still managed to get the eldest through to high school for next year. We are so proud of her!
Nominee: Anna Watson
Nominated by: Her daughter Jacqueline Parish
Nominated because: My mom did not have a good year. She has no income nor does she work. Our 4 kids see to it that the house etc gets paid each month. I would really like her to have a good Christmas. She is the best mom and I would not trade her for any other mom.