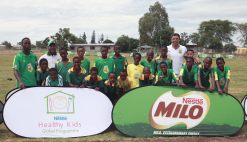 by Janine Erasmus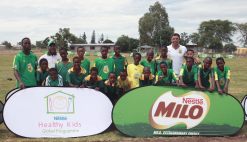 The 2009 Nestlé Milo Champions tournament brought almost 6 000 schools from around South Africa together in Soweto to compete for the trophy, as well as R100 000 (US$13 300) for the winning school to invest in a health, wellness or nutrition initiative.
With the 2010 Fifa World Cup now scant months away, football fever in all forms is gripping the nation as never before. Last year's Milo Champions competition, run in collaboration with the South African Schools Football Association (Sasfa) and the Supersport television channel, was the second edition.
About 94 500 would-be football stars participated in the 2009 tournament, with around 75 000 children from some 4 800 schools taking part in the 2008 event.
Dorothy Langa Primary School in Limpopo province was the ultimate winner, snatching the title from Mpumalanga's Mapula Sindane School in an exciting final that came down to a penalty shoot-out. Dorothy Langa, with two goals to Mapula's one, emerged triumphant.
"It is great to see that school competitions like this are not dominated by one school," said Dorothy Langa head coach Mpho Mathopa. "Our achievement has reflected the true spirit of competition and shown that there is a balance of football talent in the country."
Nurturing future talent
The competition was open to all South African primary schools, and took place over four months. District and regional winners went through to the provincial play-offs, and the nine provincial winners progressed to the national finals at Hyundai Park in Soweto.
"We want to see growth in school soccer in our country," said Sasfa president Mandla "Shoes" Mazibuko. "Next year we will make sure that more schools take part in this wonderful tournament."
Global food giant Nestlé has invested generously in the Milo Champions tournament. In addition to the grand prize, each provincial winner walked off with R10 000 ($1 320), while the runner-up took home R75 000 and the third-placed team won R50 000 ($6 600).
The programme is intended primarily to foster young football talent in South Africa while promoting an enthusiasm for the beautiful game and an awareness of the importance of healthy living. As well as valuable football coaching from top players, all participants received comprehensive nutritional education.
Nestlé South Africa MD Yves Manghardt said, "We at Nestlé hope that each child who has played in this tournament comes out a winner, having learnt about teamwork, determination and most importantly why sports and a healthy lifestyle are qualities that will stand them strong through life."
Nurturing football skills
Dorothy Langa chose to use the money for a new football field, which was officially opened towards the end of 2009. The 68m x 50m field, complete with borehole to ensure that the pitch is always green, was a welcome addition to the school's infrastructure.
To celebrate the occasion former Bafana Bafana defender Mark Fish gave a coaching clinic at the school. Fish is Nestlé's Milo brand ambassador for good health, and also took time to visit each of the nine finalists beforehand to help with their preparations for the big day.
At the same time Nestlé launched the South African branch of its Healthy Kids programme. This is a global initiative that aims to fight the growing problem of malnutrition and obesity in children between the ages of four and 16. By encouraging good nutrition and exercise, Healthy Kids aims to raise a healthier, more active generation.
The programme was introduced to the world in April 2009 by Nestlé CEO Paul Bulcke.
Regional competition
In anticipation of the first World Cup to take place on African soil, the Milo brand is deepening its association with football in South Africa by extending the Champions tournament to the entire African continent.
The inaugural African Milo Champions tournament was launched in September 2009 and features top under-13 teams from Nigeria, South Africa, Kenya, Ghana and Cote d'Ivoire. Regional stages are already underway, and the final will take place in South Africa in May 2010, just before the month-long Fifa World Cup kicks off in June.