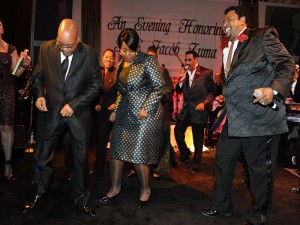 President Jacob Zuma turned 68 with style this week, partying with Stevie Wonder and The Temptations at a gala dinner in Washington DC.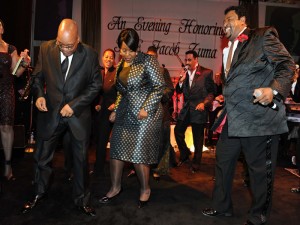 Although Stevie was not an invited guest, he happened to be at the same venue – the Mandarin Hotel – and so he dropped by to sing "Happy Birthday" as a surprise for South Africa's President.
The Temptations (who were on the agenda) apparently rocked the house, and had everyone up and dancing, including the President and his wife who danced on stage. (Watch the video below.)
Guests at the April 13 event reported being extremely touched by Zuma's speech about how "being denied a formal education during apartheid led him on a crusade to make educational opportunities available to the next generation".
The President said "my main birthday wish is that we achieve without delay, the goal of quality education for all the world's children.
"Education is the key to genuine freedom," he said, adding that education is the most tangible and sustainable form of empowerment and that it is his administration's number one priority, adding that there was still a role other organisations could play to expand access.
"We cannot do it alone," said Zuma, stressing that by investing money into the education of poor South African children would help build a brighter future.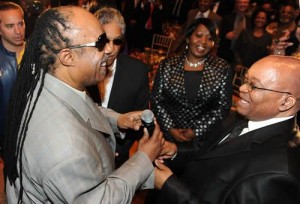 His other wish was to see a united and stable South Africa, Africa and the world.
"Let us commit ourselves tonight to draw on our shared achievements of the past to work together to build a better Africa," said Zuma.
The gala dinner was held to raise funds for Zuma's RDP Educational Trust Fund which established in 1998.
To date, it has educated more than 20 000 children from primary school to university levels.
Inspired by the life and principles of the late Rev Sullivan, the foundation bearing his name exists to promote the political, entrepreneurial and intellectual leadership of the African Diaspora and friends of Africa. It also advocates on behalf of Africa and the world's vulnerable people.
Zuma was in town for the two-day summit on nuclear security, hosted by US President Barack Obama. Obama said that South Africa had acquired special standing as a "moral leader" for voluntarily dismantling its nuclear programme in 1993.
Obama, who met Zuma at the Blair House on the eve of the Nuclear Security Summit, took the opportunity to praise Zuma for the leadership his government had shown on non-proliferation.
"I wanted to publicly compliment President Zuma and his administration for the leadership they have shown. And we are looking forward toward the possibility of them helping to guide other countries down a similar direction of non-proliferation," Obama said on Sunday.
Click to view President Jacob Zuma with legendary performer Stevie Wonder at his birthday party in Washington DC
Some info sourced from: BuaNews
WATCH THE VIDEO OF THE PRESIDENT WITH THE TEMPTATIONS:
Happy Birthday Mr President!