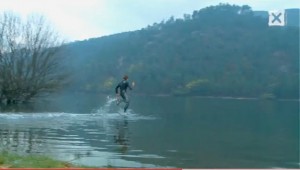 So there's this guy with a very South African accent attracting a lot of attention on YouTube right now. He's running on water. Yup. That's right. Not just walking. He's running with his special "water repellant" shoes across the water like a stone skimming the service. Or is he? (See video below.)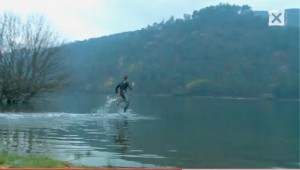 Ashton Kutcher tweeted about his video, and if Ashton (aka 'aplusk') tweets about you – it's big news because Demi's young husband has one of the largest followings on Twitter.
The video features 'Sebastian Vanderwerf' (with the South African accent) and a couple of Dutch-sounding friends taking part in their new 'sport', called Liquid Mountaineering. There's even a jetski that pulls them in to build up better speed for their run on water.
Sebastian says "people want you to think in a certain way and this sport actually allows you to push your horizons further" and not be boxed in.
According to Liquid Mountaineering's blog they're "attempting to achieve what man has tried to do for centuries: walk on water. Or to be more precise: run on water". They claim that together with the water repellant equipment, they've discovered that you can "run across bodies of water, just like a stone skimming the surface. It's a difficult technique, involving the right water conditions, making use of the surface tension, speed and angle".
They say they're still pioneering the sport and feel "lucky to live in this historic time when technology and human skill come together to make the impossible possible".
But it just may be the impossible. Watch the video and judge for yourself. The only time they seem to run on water is in Geres, Portugal and there seems to be a darker ridge beneath where they sprint over the water. Today on their blog they also posted just 3 words: "We Got 'M".
httpvh://www.youtube.com/watch?v=Oe3St1GgoHQ
Liquid Mountaineering Blog: http://liquidmountaineering.blogspot.com