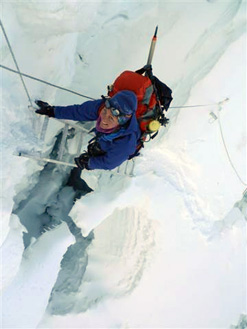 by Fiona McIntosh
South African climber Mandy Ramsden is not well-known outside mountaineering circles, but she's on the brink of a remarkable achievement: becoming the first African woman to climb the highest peaks on each of the world's seven continents.
Few people know that Ramsden, a banker from Johannesburg, is currently poised to summit 8 850-metre Mount Everest, the final peak she needs to conquer in her quest for what is known as the Seven Summits. These, the highest mountains on each continent, are Aconcagua in South America, Carstensz Pyramid in Oceania, Elbrus in Europe, Mount Kilimanjaro in Africa, Mount McKinley (also known as Denali) in North America, Vinson Massif in Antarctica and, of course, Mount Everest, the summit of Asia and the world. The first African of all to climb the seven was Sean Wisedale, also a South African.
Ramsden is part of a team led by veteran New Zealand guide Mike Roberts and organised by Adventure Consultants that are currently climbing from Everest's south side. The team, whose other members are another South African, Tony Hampson-Tindale, and Irishman James Haydock, have now completed their acclimatisation phase, which involved various moves up and down through the infamous Kumbu Ice fall to the higher camps.
Two weeks ago they reached their highest point so far, Camp 3, at around 7 300 metres.
Getting there was an epic struggle. In Mandy's own words:
Better acclimatised, we reached Camp 1 an hour faster than on our previous trip. By now, the moon halo had given way to a rainbow around the sun. Known as a sun dog, this solar phenomenon is caused by the refraction of the sun's rays through ice crystals high in the sky – confirmation of impending snowfall.
We could stay at Camp 1 for a night and risk being trapped by the risk of avalanche off [neighbouring peak] Nupste for one or two days, or we could continue to Camp 2, requiring the stamina to continue for at least another three hours in the scorching heat of the Western Cwm.
The prospect of dispensing with a frosty start and earning full rest day made the decision unanimous, and we completed our longest day so far – 10 hours – a fair test of endurance. We trudged into Camp 2 to be greeted with a flask of hot sherpa tea, closely followed by dark snow clouds billowing up the Cwm and spilling over Nuptse's lower ridge.
Like Base Camp, Camp 2 is perched on the edge of the glacial moraine and is alive with gurgles and creaks. It's also exceptionally dirty, with the detritus of many years of expeditions scattered about the rocks and ice.
The rusty tins, odd shoes, bits of plastic and general waste present a very similar scene to that a Johannesburg runner may encounter along the Braamfontein Spruit! Perhaps only the discarded oxygen cylinders are a reminder that we're aiming to climb the world's highest garbage dump.
While we had certainly earned one rest day, we hadn't expected two. After a day of lurking between the mess tent and our own tents, doing nothing but eat, sleep and occasionally read (conditions are good up at Camp 2), we were ready to face the shiny blue slope bearing down above us. Other than a light nocturnal dusting, the promised snow had not materialised and we had spent much of our rest day keeping an eye on the ant-like activities up and down the fixed lines of the Lhotse Face and psyching ourselves up to do the same.
But it was not to be, and the team spent another frustrating day in their tents.
The following day dawned still and clear and the sherpas were brimming with enthusiasm. Two days of sloth behind us and the prospect of beers and beds in a Khumbu Valley Lodge ahead catapulted us from our down nests and into the mess tent for a fortifying pancake or four.
We jangled our way out of camp and plodded towards Lhotse, still snug from the mess tent heater and unconcerned about the light wind beginning to pinch at our cheeks. The terrain that took two hours to cover on our previous cycle took only an hour this time, and in that hour the occasional ripple of breeze transformed into blasting waves that cascaded the freshly fallen snow over the edge of the gaping bergschrund at the base of the Lhotse face, where we now stood fiddling with ropes and jumars. These were not the conditions we were expecting. Out came the "just in case" down jacket.
After a somewhat inelegant start over a sizeable crevasse and up an ill-fixed ladder, I managed to front point my way to a vertical position and over the first bulge of blue ice. The route meanders over and around the course of the glacier, sometimes flattening, sometimes bulging, always treacherously angled and mostly glassy blue. The previous traffic had left some vaguely chipped steps, but mostly a good firm kick of the crampon was required to get a confident stance.
And so it went on for six hours. Clipping and unclipping, burning and trembling calves, fumbling with carabiners in unwieldy mitts and cramping fingers. We moved at an excruciatingly slow pace, three or four steps at a time mustered from monumental physical and mental effort, then nothing, until breath returned, heart moved back from throat to chest and head instructed another go.
Our sherpas had established Camp 3 on a small precipice carved from the ice of the Lhotse face, a tent- and a boot-width platform on which the tents were anchored with ice screws and a great deal of rope.
This was the most miserable night the trip so far. We tossed and turned and gasped in the thin air while the maelstrom raged outside. We popped Diamox and Disprin. The Camp 3 snacks and meals that we cheerfully assembled at base camp several days before were poked and prodded and shunned as distinctly unpalatable. The hours ticked by slowly and the storm showed no signs of abating.
Mike confirmed that there were no circumstances in which we would hang around up here and we would leave as soon as the night released us, regardless of conditions.
Which is what we did. We abseiled down the Lhotse face in the waxing and waning visibility, communicating with the tug of a rope, the roaring wind stealing any shouted instructions or queries. Snow blew through carelessly fastened zippers, into hoods and down necks, filling mitts and stinging cheeks for the three intense hours it took us to reach the bergschrund.
We stumbled into Camp 2, eyelashes and eyebrows frosted, the hair that had escaped from my beanie caked in chunks of ice. And so ended our Camp 3 experience. And our faith in the weather forecast.
The team are now enjoying some much needed R&R in the oxygen-rich, warmer climes of Pheriche,a village in the valley some 1000m below base camp before their summit bid.
You can also follow the team's progress on AdventureConsultants.com and EverestNews.com.