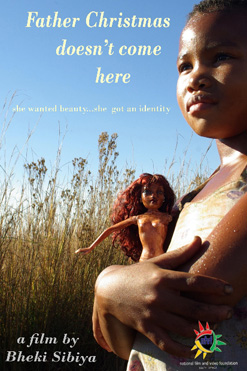 by Nosimilo Ramela
New York's prestigious Tribeca Film Festival has named the South African film Father Christmas Doesn't Come Here its best narrative short film in an indigenous language.
Funded by the National Film and Video Foundation (NFVF) the film was chosen from 47 finalists as one of the Indigenous Language short film contest winners.
The film was written by South African screenwriters Bongi Ndaba and Sibongile Nkosana, and directed by Bhekumuzi Sibiya.  This is Sibiya's first short feature film, and he received great praise for his work.
"The director consistently foregoes sentimentality in favour of subtle debunking of myths based on culture. His frames are urgently alive with telling details. This film announces a persuasive and deeply human directorial vision, one rich with authenticity and insight," read a statement by the judges.
The panel of judges who selected the film include Brooke Shields whose most recent film is Lipstick Jungle, Justin Bartha from the movie Hangover, Peter Facinelli, who stars in the Twilight movies, and Jack Dorsey, creator and chairperson of social site Twitter. They described the film as being exceptional and touching.
"It is a film of resilience and hope. It is an assured, original, and profoundly moving film, which perfectly executes its aims and is buoyed by a remarkable performance by its lead actor," the judges said.
In 2009 the film won an award at the Tri-Continental Film Festival. It has also been included in the South African Line-Up event for the Cannes Film Festival this year.
The film looks at the life of a naive teenage black girl who writes to Father Christmas requesting long straight hair as her Christmas gift. She has low self-esteem and hopes the hair will help her gain more confidence. Her hopes are shattered when a pessimistic man from her neighbourhood  tells her Father Christmas is not real. However, her grandmother is there to help her through her uncertainty, and teaches her to love herself.
"I think this film hits home to all young black girls all over the world,'" said Mpho Setati, a film student at Afda film school in Johannesburg. "This is a great South Africa film that showcases the talent of our country, and the world is taking notice and rewarding our talent," she said.
The Tribeca Film Festival was held in Manhattan, New York, from 21 April to 2 May. Currently in its ninth year, it was launched by well-known Hollywood actor Robert de Niro, film producer Jane Rosenthal, and real estate investor Craig Hatkoff in 2002. The trio were motivated to start the festival after the attacks on the World Trade Center in 2001.
"We hoped to use the festival to spur the economic and cultural revitalisation of the lower Manhattan district and to help filmmakers reach the broadest possible audience while promoting New York City as a major filmmaking center," they said in a statement.
The award for winning Best Narrative Short Film was R38 336 (US$5 000) in cash, film stock donated by Kodak, and an art award, "A Box of Smile, 1967/89", by Yoko Ono.