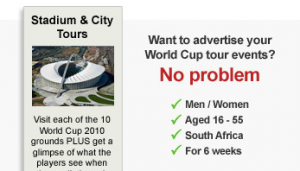 To celebrate the 2010 World Cup SAReunited is offering users 30% off smart ads during the tournament.
The eyes of the world will be focussed on South Africa for the next month as the 2010 Fifa World Cup arrives in South Africa.
SAReunited is offering small businesses the the opportunity to create, preview and publish your own ads in less than 10 minutes.
With prices from only R45 you really have nothing to lose. No wastage on your spend as you choose exactly who sees your ads (age/gender) AND where they live (local is lekker – from Cape Town to Sydney).
Try it out with SAReunited's 30% off offer, enter code 2880003B – click here