Leon Schuster has a new movie out called "Schuks Tshabalala's Survival Guide to SA" which (as per usual) makes fun of SA's politicians and taxi drivers…as well as those vuvuzelas. Watch the trailer here: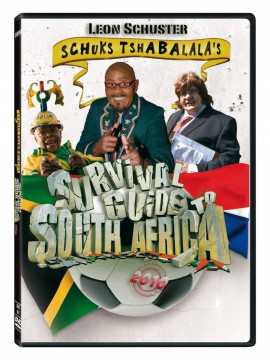 In an interview with FilmConnect, Schuster praised this South African quality. "It is one of our greatest strengths as a nation. If you look at what we have had to content with as a nation, perhaps it is this ability [to laugh at ourselves] that has helped us cope!"
Schuster's become such a South African favourite over the years, that he's now instantly recognisable – which made setting people up for the candid-camera situations a little challenging. To totally disguise himself, he had to endure up to six hours a day in make-up.
He admitted that he's frequently been "klapped"…but that fortunately most people are "forgiving" once they realise it's him. Of the politicians he's set up, he said that Helen Zille and Alan Boesak were particular good sports.
Directed by Gray Hofmeyr, the film centres around Schuks and his best friend Shorty who are commissioned by the 2010 Tourism Board to produce a movie as a helpful guide for foreigners travelling to South Africa for the World Cup. The tourists in the film, who are eager to learn about SA, include Heinz from Germany, Jean-Pierre from France, Koert from The Netherlands, Rajin from India, Maggie from Ireland and Xing Xang from China.
According to the film's production notes, "nothing and no-one is sacred". SA's most famous celebrities are victimised as well as a full stadium of soccer fans who have the controversial Vuvuzela applied as a tool to test any soccer fan's enthusiasm.
The film is 90 minutes long and is currently on circuit in SA.