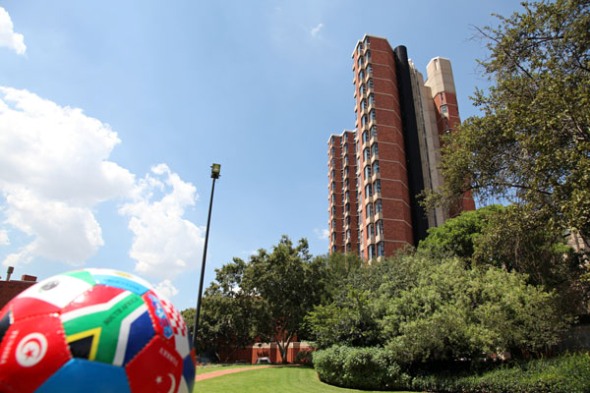 In typical entrepreneurial South African fashion, five South African university campuses have been transformed into fun and affordable accommodation for the duration of the FIFA World Cup. So for those who are desperate to watch the games but don't want to spend a fortune on huge hotel bills – this is a fantastic alternative.
The company behind this novel form of budget accommodation is Urban Hip Hotels. Under the banner 'Campus2010′, they're offering fully furnished rooms, catering (including beer tents and live entertainment) and wide-screen broadcasting of all the games – all from just R550 per person per night.
The accommodation is being promoted as "secure, affordable and most of all, festive and vibey; groups, clubs or singles will make the most of the furnished rooms and access to catering, entertainment and sporting facilities". The campus' location provides the ideal base from which guests will be able to follow the entire tournament.
"This is, unquestionably, the most cost-effective accommodation on offer for the World Cup," says Mark Hinton, from Campus2010 Management. "We used our experience as a hotel group to put together a very attractive package that provides value, security and fun."
The 9000 beds on offer are spread amongst five campuses in three major cities: Johannesburg (University of Johannesburg and the University of the Witwatersrand); Cape Town (University of Cape Town); and Durban (the Howard Campus at the University of Kwa-Zulu Natal and the Westville Campus at the University of Natal).
The campuses offer extensive security control, including CCTV monitoring and mobile security personnel. Guests will have access to campus facilities such as gyms, sports fields, TV lounges, banking and food and beverage outlets. Shuttle buses will also be available to ferry guests to and from the airport, football matches, shops and local places of interest.
Guests will have the campuses to themselves, as students will be away on holiday.
Business being targeted by this Campus Accommodation 2010 project is groups, clubs, individuals & families travelling to the major cities for the football tournament.
"We understand that there's a sizeable market out there who want to attend the World Cup without blowing most of their budget on traditional hotel accommodation," says Hinton.
Professor Simpson from UCT says: "The FIFA World Cup can only benefit from this novel venture, which will go a long way towards providing affordable accommodation for thousands of local and international soccer fans."
Urban Hip Hotels, market leaders in apartment hotels in South Africa, offers guests accommodation in fully equipped, fully serviced designer apartments. Their portfolio includes The Nicol, Splice and Ashanti in Johannesburg, The Pearls in Durban, Icon in Cape Town and KINGS in Port Elizabeth.
More Info:
Visit www.campus2010.co.za or contact res@campus2010.co.za or telephone:  0861 22 6787 (0861 CAMPUS)