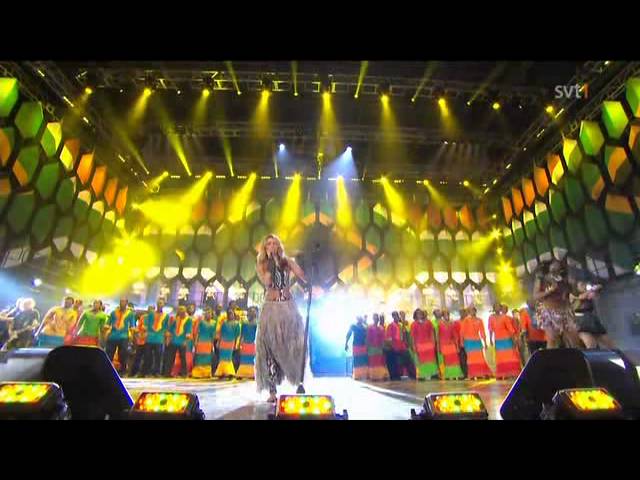 Eish. The World Cup Concert got off to a pretty good start. But due to a combination of factors, the middle bit (on right now) has steadily put a lot of viewers to sleep…who are now only staying awake to watch Waka Waka (This Time for Africa) performed by Shakira and featuring Freshlyground.

It could be that there was a little too much local talent who either didn't know how to build the energy, or who international viewers just didn't care that much about; or that there were perhaps a few too many videos – albeit they were raising awareness for great causes – that kept interrupting the party; or that many song choices were just a little too sleepy; or maybe that the concert during the middle section seemed to have forgotten to focus much on its raison d'etre – football.
And after all, even though it is FAB that the World Cup is in South Africa and the world is happy for SA, we really shouldn't forget the rest of the world. They're participating in the World Cup too.
So while many South Africans were tweeting and facebooking about how homesick the concert was making them, these are some of the comments from foreigners during the show:
The best:
MoLaudi: TAKE ME TO SOUTH AFRICA RIGHT NOW!!!
eiVega: I wish I was actually at this concert so I could sing along instead of quietly streaming at my desk.
The rest:
abood997: they should really organize their opening ceremony next time this is really boring. waiting for shakira
afmfilms: Sorry but the 2010 FIFA Official World Cup Kickoff Concert so far is one big #FAIL …and the #VEVOWorldCup cameraman is drunk! [Perhaps afmfilms wanted the gig for themselves!]
jhonychasko: Shakira please!!
geralstyle: boring!!
And then this…
GimenaCCR: here in Venezuela the son of the bitch president chávez don't let us to see the concert
BUT FINALLY… Shakira and Freshlyground Performing Waka Waka