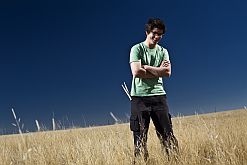 by Bongani Nkosi
Cobus Potgieter, a self-taught South African drummer, is an authentic international trendsetter who's capturing the hearts of fans the world over.
The 23-year-old East London-based musician has found his niche on the internet, using social networking sites to grow his support base in the global music market. He's amassed more than 100 000 fans on YouTube, where he's been uploading videos since August 2006.
"I think I'm very blessed," Potgieter said. "The support I'm getting is incredible."
Self-taught
Potgieter started playing drums in 2002, at the age of 15. He's taught himself everything he knows about the expressive instrument.
It's sheer hard work that has secured him a place in the hearts of many youthful drum aficionados, he said. In many of the uploaded videos he plays two covers, including John Mayer's Waiting on the World to Change.
"I try to add something unique, to do things that come naturally," said Potgieter, a devout pastor's son.
Just four years ago he started uploading home-made videos onto YouTube, a platform that has catapulted him into international stardom.  He was just playing around with the concept, but the results are surprising him. "It was not a decision that I made as such. I just had the videos, and I thought, why not?"
His fans are located in different parts of the world, as his Facebook and other social media accounts show – from Asia to America and Europe. He has more than 72 000 friends on Facebook.
The hits he garners on YouTube are enough to make webmasters envious. A video uploaded two months ago, remixing Jay Sean's Down hit, has had 276 986 views – a remarkable feat by internet standards. To date he's had more 11-million views in total.
Some of his popular uploads include Vanilla Sky's Umbrella and Face Down by Red Jumpsuit Apparatus.
His fans shower him with positive messages daily. One fan from a foreign country wrote as a comment to a Facebook status update: "You are amazing, I can sit att [sic] watch your covers all day long. I just don´t get how you do it?! I will never be tired of your clips ;)."
The enthusiastic Potgieter is jetting off to Spain in August to record and co-produce a song with a Spanish producer, he announced. He'll also record a new YouTube series in full HD in the accomplished producer's studio.
Growing the Potgieter brand
Potgieter does not make any money from the internet uploads, he only attracts more fans to his international support base. He released a tutor DVD for aspiring drummers in 2009, which is being distributed from the US.
Though he cannot reveal the circulation figures, Potgieter said the DVD is selling well abroad. The sales picked up during the earlier days of release and then took a slump, he said. But they are surging once more. "I'm happy that it's picking up again."
His success on the internet has earned him sponsorships from international companies. Established brands like Samson, Music Connection and TRX are sponsoring his drums and other audio equipment.
He also has signature drum sets named Laus Deo Semper and Soli Deo Gloria, marketed by drum companies UDRUM and Jobeky Drums. This equipment is helping to grow his brand in the UK and North America.
His clothing range is also growing, he said, with merchandise including hoodies, t-shirts and his DVD, among others.