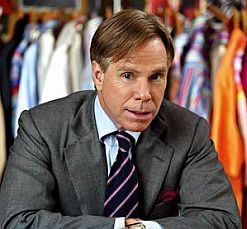 by Bongani Nkosi
Abject poverty in some African communities could soon be tackled in formidable fashion, if a newly launched five-year campaign – led by famous US designer Tommy Hilfiger – has its way.
The Tommy Hilfiger Group has launched a campaign to support Millennium Promise, an international NGO working towards achieving the Millennium Development Goals (MDGs) in halving extreme poverty by 2015.
As leader of the campaign, the 59-year-old Hilfiger becomes the first global leader for the Millennium Development Goals. He now takes on the task of persuading corporate leaders and consumers to join the global anti-poverty movement.
The campaign is administered by the Tommy Hilfiger Corporate Foundation. It is the Foundation's single largest international investment to date, and is described as a "plan to build sustainable communities in sub-Saharan Africa".
The Foundation announced its US$2-million (R15.3-million) pledge to Millennium Promise in 2009. "Our ambition is to develop a hands-on campaign over this period of investment that is truly sustainable – five years for a lifetime," said Hilfiger in a statement.
The designer will be raising awareness and funds for the Millennium Villages, part of Millennium Promise. Other partners in the venture are the Earth Institute of Columbia University and the UN Development Program.
"Tommy's announcement affirms that corporate leaders everywhere can play an indispensable role in educating both their workforce and their consumers about how we can best achieve the Millennium Development Goals," Professor Jeffrey D. Sachs, president and co-founder of Millennium Promise, said in a statement.
"We are very proud that this partnership is playing such a key role in advancing the holistic approach that Millennium Village communities are implementing across Africa," said Sachs.
Hands-on involvement
Hilfiger's employees will also play a role in the initiative. The New York-based employees are set to travel to Ruhiira, a remote village in Uganda, and a beneficiary of the Millennium Villages project. They will physically participate in work being done there.
In 2011, the Tommy Hilfiger brand – known for quality denims and fragrance – will drive a marketing scheme reaching out to consumers in a bid to create awareness and support for the campaign.
"Hilfiger and the entire company are setting a remarkable example… of entrepreneurial commitment needed to ensure that our generation is the last to know extreme poverty," said John McArthur, CEO of Millennium Promise.
Ruhiira is a Millennium Village
The Millennium Village programme is about helping rural communities in Africa to empower themselves. As part of its effort to achieve the 2015 MDGs, it initiates sustainable projects maintained by the communities' residents themselves.
Uganda's Ruhiira, which supports some 55 000 people, is one of the sub-Saharan Africa communities benefitting from Millennium Village. It became part of the project in 2006.
Agricultural production, according to the Tommy Hilfiger Corporate Foundation, has almost doubled in three years. The number of villagers with access to improved water has tripled, as is the case with basic sanitation.
The Tommy Hilfiger Corporate Foundation reported that since 2006 malaria bed net usage has increased from 1% to 34%, while malaria prevalence among all ages has decreased from 17% to less than 1%. Over 60% of women are now being tested for HIV during pregnancy, it said.
"…I have been incredibly inspired by the community spirit and the desire to make long term changes that will provide for generations to come," Hilfiger said.