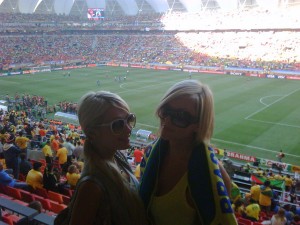 Eish! Super-celebrity Paris Hilton was reportedly arrested at the World Cup today, whilst watching the Brazil vs Holland quarterfinal match in Port Elizabeth. The blonde heiress was apparently caught smoking zol (marijuana) in a larni VIP suite at the Nelson Mandela Bay Stadium!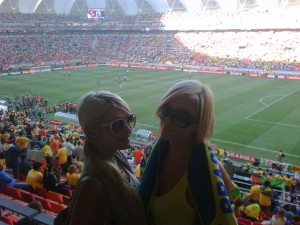 She was allegedly detained by police at the Mount Road Police Station in St Croix and has since been released.
A spokesperson for the PE police, Brigadier Marinda Mills, confirmed that a "high profile person" would be appearing in court for drug-related charges, and it's reported that Provincial Head of Detectives in PE, Mark Magadlela, has confirmed the person in question was Hilton.
Paris herself is giving away nothing…and has been tweeting blissfully on Twitter. Although on closer inspection, perhaps her tweets are part of a ploy to make the police forgive her – since they're all about how much she loves South Africa. (See the screengrab below.)
Less than half an hour ago she mentioned "South Africa is such  beautiful place. Loves it!" Three hours before she said "It's so beautiful here" and just before that she said "Had so much fun at the game today. What a match! I love South Africa!".
To be fair she was "so excited" from the moment she woke up about 14 hours ago and sent a Good Morning tweet, followed by a "love it here" and "love the World Cup" – so Paris is pretty much in love with South Africa and the World Cup. Let's wait and see how much the South African police love her back!
UPDATE: Paris has apparently appeared in one of the special FIFA World Cup courts this evening (around midnight) and has since been led away to a different room. She was wearing an off-white sleeveless blouse with her hair still tied in the pigtails from this afternoon. Her arrest is in connection with "possession of marijuana" (or 'dagga' as the South Africans say, and which is a new word the international press are loving!). Apparently insiders have claimed it was a friend who was smoking and not Paris herself.
UPDATE 2: Apparently police have apologised to Paris for wrongful arrest and her friend (who confessed to possession) has been fined. Paris posted this message on Twitter (check it out – she STILL loves South Africa!):
"Hey guys, there's a lot of crazy rumors going around. Just want you all to know the truth. Everything is completely fine. I was not charged or arrested, cause I didn't do anything. I was assisting the police with the investigation and answering their questions. Everyone was super nice and friendly to me. I love South Africa! Such an amazing place, especially during The World Cup! Hope that clears everything up. Love you guys, thanks for your concern. Xoxo P"