Former South African Idol winner Jody Williams helped launch the inaugural Youth Olympics Games (YOG) in Singapore tonight. Joined by four other singers from around the world, Jody belted out the YOG official theme song 'Everyone' (scroll down for a video of 'Everyone').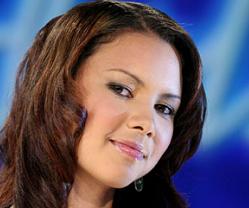 Twenty-year-old Jody became the youngest person to win Idols when she took the crown back in 2007 at the age of 17. Since then she's opened for her own idol, Celine Dion, in South Africa at the first of Celine's nine shows in 2008.
Jody, who hails from Cape Town, told a local paper in Singapore yesterday that singing on an international stage feels "more professional for me. It's not like 'ping-pong singing' any more. It's on a higher level, and it's more serious."
When asked what her favourite thing about Singapore was, she didn't hesitate to choose the shopping malls. "You've got everything you can find in there, unlike in South Africa, so it's really cool."
The performance of 'Everyone' was watched tonight by a packed crowd of 25,000. The ceremony took place on the world's largest floaing stage.
The Youth Official Games was conceived by IOC President Jacques Rogge who hopes the games will "teach important life and sports skills". YOG will take place over 12 days, with 3,500 athletes who are aged from 14 to 18 competing in 26 Olympic sports.
httpvh://www.youtube.com/watch?v=hHrnaGJ8ckg
Visit Jody's site: http://www.jody.co.za/