Submitted by Tracey C Smith

I am a simple South African girl who has dreamed of Hollywood all my life. When I moved to Johannesburg, I joined a casting agency and received many opportunities to audition for mostly television advertisements and then the call came to say that I had been chosen to play the role of a mother whose son was attacked by 3 lions at a Lion Park in Johannesburg. Not an audition, I had been chosen from my Photograph at the agency.
That was so cool I accepted without hesitation.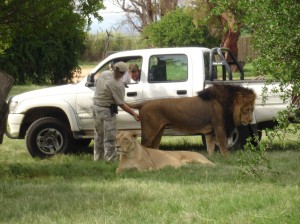 The National Geographic, Animal Planet team arrived in S.A. in May of 2009 to shoot for one week. It took us 5 days to shoot the entire re-enactment of the traumatic event. I would have done it for nothing as it was so exciting and exhilarating that I didn't want it to ever end.
I didn't ever think that such hard work and a lot of it was repetitive, would have been so fulfilling.
When we were wrapping up at the Olivedale Hospital, that was when I think I really managed to get into the role of the grieving mother.
My son's pain was my pain, the scene was so real that I managed, for the first time, to cry real tears that I got a huge applause from the hospital staff as well as my first autograph to a 10 year old boy. That was so cute.
I would love the glitz and glamour of Hollywood and of course to be seen all around the world and recognised for the talent that I believe I have.
I loved working with the American team. They are so motivational. They are relentless in their plight to get everything perfect and also to make sure, their team of actors are all okay, fed, rested and always complementing us.
The series on Animal Planet called "I'm Alive", aired this year in South Africa in February. It was so exciting to see me on TV. I was very proud of my achievement albeit it a small, non speaking role.
I would move to Hollywood in a heartbeat if I was ever asked to go.