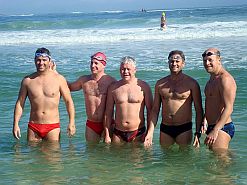 by Bongani Nkosi
"It was daunting. The ocean is very deep, very dark and very cold. The shores are rocky and dangerous."
This is how 53-year-old Ram Barkai describes the waters off Cape Horn, where he and four fellow extreme swimmers became the first men in international history to cross a section.
"This was completely unfamiliar territory. We were literally swimming at the end of the world," added Barkai, as quoted in a press statement.
The five extreme swimmers from Cape Town – Barkai, Andrew Chin (41), Toks Viviers (47), Kieron Palframan (36), and Ryan Stramrood (37) – completed their historical adventure on 22 February 2011.
The Chilean territory of Cape Horn is known as the "sailors' graveyard" due to fierce winds, unyielding waves and icebergs.
The swimmers' expedition was not spared of danger, with the anticipated strong currents, rough seas and ocean temperatures of between 7°C and 8°C.
Never before have human beings dared to swim a passage around Cape Horn – only yachters have crossed it, often with difficulty.
But the South African quintet braved the 2.5km distance across the strait, swimming for more than an hour. "We continued for one hour and 10 minutes and by then we were being washed dangerously close to the rocks," Barkai said.
Only 800km separates the Cape Horn from Antarctica, with the strait linking South America and ever-frosty continent below it.
"Mentally, it was incredibly challenging. It was a very confusing swim because of the unchartered territory, strong current and cold," said Palframan.
Stramrood described it as the "most scary, most daunting and most out-of-my-comfort-zone swim". He said they were freezing and disorientated.
But strong determination drove them on, and the inhospitable conditions didn't stop them. "We were so focused and we knew we were going to make it no matter what," Palframan added.
They were supported by a concerned Chilean navy. Barkai pointed out that the South American force was worried about their safety.
Cape Horn not the only challenge
Cape Horn, part of the Patagonia region, was the most challenging for the swimmers – but not their only accomplishment. Their adventure in South American seas began on 15 February, when they took on the Strait of Magellan in Chile.
They completed a 4km swim across this strait, battling gusts of wind of around 60km/hour and untamed, bone-chilling waters.
The Beagle Channel was the second mission on 19 February. They swam 3.2km in this body of sea that separates Argentina and Chile.
Highly experienced quintet
Bear in mind, the South African team only wore Speedo costumes, caps and goggles when they completed the three swims.
All five are renowned long-distance and cold-water swimmers, having earned their stripes long before the Patagonia feat. Each has completed swimming challenges in regions like Alaska, Lake Zurich and between Cape Town and Robben Island.
Barkai holds a Guinness World Record for completing the most southerly swim, covering 1km in Antarctica in 2008.
The quintet is now tipped for a Guinness World Record for their South America achievement, even though it was not part of their initial aim.
"A Guinness World Record wasn't the intention, but we'll probably submit for it. I'm sure the achievement will make it as a Guinness World Record," said Craig Doonan from Leap Communications, the company which has been promoting the adventure.
Caught flu, but still elated
Some of the team members have caught flu, but it's the least of their worries. "Apart from two of us being sick with flu, we feel elated," said Chin.
"We've done it and we're all over the moon," said Barkai.
Leap Communications said the swimmers will spend the next few days in the Argentinean capital of Buenos Aires, where a celebration at the South African Embassy is on the cards.