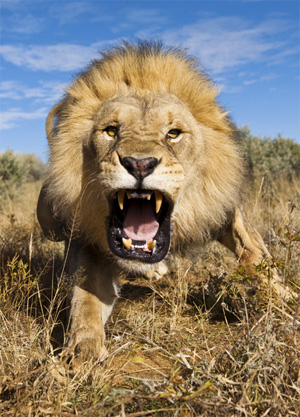 A photo of a ferocious-looking lion in the Kalahari Desert is one of the key pieces in a new exhibition at the Royal Geographical Society (with IBG) in London. The photo, which was taken by Dutch photographer Marsel van Oosten, is one of last year's best entries in the Travel Photographer of the Year competition. These photos are being showcased in the exhibition to inspire new entrants in this year's competition.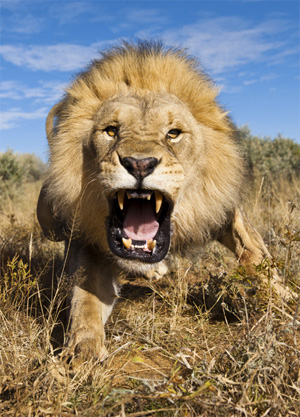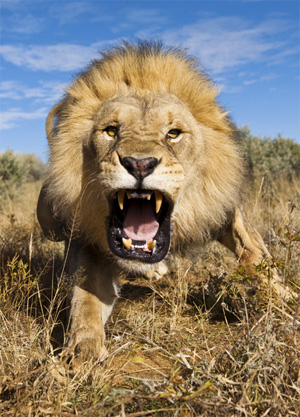 Entries opened today (10 May)  for the 2011 Travel Photographer of the Year, and wouldn't it be great if this year the winners included not only photos from South Africa…but photographers from South Africa too? So be sure to enter!
For inspiration – head to the exhibition where you can see pics from rich black and white images of the extraordinary mud mosque in Djenne, Mali, to the memorable shot of a young boy swimming with his pet shark. (Or if London isn't in your neck of the woods, view the winning pics online).
The free exhibition, due to run until 10 June, is being held in the Society's modern glass-fronted Pavilion at the heart of London's cultural quarter in Kensington.  Featuring the winning shots from the 2010 Travel Photographer of the Year (TPOTY) awards, renowned British landscape photographer Nick Meers has curated the exhibition to include some items from the Society's remarkable archive of more than half a million artworks, negatives, lantern slides and albums including iconic images such as Herbert Ponting and Frank Hurley's Antarctica photographs.
Meanwhile, details of the 2011 TPOTY competition are available on the website www.tpoty.com.
New categories include 'Cultures and Traditions', 'Exotic', 'Natural Elements' and 'Spirit of Adventure'. Travel Photographer of the Year founder Chris Coe said: "The Society is steeped in the history of both travel and photography and it is a privilege to be able to exhibit the amazing imagery from this prestigious award at such a great venue. I am particularly pleased that the annual exhibition will be free to visit."
The exhibition, to be held at the Society for the next four summers, will be accompanied by a series of entertaining lectures and workshops from some of the world's leading photographers, writers and travellers.
This year the line-up includes: Alexander Maitland (travel writer), Andy Rouse (wildlife photographer), Steve Bloom (travel and wildlife photographer), Michelle Jana Chan (BBC presenter and video journalist), Hugh Thomson (explorer and writer), Nick Livesey (film director) and Jason Hawkes (aerial photographer).
Dr. Rita Gardner CBE, Director of the Royal Geographical Society (with IBG) said: "Photography has a unique power to instantly inspire and inform us in equal measure about the landscapes, people and places of our world. As an avid photographer, I welcome this opportunity for the Society's historic collection to be linked with some of the very best contemporary images, reflecting our long-term commitment to the photographic image as both a means of visual record and also as a source of pleasure and inspiration."


Formed in 2003, Travel Photographer of the Year (TPOTY) rapidly became one of the world's most prestigious photography awards. Open to amateur and professional photographers of all ages, and from all countries, TPOTY regularly attracts entries from over 70 countries each year. To date, the oldest TPOTY entrant has been aged 88, and the youngest just five years old. So YOU can enter!!!
Photographers from 35 countries have so far won awards and enjoyed international exposure for their work. The TPOTY winning images are showcased in the TPOTY 'Journey' series of books and at Travel Photographer of the Year exhibitions. In 2011 TPOTY announced a collaborative partnership with the Royal Geographical Society (with IBG) to take the awards into a new era, with a major annual exhibition of images at the Society's headquarters in Kensington, London. www.tpoty.com  4.
The Royal Geographical Society (with The Institute of British Geographers) is the learned society and professional body for geography. Formed in 1830, their Royal Charter of 1859 is for 'the advancement of geographical science'. Today, they deliver this objective by developing, supporting and promoting geography through research, expeditions and fieldwork, education, and public engagement, while also providing geographical input to policy. They aim to foster an understanding and informed enjoyment of our world. They hold the world's largest private geographical collection and provide public access to it.
To view more photos from Marsel van Oosten: http://www.squiver.com/
Want to find out more?
Entries for the 2011 TPOTY awards open on Tuesday 10 May.  The deadline for entries is October 9, 2011.  Entry fees start at £10, but Young TPOTY is free to enter.
Visit www.tpoty.com or follow the awards on Twitter @TPOTY or Facebook 'Travel Photographer of the Year'.
Opening times for the exhibition are Monday – Friday 10am-5pm.  Check www.rgs.org for selected weekend openings. Royal Geographical Society (with IBG) 1 Kensington Gore, London, SW7 2AR.