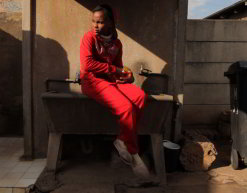 The South African film industry had a strong presence at the 2011 Cannes Film Festival, with 24 films and documentaries on show and a handful of awards and commendations to bring home. [Read Jenni's Cannes Film Festival blog for more!]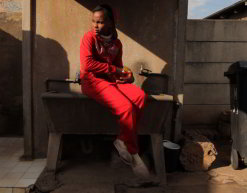 The National Film and Video Foundation was instrumental in arranging the local representation.
Even before his film Skoonheid (Afrikaans, meaning "beauty") was honoured by the Cannes jury, local director and London Film School graduate Oliver Hermanus had achieved what nobody else had before, as this was the first Afrikaans language film to make it into competition at the festival.
It's also the first film to arise out of the South Africa-France coproduction agreement, which was signed in Cannes in 2010 by French culture minister Frédéric Mittérand and Lulama Xingwana, South Africa's arts and culture minister at the time. This agreement was set up to allow films coproduced by the two countries to take advantage of each other's film-related incentive schemes.
Skoonheid slotted into the Un Certain Regard (A Certain Outlook) section, which features innovative and different works. Un Certain Regard and the main competition are the two sections that make up the Cannes official selection. To date, only four other local films have been selected for competition at Cannes.
The film didn't win in its category, but went on to scoop the Queer Palm award, given to the entry that best deals with issues relating to the gay, lesbian, bisexual and transsexual community.
The Queer Palm is a parallel honour that's sanctioned by the festival organisers, much like the Teddy Award at the Berlin Film Festival. This year's Teddy also went to a South African, the provocative and always-entertaining Pieter-Dirk Uys.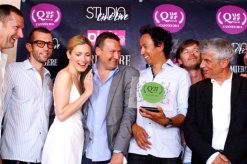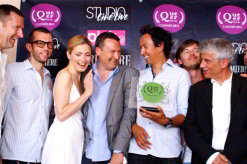 Skoonheid revolves around conservative Bloemfontein resident François van Heerden, married with a family, who encounters the son of an old friend at his (Van Heerden's) daughter's wedding, and unexpectedly falls in love.
Resigned to his life, middle-aged Van Heerden has all but given up on happiness, until he meets the 23-year-old. Now he faces a struggle to accept this newly unleashed and unexplored side of himself.
"We were struck by this film about self-hate, homophobia and racism. Skoonheid is a disturbing, radical film, real cinema," said French journalist and jury president Elisabeth Quin.
Skoonheid was produced by Moonlighting Films and stars Deon Lotz as Van Heerden and Charlie Keegan as Christian, the love interest.
Hermanus expressed his gratitude to the organisers and jury. "When we made this film we were challenging some radical issues in South Africa," he said. "We want to show it in South Africa, but we know it will be a challenging film for the audience because it deals with someone who refuses to accept his sexuality which is, I think, happening around the world."
Watch the trailer on YouTube.
Rainbow Nation on film
Veteran actor and jury president Robert de Niro presided over this year's festival, the 64th edition.
Other local films that showed at Cannes in 2011 include Roepman, an Afrikaans drama that takes place in a Durban railway community in 1966; Otelo Burning, set in the troubled townships of 1989 and featuring a youngster who discovers a passion for surfing and a way out of his situation; The Whale Caller, based on renowned author Zakes Mda's book; Spoon, a supernatural thriller produced by Sharlto Copley of District 9 fame; and Surfing Soweto, which involves surfing of a more dangerous kind, on the roofs of trains.
Currenty on circuit in South Africa, Roepman is directed by actor Paul Eilers. The film is set in the turbulent apartheid years, and is a coming-of-age story told from the perspective of an 11-year-old boy. Watch the trailer.
A 52-minute documentary about four young middle-class black South Africans, titled Forerunners, won the Dikalo award at the Cannes Pan-African International Film Festival. It was one of just four films honoured with the coveted jury prize, and was the only entry to earn a special jury mention.
"This documentary brings us a lot of hope," said festival director Basile Ngangue Ebelle. "When one watches it, one cannot remain indifferent. The film is a beautiful aperture through which to see life."
"Forerunners uses the transition of the black middle class as a framework to tell a universal story," said debutante director Simon Wood, "and allows us all to consider where we have come from, what we have lost and what we have gained."
Local audiences can look forward to the film's appearance on the big screen at the 13th Encounters International Documentary Film Festival in Cape Town and Johannesburg this June, as well as the Durban International Film Festival towards the end of July. In the meantime, watch the trailer here.
A musical titled Makeba, which follows the life of the late South African songstress from her exile to her return to her homeland, also attracted attention at Cannes.
Read more: MediaClub