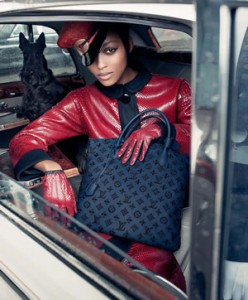 At just 16, Zimbabwean-born model Nyasha Matonhodze has been named as one of the faces of luxury label Louis Vuitton's 2011 Autumn/Winter campaign. The news has made headlines around the world, turning the shy teenager into a household name overnight. Here are 10 things you should know about her: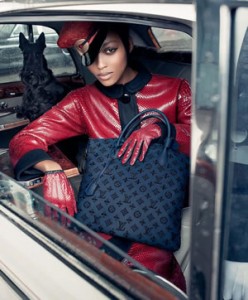 Legend has it that she was discovered in a shopping centre, but the truth is "my discovery wasn't a discovery. At 14, my mum and my stepdad went into Elite Models to see if I could actually model. Since I was 12, I was tall and thin so I would always get the whole 'you should be a model', but I never really developed a serious interest about it until [TV show] 'America's Next Top Model'. Seriously, that's when it all changed for me. Everything I wanted was pretty much based off that show."
She's a Leo (born 31 July, 1995) and is five foot eleven (180cm).
She was born in Zimbabwe and raised by her grandmother in a very "cultural, traditional household. It's much different than the British culture where my mom lived. I moved to England when I was eight, so I do still have memories of Zimbabwe – falling asleep in the sand, bathing outside, the warmth of the sun, and just the way of living".
She last visited Zimbabwe three years ago. "It's so lovely – they're happy with who they are and their traditions. I love going back home."

"My discovery wasn't a discovery," says Nyasha, seen here in her Elite Models photo

She's grateful to her dad for teaching her "the Christian way of life" and to her mother for being such an inspiration. "She was a single mother at 18 who moved to London without knowing anyone. She's always worked hard and seeing her overcome so much in life has been an inspiration for me."
Her best friend in the modelling world is Sudanese model Ajak. "Usually you have to try hard to make friends, but with her, we found a comfort zone and just clicked instantly. She's talkative and bubbly, kind of the opposite of me. I adore her."
Nyasha's favourite book is the Bible "because not only does it tell people how good they are, but what we can do for others."
Most media are reporting that she won the Elite model Look competition, but in an interview with New York magazine, Nyasha said she was a finalist.
She's scared of spiders…but luckily has a 12-year-old brother who rescues her from them (or them from her!).
She's very compassionate and likes to make people feel confident in themselves because "I hate seeing a person who doesn't appreciate themselves".
She's already wise to the modelling world and knows how it can knock your confidence. "Every day you're judged on your look, and more so today you're judged on your personality…What we have to understand is that there's not something wrong with us per se, we just aren't a right fit with the client". Luckily for Nyasha, Louis Vuitton has decided she IS the right fit!
Source: MediaClubSouthAfrica   http://www.mediaclubsouthafrica.com/