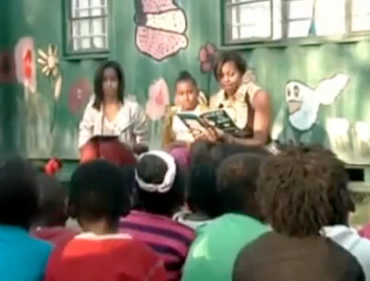 Michelle Obama has won many fans in South Africa. Watch the videos below to see America's First Lady urge young South Africans to be the generation that ends hunger and corruption, and tackles the suffering and stigma of Aids…and then watch Michelle and her daughters as they (very animatedly) read 'Cat in the Hat' to a younger audience!
In this first video, America's first lady was addressing a packed congregation at the Regina Mundi Church in Soweto.
She told the audience of young women leaders from across the continent that there were still many causes that were worth making sacrifices for.
httpvh://www.youtube.com/watch?v=Zx-ubUNhsZc
The US First Lady and her daughters Malia and Sasha were also serenaded by children at a day care centre in Johannesburg, after which Michelle and her daughters delivered a lively reading of The Cat in the Hat to a group of youngsters.
httpvh://www.youtube.com/watch?v=oQaI9fScksE