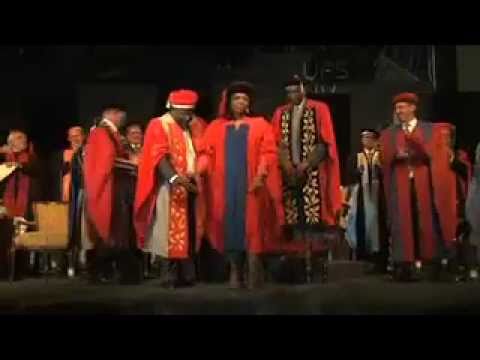 The University of the Free State awarded an honorary doctorate to Oprah Winfrey on Friday 24th June 2011, so now South Africa's favourite private school owner can also be called Dr Oprah Winfrey!
Oprah received the university's 152nd honorary doctorate and was delighted when told by John Samuel "Ms Winfrey, you are now a Kovsie", throwing her arms in the air on stage, in front of an equally delighted – and packed – audience of 4,500.  See the video below.
Oprah, being Oprah, inspired everyone in the crowd especially when she spoke of how she had been born to a couple who did not plan to fall pregnant…and that her story shows that no matter what the circumstances are of how or why you are born and come into this world "you are not a mistake".
During her latest visit to South Africa, Oprah also dined with America's First Lady Michelle Obama in Johannesburg as both their trips overlapped.
Watch the newest Kovsie get her doctorate here: