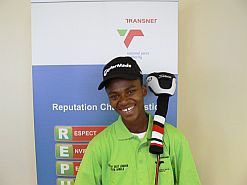 South Africa's Lwazi Gqira, 18, is swinging his way to golfing success after recently competing in the Toya Polish Junior Championship, which ran from 22 to 25 June 2011.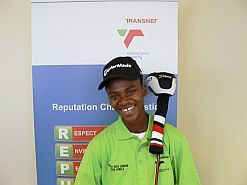 To get there, the young sportsman from a poverty-stricken squatter camp in Duncan Village, East London, took his first flight in an airplane.
"It was my first flight and I was nervous, but I really enjoyed watching TV in the sky," he said.
Once in Poland, another first for Gqira was being able to tee-off with a set of brand new clubs. Until now he has had to borrow second-hand equipment from his coach and teammates.
As a member of the East London Golf Club, Gqira was selected by the Border Golf Union to represent their under-18 squad in Poland.
He was joined by Armandt Scholtz and Kim Daniels, who also represented the Border Golf Union at the championships. All three belong to the South African Golf Development Board (SAGDB) programme.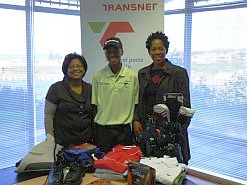 Gqira held a nine-iron for the first time when he was nine years old and now, almost a decade later, he has got the chance to play in a major junior championship with his peers from other countries.
"The first time I started playing golf, I didn't enjoy it," Gqira said.
"This was coupled by the fact that I was the only child in my neighbourhood who was playing golf while the other boys played soccer. I decided to play soccer as well, but then after two months I decided it was not for me and I picked up golf clubs again," he added.
The opportunity for Gqira to play overseas was made possible by Transnet National Ports Authority (TNPA), which invested R30 000 (US$4 366) in Gqira to enable him to get his first new golfing kit and clubs.
Jacqueline Brown, East London Port Manager, said: "Despite the hardships he has experienced in living in an impoverished area, his determination and zeal to succeed has placed him right in front.
"TNPA is proud to be able to play a part in Gqira's journey towards his planned pro golfer status. We will support him all along the way in achieving both stardom in golf and in attaining top academic honours."
Gqira said he'd like to walk in the footsteps of some of South Africa's golfing greats like Louis Oosthuizen and Charl Schwartzel.
"I strive to be like my favourite pro golfers, Louis Oosthuizen and Charl Schwartzel," said Gqira.
Golfing roots
Gqira started out as being a caddie for Richard Dikileyo, who later became his coach after seeing his potential and enthusiasm for the sport.
"Richard taught us that we should not smoke, abuse alcohol or use drugs. He taught us that through golf, we can rise above our circumstances." said Gqira.
"Those words have stayed with me and motivated me. The SAGDB taught us the basics well and moulded us into the golfers we are now."
Gqira was also a member of the Ernie Els & Fancourt Foundation until he opted to leave as his school work was taking a knock.
At the foundation he met his current coach Michelle de Vries, who works with Dikileyo to nurture golfing talent in East London.
De Vries said: "Lwazi is a pleasure to coach. We call him pro because of his mannerisms and practice ethic.
"He comes from a difficult background, but he has the will to overcome his obstacles and I will do anything to help him achieve his goals if he is willing to overcome adversity."
Gqira describes De Vries as being like a mother, while De Vries, who has no children, recognises him as a son.
The Poland experience
Gqira, who competed with more than 90 other players in his category, came 25th, which is quite an achievement for a first-timer playing in a major championship.
"I was a bit nervous in the first round, but after that I said to myself I need to relax and play my game."
Gqira said Poland was a beautiful country with beautiful architecture and that he will cherish the memories of taking part in the tournament even though communication with the other golfers was hard due to language being a barrier.
Source: MediaClubSouthAfrica   http://www.mediaclubsouthafrica.com/