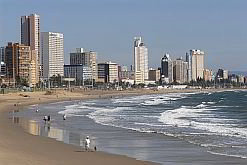 Members of the International Olympic Committee (IOC) will converge on the coastal city of Durban, South Africa, for their annual general meeting from 4 to 9 July 2011. This is the first time that the committee meets on African soil.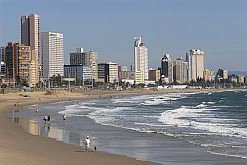 The meetings taking place at Durban's International Convention Centre will form part of the 123rd IOC session, during which the host city for the 2018 Winter Olympic Games will be selected.
The host city will be chosen from the three candidates – Munich, Germany; Annecy, France; and Pyeongchang, South Korea – by the IOC through a secret ballot voting system on 6 July 2011.
The rivals submitted their final bid proposals to the IOC by the January 2011 deadline, which then passed into the hands of the IOC's evaluation commissioners in February 2011.
Also in attendance will be the heads of state of Germany, Korea, Hungary, the Netherlands and Denmark, as well as international sports administrators and royalty. The attendance of French President, Nicholas Sarkozy, is yet to be confirmed.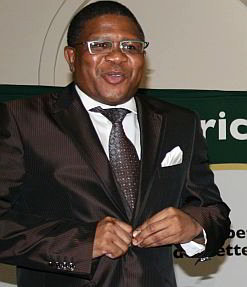 A historic moment
South Africa's Sam Ramsamy, an IOC executive board member, promised all attendees "an unforgettable week in South Africa".
Ramsamy said: "This is a historic moment for Durban, South Africa and for Africa to host the International Olympic Committee for the first time on the continent. This is also the first time that such a group is assembling in South Africa and this provides us with abounding opportunities to showcase our economy, tourism, culture and our people."
Ramsamy expressed his gratitude for the honour, and gave his assurance that preparations are well underway and on track.
"It promises to be a memorable event," he added.
Fikile Mbalula, the minister of sports and recreation, likened the hosting of the IOC to the hugely successful and widely acclaimed 2010 Fifa World Cup hosted by South Africa last year.
Mbalula said: "As the South African government, we've thrown our full support behind the success of the IOC session. We look forward to constructive engagement with the leaders of world sport, and we look to continue entrenching our country's positive reputation as a major international sports, tourism and events destination."
Mbalula said that the country would continue to bid for and host events across the sporting spectrum.
Sports tourism in South Africa
In an effort to sustain the legacy left by the hosting of the 2010 Fifa World Cup, South Africa's national sporting and tourism bodies will launch the Sports and Events Tourism Exchange (SETE) during the 123rd session.
SETE will take place in Cape Town at the International Convention Centre from 27 to 29 July 2011.
The event's aim is to develop more ways of maintaining South Africa's tourism industry through sport.
SETE will host academics and experts in sports, events and tourism, who will all share their knowledge and expertise on sustainable sports tourism.
Roshene Singh, chief marketing officer of South African Tourism, said: "Globally, sports tourism is a multi-billion dollar industry and with South Africa's proven capability of hosting major events, as well as our significant infrastructure footprint, it makes sense that we start pursuing sports tourism as a viable route towards achieving our tourism goals."
Singh said that the SETE event will offer tourism and sports bodies the chance to come together and collaborate towards making the most of national hosting of sports and mega events.
"The World Cup was a major boost for South Africa's international reputation," she said, "but it is important to note that hosting ongoing sustainable events across all sporting codes in South Africa are equally important for us to drive future tourism and economic growth."
Durban: South Africa's playground
Durban will be a hive of activity in the next nine days with three high-profile international events taking place almost simultaneously.
On 2 July, Durban hosts one of South Africa's most popular horse races, the Durban July, at Greyville Racecourse. Many other events and parties are planned throughout the weekend to coincide with the main attraction.
Then from 4 to 9 July the IOC will have their annual meeting.
On 7 July, a wedding reception for Prince Albert II of Monaco and his South African sweetheart, former Olympic backstroke swimmer Charlene Wittstock, will also be held in Durban. Albert is scheduled to attend the IOC gathering, after which the royal couple will spend their honeymoon in the country.
In just nine days Durban will prove that it is truly South Africa's playground.
Source: www.mediaclubsouthafrica.com