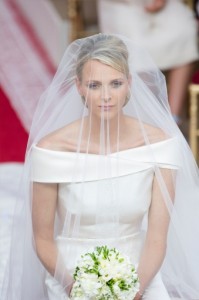 Princess Charlene's Wedding Dress Details…
So for all those who simply have to know, here are the facts and figures about Princess Charlene's outfits that she wore during her weekend wedding ceremony in Monaco where she wed Prince Albert II: WEDDING DRESS Giorgio Armani Privé wedding dress with a flowing line, in off-white silk duchesse, with a long train. Crossover […]

So for all those who simply have to know, here are the facts and figures about Princess Charlene's outfits that she wore during her weekend wedding ceremony in Monaco where she wed Prince Albert II: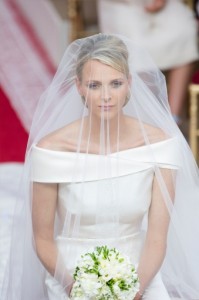 WEDDING DRESS
Giorgio Armani Privé wedding dress with a flowing line, in off-white silk duchesse, with a long train. Crossover detail on the front and back forming a second "à l'andrienne" train. Ramage embroidery depicting flowers, crafted with stones in gold shades, and Swarovski crystals and mother of pearl teardrops in white and gold hues, embellish the front of the dress, the trim and the central main section of the train.
Long veil made from off-white silk tulle, with front tier and subtle embroidery.
UNIQUE FEATURES
2,500 hours of work
40,000 Swarovski crystals
20,000 mother of pearl teardrops
30,000 stones in gold shades
3,000 kilometres of travel for fittings in Montecarlo
700 hours of work for the embroidery
"kilometres" of embroidery thread coated in platinum
50 meters of silk duchesse
80 meters of silk organza
for the veil: 20 meters of silk tulle, 100 hours of work for the embroidery
DRESS FOR THE WEDDING RECEPTION
Giorgio Armani Privé evening gown in off-white silk chiffon with broad neckline, and four-tier train; embellished by graduated embroidery crafted with Swarovski teardrops and stones in gold and platinum colour.
DRESS FOR THE BRUNCH RECEPTION
Strapless cocktail dress by Giorgio Armani Privé in silk satin duchesse in bright green colour. Pleat detail on the bodice and skirt.
The wedding rings are made of 18 carat white gold platinum.
They were created by Cartier.
THE WEDDING BOUQUET
The civil wedding bouquet
This bouquet was designed and assembled by the Garden Club of Monaco.
It is composed of pink protea flowers, which originate from South Africa and are the emblem of the country.
The religious wedding bouquet
The bouquet was designed by "Armani" and assembled by the gardeners of the Prince's Palace
It is composed in shades of white with freesias, dendrobium orchids and lilies of the valley. The cascade design fits perfectly with the smooth lines of the bride's gown and her slim silhouette. The lily of the valley is the favourite flower of H.S.H. Princess Charlene; it inspired the design of the floral ramage embroidery on her wedding dress.