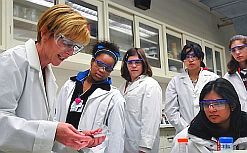 Female scientists from Stellenbosch University and the University of Cape Town (UCT) have been honoured with 2011 L'Oréal-Unesco Regional Fellowships for Women in Science in sub-Saharan Africa.
The five are Dalene de Swardt, Jeanne de Waal and Kim Trollope from Stellenbosch; and Olutayo Boyinbode and Rachel Muigai from UCT.
The award ceremony took place in Melrose Arch in northern Johannesburg on 30 June 2011.
Four of the women honoured on the night were South Africans. In total there were 10 recipients specialising in microbiology, environmental science, medical virology, chemistry and agriculture.
Each took home a fellowship to the value of US$20 000 (R135 000) toward the completion of their PhD research projects.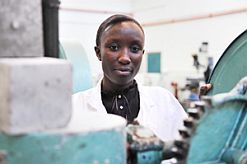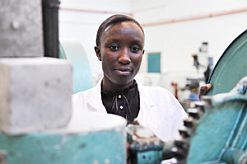 Philippe Raffray, MD of L'Oreal South Africa, said: "The programme was open to all women scientists up to the age of 40 across sub-Saharan Africa, who are working towards their PhD in all fields of science."
Raffray said that 175 women had submitted applications, which was a significant increase from the 2010 figure of 104.
The number of fellowships awarded also increased, from five in 2010 to 10 in 2011.
Professor Joseph Massaquoi, director for the Regional Bureau for Science in Africa, said: "Unesco is very enthusiastic about this particular fellowship because it contributes to the two global priorities of the organisation: Africa, and gender equality."
He said that the global cultural organisation was pleased to empower women in science, and help ensure the diversity of the scientific community in Africa.
The Regional Bureau for Science in Africa is responsible for the preparation and implementation of science programmes in 47 countries in sub-Saharan Africa. It is an organisation of Unesco.
African scientific innovation
De Swardt is doing her PhD in medical virology, specifically in the field of HIV/Aids. Her research focuses on a type of immune cell, the dendritic cell.
She said: "I'm developing a natural agent that I hope would block the HIV virus from entering healthy cells, while also curbing its activation status so that the agent can attack and clear out the infection."
Trollope's research is centred on producing an enzyme used for the manufacture of sweeteners from cane sugar.
She chose a career in science, she said, because she was interested in finding out how things work.
"Also, I liked the idea of doing a job where things are not predetermined and are constantly developing. I also like to be involved in research as I think it forms the basis for many human activities and contributing to that knowledge base appeals to me."
De Waal is doing her doctorate on sustainable agricultural fruit production, with a special emphasis on eco-friendly pest management. She is developing a biological control agent to effectively control pests on apples and pears.
Muigai's area of speciality is the sustainability of concrete structures. She expressed her gratitude on receiving the L'Oreal-Unesco fellowship, saying that she was tremendously thankful that the two international organisations had considered her thesis and supported it.
Muigai previously received a six-month research grant from the German Academic Exchange Service, which she used to spend time at the Technical University of Munich in Germany in 2010.
Boyinbode is doing her PhD in computer science.
Empowering women in science
The Women in Science partnership was created by the L'Oreal Corporate Foundation with Unesco in 1998.
The careers of nearly 1 100 women scientists have benefitted through the various fellowship programmes offered under the partnership.
The aim of the national and regional fellowships is to increase the representation of women in the global scientific community by funding their scholarly work, and at the same time helping them to become role models for future female scientists.
Raffray said: "Access to funds – especially in Africa – is far too often a barrier to women completing their studies, but through the fellowships we aim to remove at least this barrier."
The partnership also aimed to open up previously inaccessible opportunities, he said – not only for the talented fellowship recipients but also to the African community and the world at large, through scientific research that needed only a financial push to come to fruition.
Source: www.mediaclubsouthafrica.com