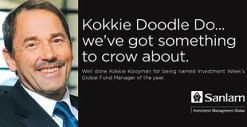 South African fund manager Kokkie Kooyman has been named the international Fund Manager of the Year for the second year running by the UK-based jourmal Investment Week.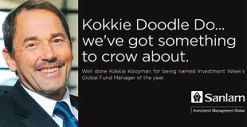 He fought off three rivals, including two funds from London-based Polar Capital and one from Jupiter International, to take top honours in the category Specialist Financial Funds.
Kooyman, who heads financial services group Sanlam's Investment Management (SIM) Global, received the sought-after accolade at a ceremony at London's Royal Albert Hall on 7 July 2011.
The highly competitive awards aim to throw the spotlight onto funds that have performed exceptionally over a three-year period, while taking into account the methods used and whether the fund's performance is sustainable.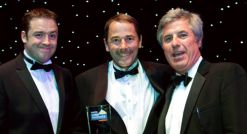 With his SIM Global fund Kooyman has achieved compound annual returns of 16% (US dollar) for investors during the last 10 years despite having to work through two bear markets within the decade.
A bear market is a situation within the financial sector which sees the prices of securities falling and analysts adopting a gloomy outlook, with the prediction of losses.
The fund has consistently ranked among the world's top three for the past six years.
SIM in uncharted territories
Kooyman said: "Our approach has remained consistent since we started the fund in 1999. We compare and invest globally – as opposed to many of our competitors who only look at developed market banks."
He said that he has been visiting banks in Indonesia, Thailand, Hong Kong and China for the last 16 years, and has gained a thorough understanding of those countries' banking sectors. Currently, Kooyman leans towards Japan and Indonesia as good investment prospects.
He added a number of banks in the UK and US to his list in 1997, and said that the difference with SIM and other fund managers was that the companies he and his team looks at were "usually below the radar of other investors and/or brokers".
SIM would advise people to invest in countries which have underdeveloped financial markets and whose citizens are not deeply in debt, such as certain Asian and Middle Eastern countries.
Kooyman said: "Currently, we believe that Turkish and Indian banks are being misunderstood by the market."
He also sees great opportunity in Brazil, and has tended to stay away from Western markets in recent years.
High yield equity fund to launch in 2011
Kooyman recently announced a new SIM offering.
"We are starting a high yield equity fund which will comprise a portfolio of 30 shares, targeting an average yield of 5%," he said. "That will only be later in the year."
Moving away from Sanlam's often volatile small-cap orientated funds, this new fund will be large-cap focussed.
Indonesian motor finance company Adira Dinamika Multi Finance is Kooyman's investment opportunity of choice at the moment. In just 12 months the company's stock has gone up 60% and, he believes, is able to rise even higher.
The makings of Kooyman
BComm graduate Kooyman completed his articles at financial services firm Arthur Young, which later globally merged with Ernst & Whinney to become Ernst & Young.
His distinguished financial career started at the University of the Western Cape when he held a position as accountancy lecturer between 1979 and 1980.
He was appointed head of internal audit at fashion chain Truworths in 1983 and joined Repfin Finance as financial director three years later, until 1989. Here he managed to turn Repfin's fortunes, which were not looking promising, around.
The Fund Manager of the Year said: "My experience inside businesses, troubleshooting at Truworths and then at Repfin, gave me a lot of insight for my later career as an analyst and portfolio manager."
Kooyman also spent 10 years in the asset management division of savings and investment group Old Mutual, where he established his reputation.
Besides heading SIM, Kooyman also manages investment firm Nedgroup's South African financial fund. "It's a fun job which SIM has allowed me to carry on doing," he said.
Source: www.mediaclubsouthafrica.com