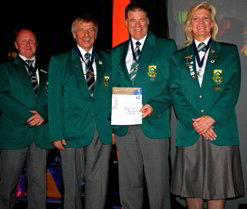 Team South Africa put in an impressive performance at the 20th Precision Flying World Championships, recently held in North West province, demonstrating how accurately and safely local pilots can handle aircraft without the aid of modern technology.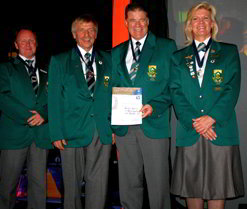 South Africa came second in the team landing category, with squad member Hans Schwebel being named the runner-up for the landing trophy. This was the first time the event has been hosted in the country.
Precision flying competitions test the fundamental skills of pilots flying solo in single-piston engine aircraft. Armed with just a compass and map, participants have to follow a precise flight path while sticking to a tight time limit, complete observation tasks from the air to the ground while navigating the plane, and make inch-perfect landings on short, narrow airstrips with trees and other obstacles on the approach.
The sport is the aerial equivalent of orienteering.
With ever-increasing automation in modern planes such skills aren't put to the test in everyday commercial flight, meaning that those who compete in precision flying "represent the cream of the crop in terms of good, solid aviation practice", says director of the 2011 champs Antony Russell.
This year's championships included host team South Africa, as well as participants from Norway, France, Finland, Denmark, Austria, Switzerland, Sweden, Russia, Czech Republic, Poland, New Zealand, UK and Germany.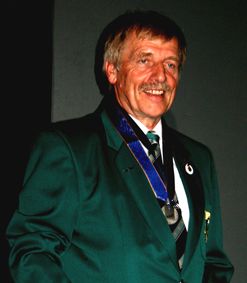 Poland was named the overall team winner, with member Michal Wieczorek being crowned the individual world champion for 2011. Czech Republic came second, France third and South Africa fourth.
'Felt proud to be South African'
South Africa's Hans Schwebel has been competing in the sport since 1994, with 2011 being the 18th time he has represented the country at the world champs. He's a private pilot living in Brits, North West, and has his own business, which gives him the flexibility to practise as often as he can. He started preparing for this event three months ago, flying as often as three times a week.
"But there's always stiff competition from overseas – a lot of the competitors are commercial pilots who fly and get to practise every day. There are also far more precision flying competitions and events in Europe than here," he says.
Schwebel believes precision flying has made him a better pilot.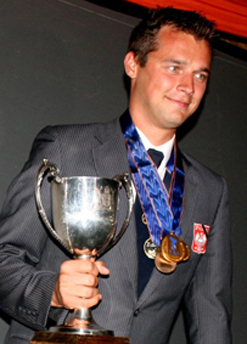 "Today with all the modern GPS systems, you press a knob and it tells you exactly where to go. But when there's a failure in the airplane, most of the pilots don't know what to do anymore. With precision flying you do it the old way – you have a map and a compass and you follow the road," he says.
"The highlights of this year's competition were coming second and the camaraderie from the South African team – it made me feel very patriotic. It's a very special feeling. It's also a way of giving back to the country. I want to encourage more youngsters from this country to join the sport – and I hope that my performance this year serves as an example to them that it is possible to excel."
The next precision flying world champs will be held in two years' time, probably in Europe, and Schwebel says he's going to do all he can to make the national team again.
'I love this country'
One of the youngest competitors at this year's event, 30-year-old Michal Wieczorek is a commercial pilot working for a charter airline in Poland. He's been flying for 11 years and participated in his first international airsport event in 2003 at Sun City, also in North West.
He attributes his love of flying and talent for precision flying in particular to his father, who also used to compete and excel in the discipline.
"The flying conditions in South Africa are very different from those in Europe. Because it's so hot, you have to fly at higher density altitudes, which decreases the performance of the aircraft. Navigation in South Africa is also completely different – there's bush everywhere. The first few days of practice here were very hard for me," he says.
It was determination and cool-headed landings which clinched the 2011 title for Wieczorek.
"After the second navigation stage I thought I had no chance of even coming in the top three, but the landings stage on last day of the competition changed everything. There's a lot of pressure to make the perfect landing and if the nerves catch you, it's over – but I felt less pressure because I didn't expect to win. When I thought the game was over for me, I just wanted to end it off with good landings – unlike Czech Republic's Jiri Filip, who did well in the first stages and the pressure was on for him. But I can say I fought 'til the end."
He says competing in South Africa this year was like coming home.
"This is my third time in South Africa. I really enjoy being here – I love this country. South Africans are very hospitable and helpful – I've got many friends here and I feel at home."
Wieczorek believes one of the reasons why former Eastern bloc countries do well in precision flying is because of a familiarity with older planes and less advanced automatic navigation systems.
"We don't have that many aircraft with modern avionics. We train in old planes. Although they're in very good condition, they don't have GPS systems – we have to use a map and conventional navigation techniques as you have to do in precision flying."
But it's also Poland's coach, Andrzej Osowski, who primed the team for this year's champs.
"Andrzej gives us a hard time and trains us well. He's being doing it for more than 25 years and is very good at what he does."
Wieczorek says his aim now is to defend his title at the next world championships and participate in the sport for as long as he can.
Source: www.mediaclubsouthafrica.com