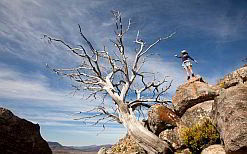 Scott Ramsay is writing a blog, Year in the Wild, as he travels through South Africa's national and provincial parks. He posts about his experiences and observations daily and keeps the conversation going with friends and followers via Facebook and Twitter.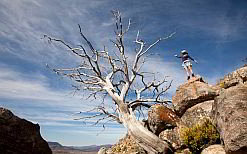 Increasingly drawn to the call of the outdoors, the former sales rep packed up his belongings, and decided to turn his passion into a project, promoting scenic South Africa.
He plans to visit all of South Africa's national – 19 of them – and regional parks – 12 – in a year; recording their unique landscapes as well as the local plants and animals.
An important part of his project is to highlight the heritage of the local communities. Along the way he will interview rangers, ecologists, scientists and people in the communities where he finds himself.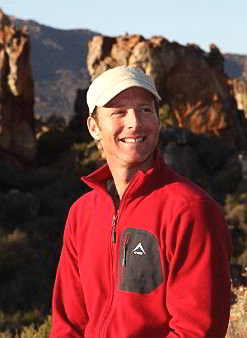 "If someone can see for themselves how special a wild place can be, whether it's lying underneath blazing stars in the Kgalagadi or walking through fields of millions of Namaqua daisies or discovering millennia-old rock art in the Drakensberg; then these places have a better chance of being conserved, and the local communities can enjoy their benefits."
Few are able to sleep under the stars in the Kalahari or jump from a waterfall on the Wild Coast. Through sharing such experiences Ramsey hopes to inspire others to become involved in conserving our environment, looking after our natural wonders, and making time to visit South Africa's lesser known areas.
"The protection and expansion of Africa's wild places is of the utmost importance."
On his blog Ramsay quotes Nelson Mandela who said he dreams of "our vast deserts, of our forests, of all our great wildernesses. We must never forget that it is our duty to protect this environment".
Travelling alone in the wild does get a bit lonely though, so Ramsay's girlfriend, Thandie Davies, joins him every now and then.
"It was a bit tricky convincing her to come along as she is a professional and cannot just leave her work for a year, so she joins me whenever she can," said Ramsay. Davies works as a school counsellor.
Ramsay and Davies have hiked through the famous Otter Trail in the Tsitsikamma National Park. One blog entry says: "The forests are lush. The fynbos sparkling from a bit of rain we had last night. And the ocean is blue…."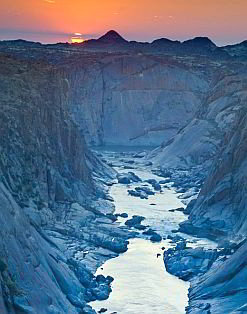 He jots down notes about each of the areas visited for his readers. About the Otter Trail Ramsay writes: "This is perhaps South Africa's most famous hiking trail – for its scenery, its challenge (there's a cumulative climb of 2 700 metres) and its pristine ecosystem – the entire coastline here is a Marine Protected Area."
In the Bontebok National Park the couple swam in a river, surrounded by bontebok, swallows, kingfishers, wagtails, Egyptian geese and weavers, and, while walking in the Gamkaberg mountains, caught a daily glimpse of a leopard.
Ramsay is five months into his trip, which started on 12 June 2011 at the Table Mountain Nature Reserve, a world heritage site.
His journey will end in July 2012 at the Mokala National Park in Kimberley, home to both the black and white rhino.
The Inspiration
Ramsay talks about the decision to opt out of city life.
He said that while sitting in his 17th floor office in Johannesburg, he would constantly find himself daydreaming about hiking in the Drakensburg or swimming among the coral reefs in the Indian Ocean.
"I was feeling depressed with the work deadlines and the monotonous life I was starting to lead."
He was also reading loads of books on conservation and nature. Steered on by the writings of South African environmental educator and conservationist, Ian Player, and Nobel laureate, Kenyan environmentalist and political activist, Wangari Maathai, Ramsay decided to heed the call of the wild.
He moved to his hometown of Cape Town and found a job at one of South Africa's premier adventure travel magazines, Getaway, picking up on his passion for writing, adventure, nature and photography.
"I was fortunate to be able to travel to some of Africa's great wilderness areas and it confirmed for me what I had always suspected: that these are our continent's greatest assets, and they, along with our people, are our most valuable contribution to the world."
His dream though, was much larger – to scale the length and breadth of South Africa and explore its wilderness.
The year in the wild made possible
"Year in the Wild started as a dream to explore, photograph and film South Africa's most special wild places and to share their priceless ecological, cultural and spiritual value with the rest of the world via social media."
So far Ramsay has been to 14 out of 31 sites.
"A project like this relies on the help, funding, sponsorship and dedication from many different organisations and people. Without their involvement, Year in the Wild would not be possible."
The adventurer has been sponsored with a 4×4 Ford Everest that is able to navigate the harsh terrain he is travelling.
He also receives petrol from Total and is able to communicate through an Evosat satellite, which makes it possible for him to update his activities on the social networks and blog anywhere, while he makes calls sponsored by Vodacom.
Source: www.mediaclubsouthafrica.com