Table Mountain has been announced as one of the New7Wonders of Nature along with the Amazon, Halong Bay, Iguazu Falls, Jeju Island, Komodo and Puerto Princesa Underground River.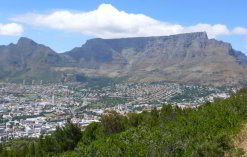 In 2008, Table Mountain was identified as one of 440 magnificent natural sites selected by the New7Wonders Foundation to enter the three-phase New7Wonders of Nature contest.
In the second phase, Table Mountain made the 77-site shortlist before being publicly voted onto a final shortlist of 28 sites in July 2009. After the final round Table Mountain was selected as one of the final seven.
With this accolade, Table Mountain, Cape Town and South Africa can anticipate global attention.
The New7Man Made Wonders – voted for in 2007 – has become part of school curricula all over the world. If the same happens to the New7Wonders of Nature, children from every corner of the globe could be learning about Table Mountain, Cape Town and South Africa as a destination.
In an independent impact report conducted by Grant Thornton, a leading tourism hospitality and leisure research company, it was predicted that a R1.4-billion (US$177-million) annual tourism return can be expected for South Africa.
Basing their projections on the New7Man Made Wonders, in which 100-million votes were cast worldwide, Grant Thornton estimate that tourism to Table Mountain, and thus Cape Town could increase by approximately 20%, resulting in the generation of employment opportunities.
Standing proud
Cape Town Tourism CEO Mariëtte du Toit-Helmbold expressed her excitement, saying: "From being awarded the World Design Capital 2014 designation just a few weeks ago to Table Mountain being named one of the New7Wonders of Nature today, Cape Town and South Africa are standing proud!"
She added that of the many benefits to be reaped from the accolade, the biggest is the potential for job creation.
"In line with Cape Town Tourism's new brand strategy for the city, we are working with individuals and companies on developing new, interesting and genuine tourism offerings to satisfy our changing travellers' needs. With the anticipated increase in inbound travel to South Africa, and particularly to Cape Town, there are going to be increased entrepreneurial opportunities opening up."
A global icon
On 7 November 2011 Cape Town Tourism launched a bold new brand and marketing campaign for the city at World Travel Market in London.
In addition, Cape Town Tourism has partnered with Johannesburg Tourism and Durban Tourism on a joint domestic marketing agreement that will offer affordable product and destination packages to and within these South African cities, as well as more robust event calendars across the board.
The campaign also gave South Africans and people from other countries the chance to learn more about the mountain.
Before the campaign, many people may not have known that Table Mountain is one of the oldest mountains on the planet, estimated to be around 360-million years old. Table Mountain was named a World Heritage Site in 2004 as part of the Cape Floristic Region, the smallest and richest of the only six floral kingdoms on the planet.
It supports natural forest and indigenous fynbos along with a variety of animals and birds, including 8 200 rare and endangered plant species.
Table Mountain is the only terrestrial feature on earth to have a constellation named after it. The southern constellation Mensa (originally Mons Mensae – Latin for "the table mountain"), was named in 1754 after the increasingly world-famous landmark in the then Cape of Good Hope.
It was a symbol of hope for freedom fighters jailed on Robben Island. Table Mountain is a recognised as a global icon, visited by millions of people each year and attracting the attention of royalty, sports stars and Hollywood celebrities.
It is one of the most photographed sites in Africa.
Source: www.mediaclubsouthafrica.com