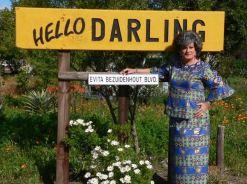 The West Coast village of Darling is hosting its annual classical festival in February 2012, but don't expect a highbrow affair.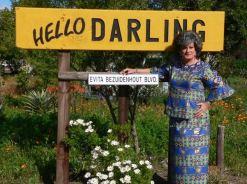 The Darling Music Experience is shifting perceptions of classical music, giving it a contemporary feel and making the music genre more accessible to a wider audience.
South Africa's Darling
The village of Darling, a quirky little place situated in South Africa's West Coast region, is a suitable spot for a festival celebrating classical music.
The town's appeal as a cultural hub has much to do with its most famous resident, Evita Bezuidenhout, famous Afrikaner socialite and alter ego of comedian Pieter-Dirk Uys.
What started out as a small farming village many years ago, became a trendy little town when Tannie (Afrikaans for Aunty) Evita, South Africa's most glamorous granny, moved in.
Here she opened Evita se Perron, a cabaret venue, restaurant, bar and arts and craft market.
Now the town is a popular artistic hangout and home to many of South Africa's most esteemed musicians, artists, performers and composers.
The Darling Music Experience
The Darling Music Experience was the idea of three music enthusiasts: David Tidboald, a renowned South African conductor; composer Hendrik Hofmeyr, one of the country's best known younger composers; and Alfred Legner, a music enthusiast.
Legner says that the Darling Music Experience, now in its seventh year, started out as a classical chamber music festival.
"But now the festival has become more accessible and diverse," he says.
This year, the main inspiration for the festival is the music of Johann Sebastian Bach and visitors to the festival can expect unusual interpretations of works on instruments such as marimbas and penny whistles.
The music on offer will vary from classical and contemporary chamber music, popular choir works as well as jazz interpretations of classical favourites.
"Every year we have a good blend of local performers and international music stars," he says.
New artists
Legner says the festival is a great platform for new musicians and performers to showcase their work. Each year, a top local composer is commissioned to write a piece especially for the festival.
"This is a very important aspect of the festival," he says. "In doing so the Darling Music Experience nurtures and showcases the exceptional talent we have in our country."
More than just music
Legner points out that the festival is about more than listening to good music – delicious local food, the town's inviting atmosphere and well-known Darling wines are part of the experience.
"By pairing music with good food and wine we are adding an element of fun. We can't sell music in the traditional sense anymore," he says. "We have to sell ambience."
As part of the food and wine festivities, visitors can enjoy an introduction to champagne-making with winemaker Lukas Wentzel.
The venues for the concerts are also a step away from the traditional settings, and include beautiful wine estates, Darling's lovely old Presbyterian Church, village barns, and even a vlei, which is Afrikaans for marsh or meadow.
Musical outreach
As part of the festival's social responsibility efforts, The Darling Music Experience established a musical outreach initiative, known as the "Darling Music for all" programme.
The initiative raises funds to pay for music tuition and buy instruments for needy children in local communities around Darling.
"The school has grown so much that 40 children are playing musical instruments now," Legner says.
Through the music school and the festival's unconventional approach to classical music, the genre is losing its traditional, old school appeal.
"Established audiences are shrinking. Through the music programme we can create a new audience for classical music," he says.
• The Darling Music Experience takes place from 3 to 12 February in Darling.
Source :www.mediaclubsouthafrica.com
By: Wilma den Hartigh