A YouTube video clip which includes a South African prank has scooped top position on Google's new Comedy Slam Leaderboard. The video, called 'Few Funny Pranks', includes 3 pranks, of which you can see (and hear) the South Africans in the last section. (Scroll down to watch the video.)
The search engine giant recently introduced this latest 'humour' algorithm – a means of testing which is the funniest YouTube video (which includes, amongst other things, just how large and long an "LOL" users include in their comments…and how many exclamation marks they leave!!!!!!!!).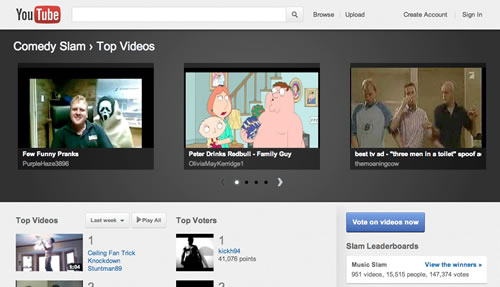 They also use the new YouTube Comedy Slam section – where users get to vote for one video vs another (see link below to try it out for yourself).
We're not sure just how great Google's measure of humour is working out…but you can check out the video here (you may want to turn down your volume a little):
httpvh://www.youtube.com/watch?v=l92jFP4hvUw
Vote for funniest videos at YouTube's Comedy Slam section
View the top comedy videos for the week