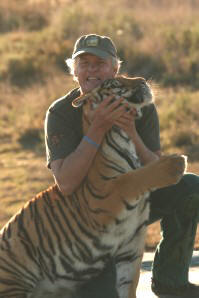 We're pleased to hear that South African conservationist and filmaker John Varty is on the road to recovery after being attacked by a tiger on his reserve yesterday. (UPDATE – 13 APRIL 2012: click here for John Varty's account of his attack)
The big cat expert had been filming on his farm in the Karoo when he was attacked.
A statement, published on his website reads:
We are pleased to announce that John Varty is out of theatre at Bloemfontein Medi Clinic and is recovering from the incident which took place at Tiger Canyons yesterday.  The report from the doctor is positive, however, we anticipate that John will remain in ICU for 3 more days as part of the pain management medication.  The doctor will closely monitor his condition, which includes several puncture wounds and two broken ribs.  The danger of infection will also be closely monitored.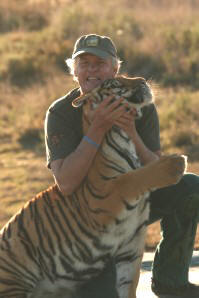 John Varty, aka JV, established Tiger Canyons near Philippolis in South Africa as an experiment to create a self-sustaining haven for tigers outside of Asia (where they were threatened with extinction). The plan is to breed them in South Africa to increase the species' chance of survival,  and for third and fourth generations of tigers to be returned to pre-approved parks in Asia where they stand a chance of surviving on the continent.
JV (62) and his brother Dave are the founders of the luxurious Londolozi Game Reserve…although JV reputedly does not care much for luxury and is far more at home in a tent. He jokes in his site biography that the home he has at Londolozi is a 5-star lodge "because you can clearly see the night sky, shining through holes in the roof".
The father of three, and partner of TV celebrity Gillian van Houten, has sunk virtually everything he has into the Tiger Canyon project which he so fervently believes in against the controversial calls of some critics.
According to a TV proposal which appears on JV's website, "our series will not only follow the amazing stories of the tigers, but the extraordinary life, personality and the dramatic story of John Varty, aka The Tiger Man! His story, is a story of an obsessive journey into the heart of darkness and maybe, just maybe, out the other side."
The synopsis also mentions that JV "has sunk practically everything he has into the Tiger Canyons project, which to some people is a, scientifically invalid, wild goose chase. So far it has cost him dearly, in far more than just financial ways."