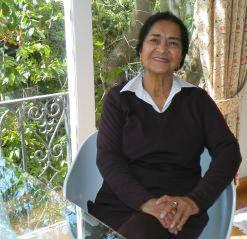 Ahead of Freedom Day on 27 April, which this year marks the 18th anniversary of South Africa's first post-apartheid election, political activist and women's rights campaigner Amina Cachalia shares her memories of Nelson Mandela's inauguration as the country's first democratically elected president.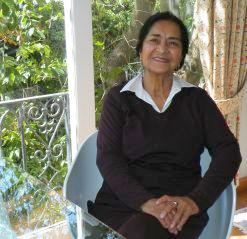 Memories of a special day
Cachalia has vivid memories of that day, 10 May 1994, when she saw a friend of many years become president of the country.
"It was a moment that I don't think I will ever forget – when Mandela stood up and took that oath, she says. "In my wildest dreams I never thought I would be party to that day."
Cachalia and her late husband Yusuf were invited to the inauguration as VIP veterans. Both were prominent political activists in the struggle against apartheid.
He was a leading figure in the South African Indian Congress in the 1940s and 1950s and played a key role in bringing about African-Indian cooperation during the 1952 Defiance Campaign.
Cachalia is well known for the role she played in promoting rights for women during apartheid. In 1948, she was instrumental in launching the Women's Progressive Union, an organisation with the aim of making women financially independent. The union, which functioned for about six years, offered classes in literacy, shorthand and typing, baby care, dress-making and music.
In 1954, she also took the lead in launching the Federation of South African Women. The organisation's goal was to oppose the proposed extension of pass laws to black women, which culminated in the 1956 Women's March to the Union Buildings to protest against apartheid pass laws.
Cachalia enjoys sharing her experiences of the inauguration ceremony. Eighteen years have passed since then, but she recalls the smallest details as if it happened just the other day.
When Cachalia talks about the inauguration, she shifts in her chair and leans forward, eager to tell a good story. "Every Freedom Day, I cast my mind back to relive the day," she says.
"We received a printed invitation for the ceremony and instructions about how to get there. It was all beautifully spelt out for us," she says.
She smiles as she recalls how she went about deciding what to wear for the important occasion. "I looked for a sari with the colours of the ANC, but I couldn't find one. I settled for another one in my cupboard, it was a deep reddish colour. "
It was a beautiful sunny morning and the couple was seated in the amphitheatre, two or three rows behind Winnie Madikizela-Mandela.
Among the many prominent dignitaries she saw at the ceremony, two stood out: Cuban politician Fidel Castro and Benazir Bhutto, who served as the 11th prime minister of Pakistan from 1988 until 1990, and 1993 until 1996. "She was quite a striking woman," she adds.
Cachalia pauses for a while. A myriad of thoughts came to mind when she arrived at the Union Buildings.
"I had been at the Union Buildings before, for the women's march and about my banning orders – usually to demonstrate or show my disapproval about something," she says.
But this time was different.
"I was here on a different wicket altogether. I could see that everything we fought for was not in vain," she says.
Appreciating freedom
For Cachalia, the inauguration gave new meaning to all the years she lived under banning orders.
After the 1956 Treason Trial, activists were all regarded as threats to the government and in 1963 a number were banned. Cachalia wasn't exempt and in November 1963 she was banned for a period of five years.
She remembers the day she was handed her first banning order. "I was on the phone to Helen Joseph when the police delivered the order," she says.
And this was just the first of three banning orders – when her first ban was about to expire, she was served with another, and then another.
She remained under banning orders for fifteen years.
The banning orders restricted her movements, her ability to associate freely with people and put a stop to her political work. She couldn't attend social and political gatherings, couldn't leave the magisterial district of Johannesburg, and couldn't enter any publishing house or educational premises.
"It was a disgusting restriction on one's life in general," she says.
Amid the hardships of apartheid, Cachalia says that they had to create their own fun. She laughs when she remembers the many parties that took place. "We carried on with life and we made the best of what we had," she says.
She picks up a photograph displayed on the bookshelf in her lounge, taken many years ago at a party hosted by Madikizela-Mandela at her home for friends and comrades. "This is the only photo of me and Chris Hani together," she says. It was taken just before he was assassinated in 1993.
Telling South Africa's story
Her life today is a world apart from what she experienced for so many years under apartheid, but although things have changed, some things are forever with her.
Sometimes she still gets that strange feeling that someone is listening in on her conversations, or that her phone is tapped.
After years of living under banning orders, "freedom" took on a different meaning for Cachalia – it is a sacred treasure.
"I can do as I please and read what I want to. I am enjoying my freedom, I am enjoying my life," she says.
She often thinks back to the struggle years. "It was such unbelievable times we lived through," she says.
Cachalia says it is important to ensure that the memories of the struggle years are kept alive, otherwise future generations won't understand South Africa's hard-won freedom.
"The inauguration was a special time for South Africa and the world," she says. "It was absolute euphoria, and the excitement never left us."
By: Wilma den Hartigh
Source: www.mediaclubsouthafrica.com