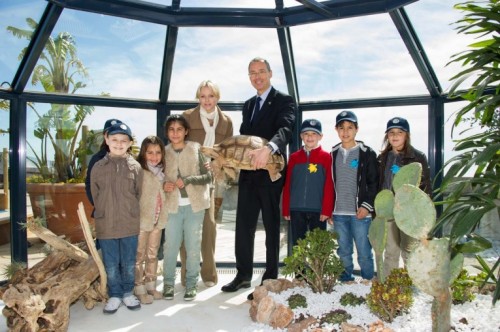 Inaugurated by H.S.H. Princess Charlene of Monaco, surrounded by a group of children of the Principality (Recreation Centre Prince Albert II), «The Turtle Island» is opening to the public, wednesday April 25th and it will enhance the visit to the Museum in a fun manner while raising the visitors' awareness to the cause of tortoises and sea turtles.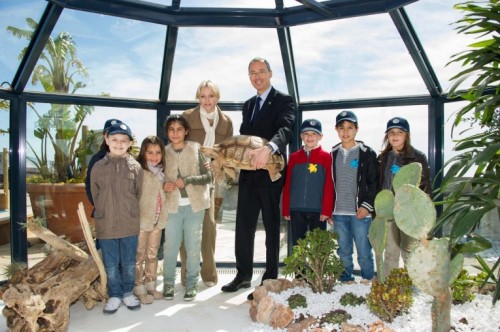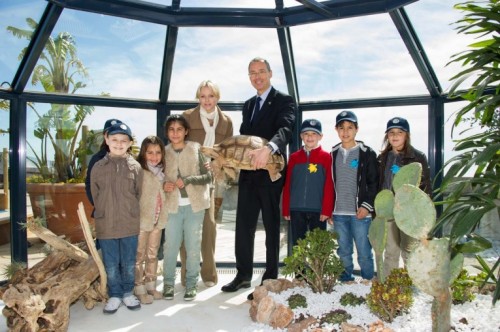 The Turtle Island: a relaxing space, 3 main points
1. A new space devote to living creatures: An area dedicated to the discovery and the protection of tortoises and sea turtles. Children will be able to observe African Spurred tortoises; these are Sulcata tortoises (the third largest terrestrial turtle in the world) from Mali, true ambassadors of a fascinating world having passed through several millennia… Information boards will provide information to the public. This space will be complementary to our large water tank which houses a sea turtle, endearing and appealing to kids as well as adults.
2. A sea themed playground: an area where children will notably find a 15 meters long climbing toy representing the skeleton of a whale; this game has been specifically designed as a reference to the whale skeleton displayed in our first floor hall. All games are made of environmentally friendly wood.
3. A relaxing space (« lounge »): A relaxation opportunity in the west terrace will be complemented by the installation of benches, pergolas and a new raised deck where parents can have a drink, rest and supervise their kids who will take full advantage of this new area.