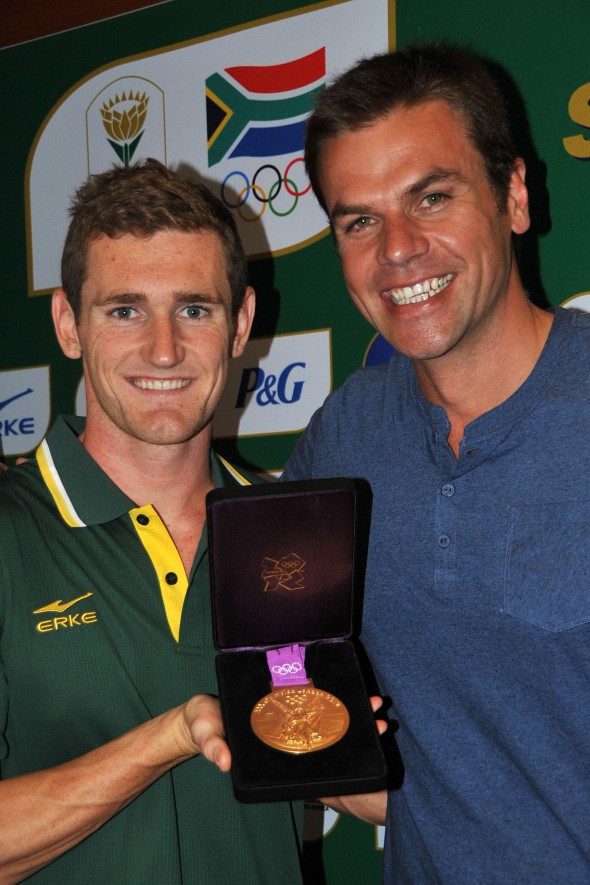 Congratulations to Team SA – the athletes, coaches and administrators – for a fantastic Olympic performance! With a final tally of six medals, this made London Olympics 2012 the most successful Olympics South Africa has enjoyed since its re-admission to international sport 20 years ago, in Barcelona back in 1992.
Amongst the medals and the memories, these are the moments we'll never forget:
MOST INSPIRING
This has to go to SA's legendary double-amputee athlete Oscar Pistorius when he qualified for the Men's 400-metre semi-final!
After losing out in the semi-final, Oscar took to his Twitter page and said:
"As so many of you supported me over the weekend, I'd like to wish you a blessed, productive and all round successful week! I woke up this morning overwhelmed by the 1000s of messages of well wishes. Thank you for making this one of the greatest moments of my life!"
(Remember to watch out for Oscar in the Paralympic Games.)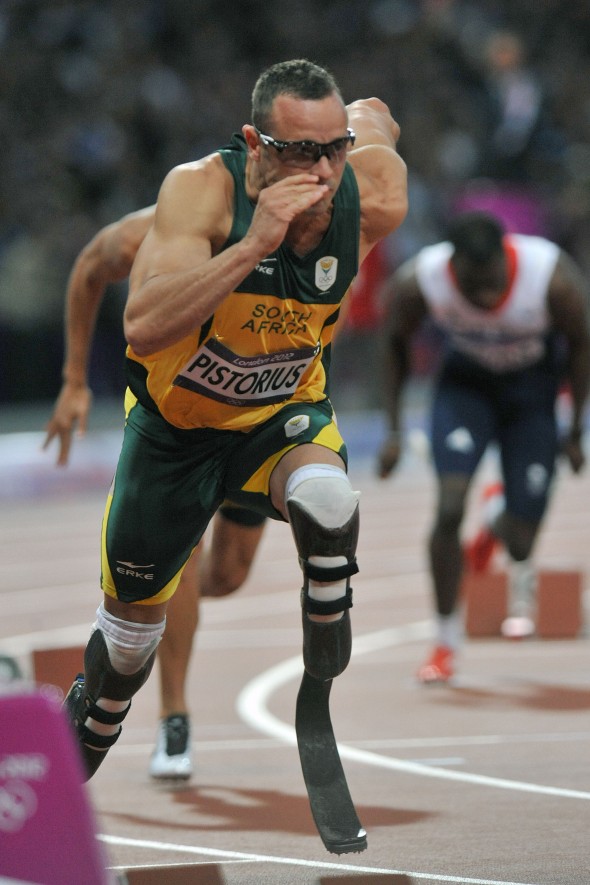 MOST PUZZLING
Caster Semenya left it just a little late before powering her way down the final straight in front of a packed Olympic stadium to clock a season's best time of 1 min 57.23sec behind Russia's Mariya Savinova (1:56.19). But Silver for Semenya still felt great; and after all the controversy and media scrutiny she's been under – she deserves a huge congratulations!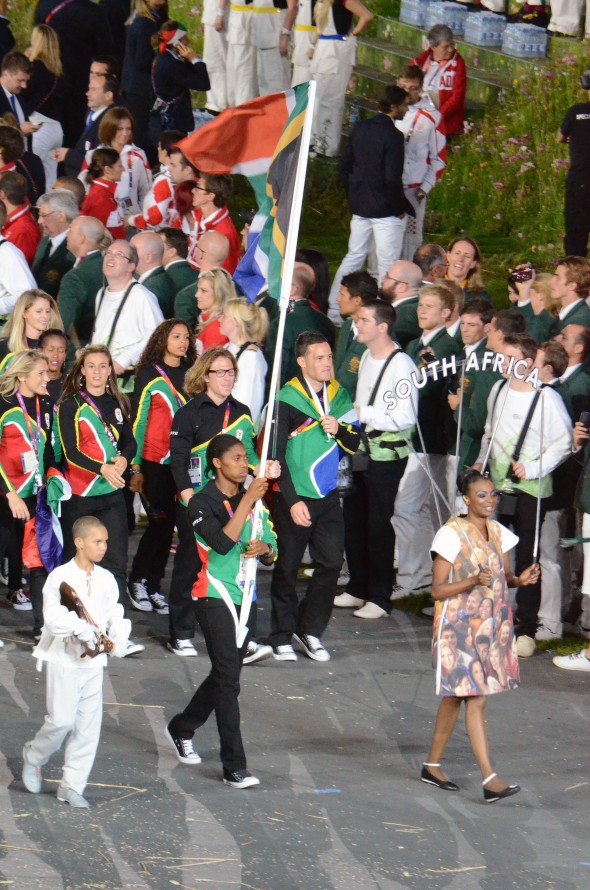 MOST DRAMATIC
Chad Le Clos won the 200-metre butterfly in an amazing 1min 52.96sec, beating his idol and American Olympic legend Michael Phelps into second spot in a nail-biting race to the wall. A few days later Le Clos took silver in the 100-m butterfly final when he was narrowly edged out by Phelps.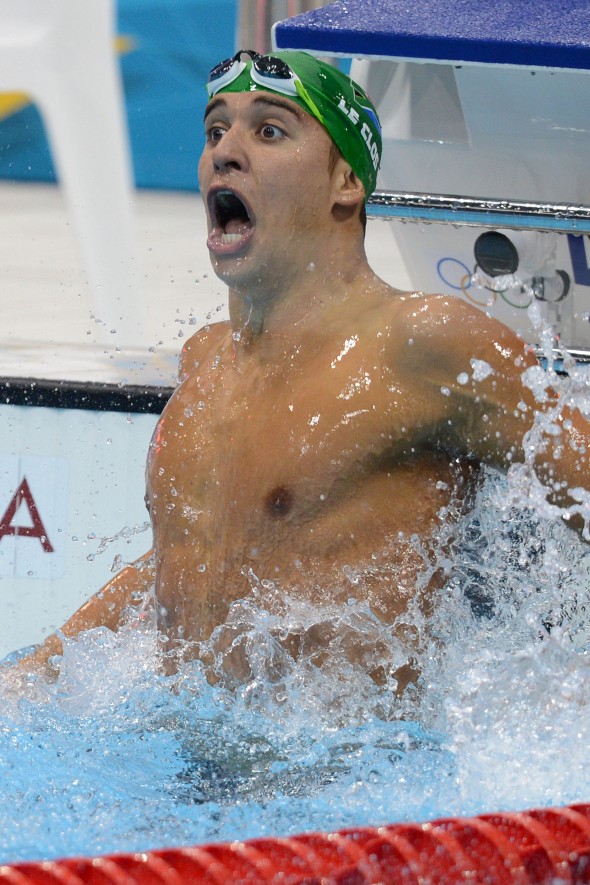 MOST SUPPORTIVE
Princess Charlene of Monaco, a former Olympic swimmer, played host to the South African swim team by inviting them to train in Monaco in the lead-up to the Olympics. The South African princess was also poolside during the Olympics to cheer on (and congratulate) her former countrymen.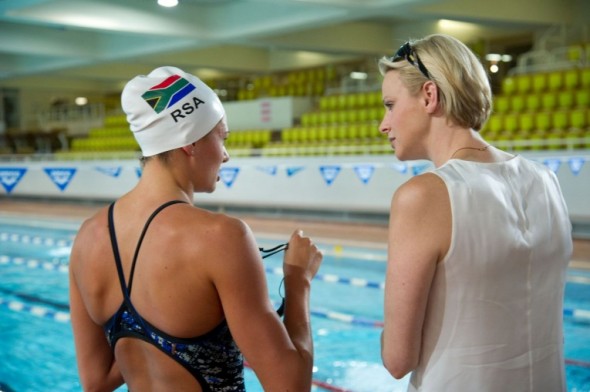 MOST CREATIVE
If there was a medal for most creative posters, we reckon these two should win: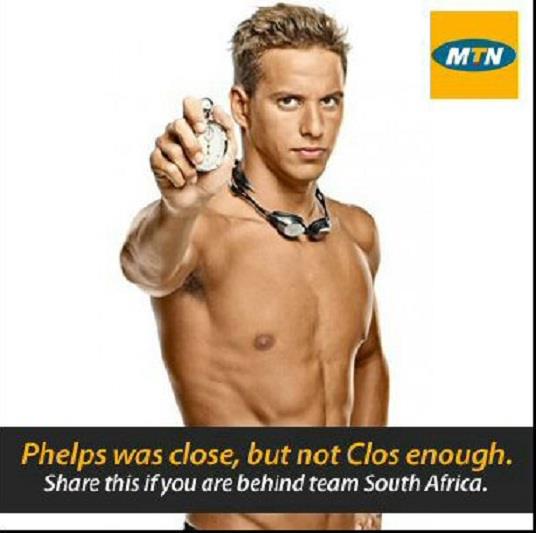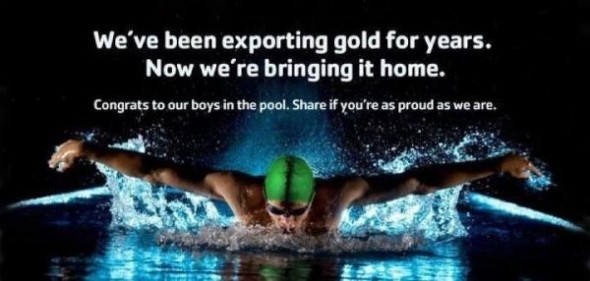 MOST PUBLICALLY PROUD PARENT
We're sure most of the SA athletes had proud family and friends watching and supporting them, but top prize must go to Chad's dad Bert for his heartfelt and humourous public display of loving pride for his son – "the most beautiful boy" – during an interview with the BBC, just seconds after Chad had beaten Michael Phelps in the men's 200m butterfly final. You can watch the start of the interview here:
httpvh://www.youtube.com/watch?v=L1tduGQPJJw
Watch the full BBC interview here.
MEDAL WINNERS
Chad Le Clos – 1 Gold and 1 Silver
Men's 200-metre butterfly (Gold)
Men's 100-metre butterfly (Silver)
Cameron van der  Burgh – Gold
Men's 100-metre breastroke (Swimming)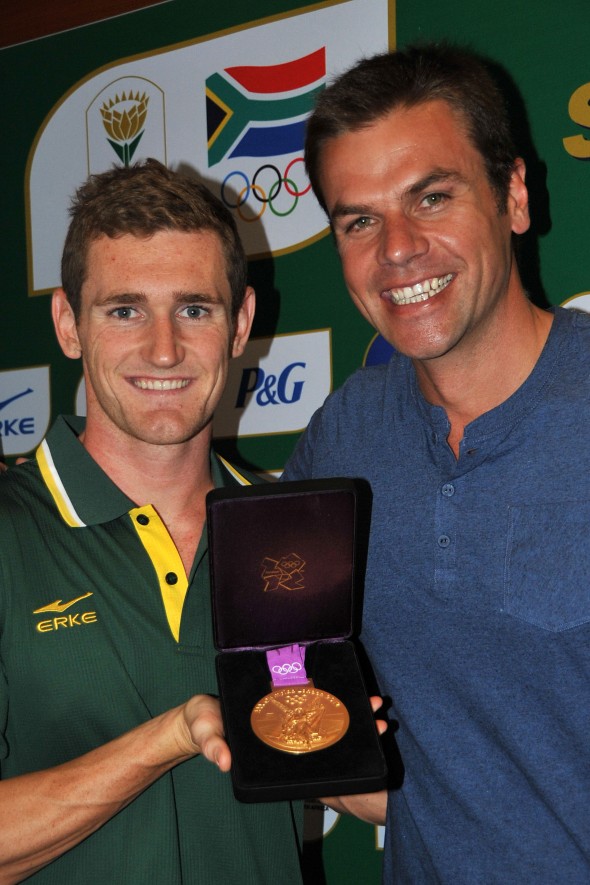 James Thompson, Matthew Brittain, John Smith and Lawrence Ndlovu – Gold
Men's Lighweight Four (Rowing)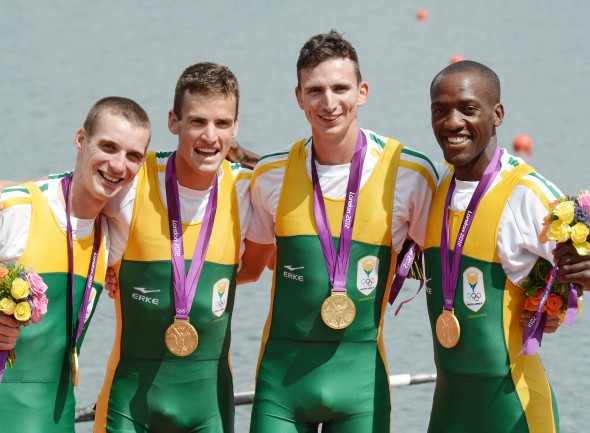 Caster Semenya – Silver
Women's 800-metre (Athletics)
Bridgitte Hartley – Bronze
Women's K1 Canoe Sprint
TEAM MEMBERS
And here's a list of all those athletes who participated and helped make this such a memorable and successful year for Team SA:
Aquatics
Jean Basson, Charl Crous, Heerden Herman, Chad le Clos, Gideon Louw, Kathryn Meaklim, Graeme Moore, Karin Prinsloo, Sebastien Rousseau, Riaan Schoeman, Roland Schoeman, Leith Shankland, Darian Townsend, Wendy Trott, Suzaan van Biljon, Cameron van der Burgh
Archery
Karen Hultzer
Athletics
Marathon (men): Lusapho April, Stephen Mokoka, Coolboy Ngamole
Marathon (women): Rene Kalmer, Tanith Maxwell, Irvette van Blerk.
Track and field: Cornel Fredericks, Caster Semenya, Louis Jacobus van Zyl, Sunette Viljoen & Oscar Pistorius
50km race walk: Marc Mundell
Badminton
Michelle Edwards, Dorian James, Annari Viljoen, Willem Viljoen
Boxing
Siphiwe Lusizi, Ayabonga Sonjica
(Siphiwe Lusizi became the first South African boxer to win a fight at the Olympics in 12 years when he beat unheralded Ahmed Ahmed of Iraq 17-13 in London on the first Sunday night.)
Canoeing
Bridgitte Hartley, Tiffany Kruger
Cycling
Road: Darryl Impey, Robyn de Groot, Ashleigh Moolman, Joanna van de Winkel. Mountain bike: Phillip Buys, Candice Neethling, Burry Stander
BMX: Sifiso Nhlapo
Track: Bernard Esterhuizen
Equestrian
Paul Hart
Football (women)
Roxanne Barker, Zamandosi Cele, Amanda Dlamini, Judith Hlumbane, Refiloe Jane, Kylie-Ann Louw, Noko Matlou, Andisiwe Mgcoyi, Philadelphia Mndaweni, Portia Modise, Sanah Mollo, Robyn Moodaly, Marry Ntsweng, Nompumelelo Nyandeni, Amanda Sister, Leandra Smeda, Janine van Wyk, Nothando Vilakazi
Hockey (women)
Tarryn Bright, Dirkie Chamberlain, Pietie Coetzee, Bernadette Coston, Sulette Damons, Illse Davids, Lisa-Marie Deetlefs, Lesle-Ann George, Lenise Marais, Marsha Marescia, Mariette Rix, Shelley Russell, Kathleen Taylor, Nicolene Terblanche, Jennifer Wilson, Kate Woods
Hockey (men)
Andrew Cronje, Timothy Drummond, Ian Haley, Rhett Halkett, Marvin Harper, Julian Hykes, Lance Louw, Lloyd Madsen, Thornton McDade, Lloyd Norris-Jones, Taine Paton, Wade Paton, Erasmus Pieterse, Justin Reid-Ross, Jonathan Robinson, Austin Smith
Judo
Gideon van Zyl
Rowing
Men's lightweight cox less four: Matthew Brittain, Lawrence Ndlovu, John Smith, James Thompson
Women's Pair: Lee-Ann Persse, Naydene Smith
Sailing
Asenathi Jim, Roger Hudson
Shooting
Alistair Davis
Triathlon
Richard Murray, Kate Roberts, Gillian Sanders
Volleyball (beach)
Freedom Chiya, Grant Goldschmidt
Weightlifting
Jean Greeff
CONGRATULATIONS TO ALL. You made South Africans around the world proud to be South African.