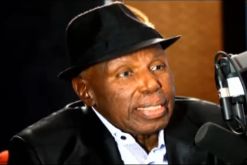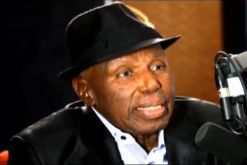 Less than a week before the passing of one of South Africa's longest serving photojournalists, Alf Kumalo, MediaclubSouthAfrica.com spoke to his eldest daughter Sibusiso, and the curator of the photography museum he founded.
Kumalo died at age 82 at the Charlotte Maxeke hospital in Johannesburg on Sunday 21 October, after struggling with prostate cancer. He enjoyed a long and eventful career spanning over six decades, eloquently capturing South Africa's progression from apartheid state to a democracy.
Sibusiso referred to her father as a people's person who would always tell stories – generally funny ones – about his work.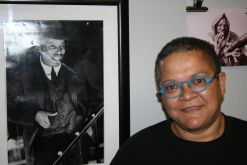 "I remember him telling me how he was not allowed to take pictures during the Soweto riots of the 1980s," she recalled, "and he learned to balance the camera on his head so, using a self-timer, he could shoot without using his hands."
Sibusiso was born in 1969 but only lived with her father for nine years until 1978 when her parents divorced.
She expressed her gratitude for the time the two of them spent healing old wounds. "I am glad to have had a relationship with him where we ironed out old issues before he was on his death bed."
Tributes pour in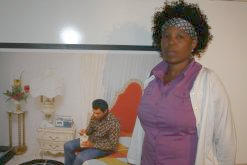 President Jacob Zuma said in a statement that South Africa had lost an outstanding individual.
"He was a meticulous photographer and his work will live on forever as a monument to the people's resilience and fortitude in the face of colonial oppression and apartheid," he said.
In a tribute issued by the Nelson Mandela Centre of Memory on Monday morning, spokesperson Sello Hatang reflected on Kumalo's career, which began in earnest in 1951 and mirrored the rise of Mandela's own political career.
"He was one of South Africa's most eminent photographers and one who closely documented the life of Nelson Mandela both before and after his imprisonment", Hatang said.
"Bra Alf photographed many of the historic events in which Mandela played a key role, including the Treason and Rivonia trials."
From the time Mandela was sentenced in 1962 to five years in jail and then to life in 1964, he added, Kumalo continued to photograph the struggle against apartheid and, importantly, to visually record the life of Mandela's family.
Former ambassador to the UN Dumisani Kumalo, a cousin of the late photographer, told The Times newspaper that he had not been well for a while.
"We lost a hero. We lost a great man and a brother and a pillar in our family," said Kumalo.
Six decades of photography
Kumalo is credited with some of the country's most captivating photography that captured numerous historic events from as early on as the 1950s.
It was after he freelanced for Bantu World newspaper – which later became known as The World – and worked for Golden City Post that he began to rise to prominence, and especially during his tenure at Drum magazine in the 1960s.
Kumalo entered and won his first photographic competition in 1963, and the announcement reached him while he was in London covering a Mohammad Ali fight.
He had entered under his African names Mangaliso Dukuza, because he wanted the judging to be impartial and not influenced by his already-flourishing reputation.
Other momentous events captured by Kumalo include the infamous student uprising of 1976, the release of Mandela from prison in 1990, negotiations at the Convention for a Democratic South Africa – often referred to in local media as the 'Codesa talks' – and the former president's inauguration as South Africa's first black head of state in 1994.
A solo exhibition of his life's work took place at the 59th session of the UN General Assembly in September 2004.
In the same year Kumalo received the Order of Ikhamanga in silver for his contribution to documentary photography and journalism in the country. The award is presented by the president in recognition of South Africans who have excelled in the fields of arts, culture, literature, music, journalism or sport.
His work has appeared on international publications including Britain's Observer, the New York Times and the New York Post and Ireland's Sunday Independent.
Passing on his skills
In 2002 Kumalo opened the doors to a school of photography, which he operated from what used to be his house in Diepkloof, for the benefit of previously disadvantaged youngsters who aspire to follow in his footsteps. There is also a museum with his works on the premises, where Jabu Perreira works as a full-time curator.
"Personally I think his portraits are the best," he told our journalist. "The good thing about Alf's work during the apartheid era is that his talent came from inside and his subjects felt relaxed with him behind the lens."
Because of a lack of funds, the school has not been able to enrol new students for several years. It was initially funded by a grant from Movimondo, an Italian NGO involved in the field of photography.
"Bra Alf would be invited to events as a VIP, but he would end up taking photos and engaging with the masses instead," said Perreira.
Kumalo's vision for the museum, which is currently being renovated, was to create an artistic space for people who are in the arts.
"We want to host film screenings, exhibitions and seminars on photography to attract an audience to the museum," said Perreira.
By: Ray Maota
Source: www.mediaclubsouthafrica.com